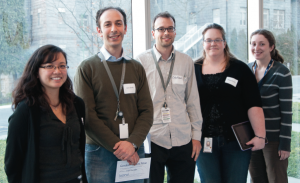 Many of our ICORD trainees and staff have been recognized for their remarkable accomplishments in their areas of research. The following is a selected list of some of the various achievements our trainees have been made since 2007.
Research awards are also presented to trainees at the ICORD Annual Meeting. For a list of previous winners and a description of the different ICORD research awards, please visit here.
If you are a trainee or staff member and you have received an award not listed below, please email ICORD's admin office.
Interested in becoming a part of ICORD and joining our group of talented researchers?  Check out our Join ICORD page for more information.
Staff Awards
| | | | |
| --- | --- | --- | --- |
| Year | Name | Department | Award |
| 2014 | Lowell McPhail | ICORD Admin | UBC President's Staff Award for Leadership |
| 2012 | Cheryl Niamath | ICORD Admin | UBC Faculty of Medicine Applegarth Staff Service Award |
Trainee Awards
2017
Trainee
Lab
Award
Jessica Archibald
Kramer Lab

Canada Graduate Scholarships-Master's Program Scholarship (NSERC)
International Scholarship (CONACyT)

Dr. Peggy Assinck
Tetzlaff Lab
Postdoctoral Fellowship (Multiple Sclerosis Society of Canada)
Emily Deegan
Stothers Lab
Sullivan Award (Northwest Urological Society)
Greg Duncan
Tetzlaff Lab
Rising Star Award (Vancouver Coastal Health Research Institute)
Cameron Gee
West Lab
3rd place oral presentation at the 4th International Autonomic Symposium
Carina Graf
Laule Lab
endMS Master's Studentship Award (Multiple Sclerosis Society of Canada)
Dr. Brett Hilton
Tetzlaff Lab
Albert J. Aguayo and Charles Tator Mentoring Postdoctoral Fellowship Awards (Wings for Life Spinal Cord Research Foundation)
Dr. Catherine Jutzeler
Kramer Lab

Postdoctoral Fellowship (Craig H. Neilsen Foundation)
Research Trainee Award (Michael Smith Foundation for Health Research)
2nd place oral presentation at the UBC Postdoc Association's Postdoc Research Day

Amanda Lee
Krassioukov Lab

Canada Graduate Scholarship (CIHR)
3rd place poster presentation at the 4th International Autonomic Symposium
Go Global Self-Directed Research Abroad Award (UBC)
Best Oral Presentation (UBC Department of Medicine Research Expo)

Kevin Liu
 Laule Lab
endMS Doctoral Studentship Award (Multiple Sclerosis Society of Canada)
Vera-Ellen Lucci
Claydon Lab
Best Overall Podium Presentation (

GF Strong Research Day)

Megan MacGillivray
Sawatzky Lab
Best Graduate Podium Presentation (

GF Strong Research Day)

Arshdeep Marwaha
Krassioukov Lab
UBC Faculty of Science Research Award for Travel
Dr. Saman Pakyari
Ghahary Lab
Doctoral Research Award (CIHR)
Greg Pearcey
Zehr Lab
Ph.D Poster Presentation Award (Canadian Society for Exercise Physiology (CSEP) Conference)
Dr. Aaron Phillips
Krassioukov Lab

Banting Postdoctoral Fellowship
Clinical Science Young Investigator Award (American Physiological Society)

Dr. Malihe Poormasjedi
West Lab
1st place in the poster category at the 15th Annual Genomics Forum (GenomeBC)
Ian Ruiz
Krassioukov Lab

1st prize for Best Poster Presentation (Cardiovascular Section, Experimental Biology Meeting)
2nd prize for Best Podium Presentation (American Spinal Injury Association)
2nd prize for 

Best Podium Presentation (with Jordan Squair) (Annual Meeting for the American Spinal Injury Association)

2nd Honourable Mention for Best Podium Presentation (UBC Clinician Investigator Program Annual Research Fellows Day)
Faculty of Medicine Student Travel Award (UBC)

Dr. Valerio Russo
Granville Lab
Travel Award (American Society for Matrix Biology)
Dr. Rahul Sachdeva
Krassioukov Lab

Postdoctoral Fellowship (Craig H. Neilsen Foundation)
2nd place oral presentation at the 4th International Autonomic Symposium
Best Postdoctoral Fellow Poster (GF Strong Research Day)
Best poster presentation (UBC Postdoc Research Day)
1st place poster at the UBC Postdoc Association's Postdoc Research Day

Paulina Scheuren
Kramer Lab
Best Graduate Poster 

(GF Strong Research Day)

Dr. Steve Shen
Granville Lab
Travel Award for Young Investigators (American Heart Association)
Gukaran Singh
Mortenson Lab
Research Training Award (WorkSafeBC)
Jordan Squair
Krassioukov Lab

2nd place poster presentation at the 4th International Autonomic Symposium
2nd prize for Best Podium Presentation (with Ian Ruiz) (Annual Meeting for the American Spinal Injury Association)

Dr. Keerit Tauh
Granville Lab
Frederick Banting and Charles Best Canada Graduate Scholarship (CIHR)
Seth Tigchelaar
Kwon Lab

Runner-up in the 2017 3 Minute Thesis Competition (UBC)
Best Overall Poster (GF Strong Research Day)

Dr. Christopher Turner
Granville Lab

Postdoctoral Fellowship (CIHR)
Travel Award (American Society for Matrix Biology)

Dr. Mathias Walter
Krassioukov Lab

Dr. Andrei Krassioukov International Autonomic Award
Research Trainee Award (Michael Smith Foundation for Health Research)

Freda Warner
Kramer Lab

Rising Star Award (Vancouver Coastal Health Research Institute)
Graduate Student Research Grant (UBC School of Kinesiology)

Dr. Alexandra Williams
West Lab
Research Trainee Award (Michael Smith Foundation for Health Research)
Alison Williams
Lam Lab

Rising Star Award (Vancouver Coastal Health Research Institute)
Canada Graduate Scholarship (CIHR)

Dr. Matthew Zeglinski
Granville Lab

Research Trainee Award (Michael Smith Foundation for Health Research)
Postdoctoral Fellowship (CIHR)
2016
Trainee
Lab
Award
Dr. Jacquelyn Cragg
Kramer Lab
Branco Weiss Fellowship – Society in Science (Swiss Federal Institute of Technology Zurich (ETH))
Greg Duncan
Tetzlaff Lab

PhD Studentship (MS Canada)
Rising Star Award (Vancouver Coastal Health Research Institute)

Jolande Fooken
Spering Lab
Student Travel Award (Vision Sciences Society)
Lidia Engel
Whitehurst Lab

Travel Award (Monash University Melbourne, Australia)
Travel and Minor Research Award (Simon Fraser University)

Cameron Gee
West Lab

Four Year Doctoral Fellowship (School of Kinesiology, UBC)
Accelerate Award (Mitacs)

Ana Gheorghe
Kwon Lab
2nd place poster in the Masters category at the Annual Research Meeting (ICORD)
Brett Hilton
Tetzlaff Lab
Canadian Graduate Scholarship – Doctorate level (CIHR)
Dr. Catherine Jutzeler
Kramer Lab

Early Postdoc.Mobility Fellowship (Swiss National Science Foundation)
Postdoctoral Fellowship (International Foundation for Research in Paraplegia)

Dr. Behnia Lashkari
Moore Lab
Travel Award (Americas Committee for Treatment and Research in Multiple Sclerosis
Kevin Liu
Laule Lab
Travel Stipend (International Society of Magnetic Resonance in Medicine)
Sohrab Manesh
Tetzlaff Lab
MSc Studentship (MS Canada)
Neda Manouchehri
Kwon Lab
1st place poster in the Staff category at the Annual Research Meeting (ICORD)
Fraser Muir
Moore Lab
MSc Studentship (MS Canada)
Greg Pearcey
Zehr Lab

Endeavour Research Fellowship (Department of Education and Training, Australian Government)
Travel Award (National Institutes of Health)
Graduate Award (University of Victoria)
Howard E Petch Research Scholarship (University of Victoria)
Cameron Memorial Trust Bursary (University of Victoria)

Dr. Aaron Phillips
Krassioukov Lab

Killam Post-doctoral Research Prize (UBC)
International Early Career Physiology Award (American Physiological Society)

Austin Rothwell
Spering Lab
Undergraduate Student Research Award (NSERC)
Andrew Round
Krassioukov Lab
1st place, Medical Student Essay Contest (Canadian Association of Physical Medicine and Rehabilitation)
Ian Ruiz
Krassioukov Lab

People's Choice Best Lightning Talk (UBC Students in Health Annual Research Conference)
Summer Student Research Program Award (UBC Faculty of Medicine)

Valerio Russo
Granville Lab
IMPACT Award (CIHR)
Stephanie Santacruz
Granville Lab
 Best Poster Award (ICORD Annual Research Meeting)
Steve Shen
Granville Lab

IMPACT Award (CIHR)
Postdoctoral Felllowship (CIHR)

Jordan Squair
Krassioukov Lab

Aaron Moser Award for Best Poster Presentation at the Doctoral Student Level (ICORD)
Killam Doctoral Scholarship (UBC)

Femke Streijger
Kwon Lab
Honorable Mention in the PhD Category at the Annual Research Meeting (ICORD)
Christopher Turner
Granville Lab
IMPACT Award (CIHR)
2015
Trainee
Lab
Award
Peggy Assinck
Tetzlaff Lab

Canadian Graduate Scholarship – Doctorate level (CIHR)
Top Graduating Doctoral Student Award (Vancouver Coastal Health Research Institute)

Dr. Katharine Currie
Krassioukov Lab

Best Doctoral Poster at 6th Annual GF Strong Rehabilitation Research Day
3rd place Best Poster by a Post-doctoral level Trainee at 2015 ICORD Annual Research Meeting

Amanda de Faye
Warburton Lab
Canada Graduate Scholarship – Master's Award (CIHR)
John Edgar
Willerth Lab

Computational Biology Undergraduate Summer Student Health Research Awards (Canadian Institutes of Health Research)
J. Cura Scholar Award (University of Victoria)
Finalist for the Sunnybrook Research Prize (University of Toronto)

Ali Farrokhi
Ghahary Lab
Studentship Award (WorkSafeBC)
Ryan Hartwell
Ghahary Lab
Top Ph.D. student (Vancouver Coastal Health Research Institute)
Michelle Jia
Krassioukov Lab

3rd place, best poster presentation at 3rd International Autonomic Symposium

Yulia Merkolova
Granville Lab
Frederick Banting & Charles Best Canada Graduate Award (CIHR)
Sumeet Mutti
Spering Lab
Undergraduate Student Research Award (NSERC)
Sheida Naderi-Azad
Tetzlaff Lab
End MS Summer Studentship (MS Canada)
Elena Okon
Kwon Lab
1st place poster in the Staff category at the Annual Research Meeting (ICORD)
Mohammadreza Pakyari
Ghahary Lab
Top Student (UBC Graduate Studies)
Sanman Pakyari
Ghahary Lab
Studentship Award (WorkSafeBC)
Greg Pearcey
Zehr Lab

Basic Science World Congress Student Award (American College of Sports Medicine Foundation (ACSM))
Graduate Student Award (University of Victoria)
Cameron Memorial Trust Bursary (University of Victoria)

Aaron Phillips
Krassioukov Lab

Craig H. Neilson Foundation – Postdoctoral Fellowship (Ranked 1st in Competition)
American Physiological Society Cardiovascular Section Research Recognition Award
1st place, Gordon Hiebert Prize for best poster (ICORD Annual Research Meeting)
Best Overall Podium Presentation – GF Strong Rehabilitation Centre Annual Research Day
Best Postdoctoral Fellow Podium Presentation – GF Strong Rehabilitation Centre Annual Research Day
1st place, best oral presentation at 3rd International Autonomic Symposium

Steve Shen
Granville Lab
Basic Cardiovascular Sciences Travel Award (American Heart Association)
Kitty So
Kwon Lab
2nd place poster in the Staff category at the Annual Research Meeting (ICORD)
Lidia Engel
Whitehurst Lab

ICORD Travel Award
Travel Award for Health Policy Assembly (VCHRI)
Graduate Student Society Professional Development Grant
Travel Award (Centre for Clinical Epidemiology and Evaluation)
Graduate Fellowship Award (Simon Fraser University)
CADTH Travel Award
Travel and Minor Research Award (Simon Fraser University)

Mei Mu Zi (Annie Zheng)
Krassioukov Lab

CIHR CGS-Masters Student Award 2015/2016
1st place for the W.L. McLeod Award for best poster by Undergraduate/Master's students (ICORD Annual Research Meeting)
Best poster in the categories of Heart/Lung/Others at the FEST 2015 Heart + Lung Health Scientific Symposium (Institute for Heart and Lung Health)
Wendy Fan Memorial (UBC)
Syd Vernon Graduate Student Award (UBC)
2014
Trainee
Lab
Award
Michael Berger
Krassioukov Lab
CAPM&R Resident Essay Contest Winner (CAPM&R Annual Meeting, St. John's NFLD)
Alis Bonsignore
Warburton Lab
Top Masters Student, Canadian Association of Cardiovascular Prevention and Rehabilita
Lauren Buschmann
Warburton Lab
NSERC Industry Partnered Scholarship
Jacquelyn Cragg
Borisoff Lab

ASIA Apple Award for excellence in publishing in SCI research
Top Abstract Award (National Spinal Cord Injury Conference)
War Memorial Doctoral Scholarship (IODE Canada)
Harry & Florence Dennison Fellowship in Medical Research (UBC Faculty of Medicine)
May Adele Normal Postgraduate Award in Medical Research (UBC Faculty of Medicine)

Lidia Engel
Whitehurst Lab

Travel Award (Canadian Agency for Drugs and Technologies in Health)
Best Student Contribution (Vancouver Health Economics Methodology Conference)

Ali Farrokhi
Ghahary Lab

WSBC Trainee Award (WorkSafeBC)
International Tuition Award
Graduate Award (UBC Faculty of Medicine)

Kay Fung
Miller Lab
UBC Delegate for the Canadian National Medical Students Research Symposium (CNMSRS)
Paul Hanson
Granville Lab
Top Poster Award (American Society for Investigative Pathology)
Nick Held
Accelerate Internship (MITACS)
Paul Hiebert
Granville Lab
Banting Postdoctoral Fellowship (CIHR)
Michèle Hubli
Krassioukov Lab
Advanced Postdoc Mobility Fellowship (Swiss National Science Foundation)
Bita Imam
Miller Lab

Vanier Scholarship (Canadian Institutes of Health Research)
Killam Fellowship Award (UBC)
Doctoral Award (CIHR) [declined]
4 Year Doctoral Fellowship (UBC) [declined]

Jessica Inskip
Claydon Lab

Panerai Award for Beest Graduate Student Poster Presentation in the category of Experimental Biology (Cerebral Autoregulation Network)
CIHR Institute of Circulatory and Respiratory Health Young Investigator Forum Travel Award (Canadian Institutes of Health Research)

Dr. Mohsen Kohsravi
Ghahary Lab

Constance Livingstone-Friedman and Sydney Friedman Foundation Scholarship in Health Science (UBC Faculty of Medicine)
Transplantation Training Program Award (Canadian Institutes of Health Research)
Masters Affiliated Award (UBC)

Kathryn Lalonde
Spering Lab
Master's Award (NSERC)
Dr. Philip Ly
Pallen Lab

Postdoctoral Fellowship Award (Canadian Institutes of Health Research)
Trainee Travel Grant (Child & Family Research Institute)
Postdoctoral Fellowship Award (Child & Family Research Institute) [declined]
Postdoctoral Fellowship Award (Multiple Sclerosis Society of Canada)

Jordan Lui
Mills Lab
Summer Student Research Program (UBC)
Stella (Qishuo) Luo
Oruc Lab
Globalink International Research Internship (MITACS)
Rojin Kaviani
Jalili Lab
Undergraduate Student Research Award (Natural Sciences and Engineering Research Council of Canada)
Nima Khadem Mohtaram
Willerth Lab

Best Talk Award at the 31st Canadian Society of Biomaterials for presentation titled "Melt Electrospun Microfiber Scaffolds with novel architecture for neuronal differentiation of human induced pluripotent stem cells"
Travel Award (University of Victoria Faculty of Graduate Studies)
Travel Award (Center of Biomedical Research)
Travel Award (ICORD)

Neda Manouchehri
Kwon Lab
1st place poster in the Staff category at the Annual Research Meeting (ICORD)
Megan O'Brien
Borisoff Lab
Undergraduate Student Research Award (Natural Sciences and Engineering Research Council of Canada)
Elena Okon
Kwon Lab
Staff Excellence Award (ICORD)
Leigh Parkinson
Granville Lab
Top Poster Award (American Society for Investigative Pathology)
Greg Pearcey
Zehr Lab

Postgraduate Scholarship-Doctoral Program (Natural Sciences and Engineering Research Council of Canada)
Graduate Fellowship (University of Victoria)
Graduate Student Award (University of Victoria)

Mali Poormasjedi
Ghahary Lab

Travel Award (UBC Faculty of Graduate Studies)
Vanier Award (Canadian Institutes of Health Research)
Rising Star Award (Vancouver Coastal Health Research Institute)

Kimiya Sabbaghan
Claydon Lab
Poster Presentation Award at the Biomedical Physiology & Kinesiology 6th Annual Research Day (Simon Fraser University)
Sanam Salimi
Ghahary Lab

International Tuition Award (UBC)
Graduate Award (UBC Faculty of Medicine)
WSBC Trainee Award (WorkSafeBC)

Emma Smith
Miller Lab

2nd Place in the Three Minute Thesis in the Faculty Level (UBC Faculty of Medicine)
Student Travel Grant (Canadian Association on Gerontology)
Rehabilitation Sciences Alumni Margaret Hood Scholarship in Occupational Therapy (UBC)
Faculty of Medicine Graduate Award (UBC)
Emerging Leader Award (Rehabilitation Engineering and Assistive Technology Society of North America)

Jackie Soicher
Cripton Lab
 Top Master's Presentation at the Northwest Biomechanics Symposium
Femke Streijger
Kwon Lab
2nd place poster in the Staff category at the Annual Research Meeting (ICORD)
Carolyn van Toen
Cripton Lab/Oxland Lab
 Hines Award for Best Oral Presentation at the Ohio Injury Biomechanics Symposium
Jeffrey Wang
Spering Lab
Summer Student Research Program Award (UBC Faculty of Medicine)
Dr. Christopher West
Krassioukov Lab
Sam Schmidt Paralysis Foundation/Sell Fund of ASIA Young Investigator Award
Guobin Wu
Borisoff Lab
Undergraduate Student Research Award (Natural Sciences and Engineering Research Council of Canada)
Christina Zhang
Oruc Lab
Summer Student Research Award (UBC Faculty of Medicine)
2013
Trainee
Lab
Award
Evan Chen
Kozlowski Lab
Best Abstract by a Trainee at the 21st Annual Meeting of the ISMRM White Matter Study Group
Kevin Chen
Borisoff Lab
Undergraduate Student Research Award (Natural Sciences and Engineering Research Council of Canada)
Drew Commandeur
Hundza Lab

Undergraduate CSEP Award
Health Professions Award (Canadian Institutes of Health Research)
Jamie Cassels Research Award (University of Victoria)

Jacquelyn Cragg
Borisoff Lab

Women in Science Award – Emerging Leader in Science (Minerva Foundation)
Institute of Community Support Travel Award (Canadian Institutes of Health Research)
Travel Award (International Symposium of Neural Regeneration)
Top Graduating Doctoral Student Award (Vancouver Coastal Health Research Institute)

Matthew Crombeen
Lam Lab
Medal of Bravery by Governor General David Johnston
Katharine Currie
Krassioukov Lab

Two-year Research Fellowship (Craig H. Neilsen Foundation)
Research Fellowship (Heart & Stroke Foundation) [Declined]
2nd Place for Oral Presentations (2nd International Symposium on Autonomic Dysfunctions Following Spinal Cord Injury)

Greg Duncan
Tetzlaff Lab
Top Poster Award (Canadian Spinal Cord Conference 2013)
Lidia Engel
Whitehurst Lab

Best Poster Award (Vancouver health Economics Methodology Conference)
Travel Award (International Society for Pharmacoeconomics and Outcomes Research)

Ali Farrokhi
Ghahary Lab
CIHR Skin Research Training Scholarship
Seth Gilchrist
Cripton Lab

Best Presentation at the Northwest Biomechanics Symposium
Hines Award for Best Poster at the Ohio Injury Biomechanics Symposium

 Darren Grey
Mills Lab
2nd Place for Poster Presentation (2nd International Symposium on Autonomic Dysfunctions Following Spinal Cord Injury)
Alon Hendel
Granville Lab
Top Poster Award (ImmunoVancouver)
 Brett Hilton
Tetzlaff Lab
Frederick Banting & Charles Best Canada Graduate Scholarship Doctorate level, 2013-2016 (Canadian Institutes of Health Research)
Michèle Hubli
Krassioukov Lab

Best Oral Presentation Award (4th Annual GF Strong Rehab Centre Rehabilitation Research Day)
3rd Place for Oral Presetnations (2nd International Symposium on Autonomic Dysfunctions Following Spinal Cord Injury)

Bita Imam
Miller Lab
Rising Star Award (Vancouver Coastal Health Research Institute)
Jessica Inskip
Claydon Lab

Institute of Circulatory & Respiratory Health Young Investigator's Forum Travel Award (Canadian Institutes of Health Research)
Graduate Student Award of Merit (Senior Women Academic Administrators of Canada)

Azadeh Hosseini-Tabatabaei
Ghahary Lab
Graduate Award  (UBC Faculty of Medicine)
Ivy Hsu
Granville Lab

Top Poster Prize (UBC Skin Research Day)
Graduate Student Fellowship (UBC Department of Pathology)

Reza Jalili
Ghahary Lab
Trainee Award (Michael Smith Foundation for Health Research)
Iris Loots
Hundza Lab

Heath Professions Award (Canadian Institutes of Health Research)
Jamie Cassels Research Award (University of Victoria)

Dr. Mohsen Kohsravi
Ghahary Lab
Skin Training Centre Award (Canadian Institutes of Health Research)
 Megan O'Neill
Roskams Lab
Silver in the Graduate Poster Competition (UBC Life Science Institute)
Andre Perrotta
Warburton Lab
NSERC Industry Partnered Scholarship
 Aaron Phillips
Krassioukov Lab
Trainee Award (Michael Smith Foundation for Health Research)
 Malihe Poormasjedi
Ghahary Lab

International Tuition Award (UBC)
Graduate Award (UBC Factuly of Medicine)

 Brodie Sakakibara
Miller Lab
Postdoctoral Award (Canadian Association of Gerontology)
 Fakhri Shafai
Oruc Lab (NOVA)
Autism Research Training Award (Canadian Institutes of Health Research)
 Michael Slater
Hundza Lab
Jamie Cassels Research Award (University of Victoria)
Femke Streijger
Kwon Lab
1st place poster in the Staff category at the Annual Research Meeting (ICORD)
 Alex Tao
Spering Lab (NOVA)
Undergraduate Student Research Award (Natural Sciences and Engineering Research Council of Canada)
 Darryl Wan
Krassioukov Lab
Medical Student Essay Contest (Canadian Association of Physical Medicine and Rehabilitation)
Jeffrey Wang
Spering Lab (NOVA)
Summer Student Research Program Award (UBC Faculty of Medicine)
Dr. Christopher West
Krassioukov Lab

Postdoctoral Trainee Fellowship (Michael Smith Foundation for Health Research)
1st Place for Oral Presentations (2nd International Symposium on Autonomic Dysfunctions Following Spinal Cord Injury)

Yun Zhang
Ghahary Lab
Graduate Award (UBC Faculty of Medicine)
2012
Trainee
Lab
Award
Peggy Assinck
Tetzlaff Lab
Frederick Banting & Charles Best Canada Graduate Scholarship Doctorate level, 2012-2015 (Canadian Institutes of Health Research)
Lisa Ang
Granville Lab

Travel Award (American Society for Matrix Biology)
Oral Presentation Award (American Society for Matrix Biology)

Amber Backwell
Townson Lab
Poster Award for paper titled "Enhancing education delivery: an evaluation of the client education sessions and print materials in a spinal cord injury program" (National Spinal Cord Injury Conference)
Ryan Brodie
Hundza Lab
Masters Student Award (Natural Sciences and Engineering Research Council of Canada)
Jacquelyn Cragg
Borisoff Lab

PhD Studentship (Multiple Sclerosis Society of Canada)
Alexander Graham Bell Canada Graduate Scholarship (Natural Sciences and Engineering Research Council of Canada)
Killam Doctoral Scholarship (UBC)
Killam Graduate Teaching Assistant Award [Nominee] (UBC)

Terry-Ann Curran
Ghahary Lab
3 Minute Thesis Heat-Winner (Vancouver Coastal Health Research Institute)
Jessie Dezutter
Delongis Lab
Postdoctoral Fellowship (Research Foundation Flanders)
Greg Duncan
Tetzlaff Lab
Doctoral Studentship Award, 2012-2013 (Multiple Sclerosis Society of Canada)
Taylor Drury
Warburton Lab
Mitacs: Accelerate Internship
Sanam Salimi Elizei
Ghahary Lab

International Tuition Award, 2012-2013 (UBC)
Graduate Award (UBC Faculty of Medicine)

Ali Farrokhi
Ghahary Lab

International Tuition Award, 2012-2013 (UBC)
Graduate Award (UBC Faculty of Medicine)

Alon Hendel
Granville Lab
Top Poster Award (American Society for Matrix Biology)
Paul Hiebert
Granville Lab
Top Graduate Student Award (James Hogg Research Centre)
Ivy Hsu
Granville Lab
Skin Research Training Centre Scholar Award (CIHR)
Azadeh Hosseini-Tabatabaei
Ghahary Lab

International Partial Tuition Scholarship (UBC)
Graduate Award (UBC Faculty of Medicine)
Four Year Fellowship Award (UBC)

Jessica Inskip
Claydon Lab

Frederick Banting & Charles Best Canada Graduate Scholarship, 2012-2014 (Canadian Institutes of Health Research)
Institute of Circulatory and Respiratory Health Young Investigator's Forum Travel Award (Canadian Institutes of Health Research)
Graduate Fellowship Research Award (Simon Fraser University)

Jae Lee
Kwon Lab
President's Staff Award for Emerging Leadership (UBC)
Katie Lee
Forwell Lab
Rehabilitation Graduate Scholarship, 2012-2014 (UBC Rehabilitation Sciences)
Reza Malik
Lam Lab
Best Poster in the clinical category (Brain Research Centre)
Megan O'Neill
Roskams Lab
Edward Squires Memorial Scholarship (UBC Faculty of Medicine)
Melissa Pak
Krassioukov Lab
Oral presentation recognized for excellence at the ASIA Annual Conference
Malihe Poormasjedi
Ghahary Lab

Four Year Fellowship Award (UBC)
Vanier Award (Canadian Institutes of Health Research)
Skin Research Training Scholarship (Canadian Institutes of Health Research)
Best Overall Presentation (Experimental Medicine Research Day)

Rianne Ravensbergen
Claydon Lab

Institute of Circulatory and Respiratory Health Young Investigator's Forum Travel Award (Canadian Institutes of Health Research)
Graduate Fellowship Research Award (Simon Fraser University)
President's PhD Scholarship (Simon Fraser University)
Skills Development Travel Award (CIHR)
Graduate Student Society Professional Development Grant (Simon Fraser University)

Brodie Sakakibara
Miller Lab
Doctoral Trainee Competition (Canadian Association on Gerontology)
Brett Shaw
Claydon Lab

Graduate Fellowship Research Award (Simon Fraser University)
Sulzer Bingham Pumps Graduate Scholarship (Simon Fraser University)
Mahama Ghandi Graduate Scholarship in Kinesiology (Simon Fraser University)
Institute Community Support Travel Award (CIHR)
Best Master's Poster at the Biomedical Physiology & Kinesiology Research Day (Simon Fraser University)

Ellen Stephenson
Delongis Lab
Entrance Scholarship (UBC)
Femke Streijger
Kwon Lab
Best Staff Poster Award at ICORD Annual Meeting
Jamie Veale
Delongis Lab
Entrance Scholarship (UBC)
Dr. Christopher West
Krassioukov Lab
Two-year Post-Doctoral Fellowship (Government of Canada)
Elisa York
Roskams Lab
College for Interdisciplinary Studies Graduate Merit Award (UBC)
Yun Zhang
Ghahary Lab
International Partial Tuition Scholarship, 2012-2013 (UBC)
2011
Trainee
Lab
Award
Athena Chou
Roskams Lab

Frederick Banting & Charles Best Canada Graduate Scholarship
Doctoral Studentship (Alzeimer's Society of Canada)

Christopher R. Dennison
Cripton Lab
Postdoctoral Fellowship (Natural Sciences and Engineering Research Council of Canada)
Greg Duncan
Tetzlaff Lab
Paralyzed Veterans of America Poster Award at the 14th International Symposium on Neural Regeneration
Setareh Ghahari
Forwell Lab
Postdoctoral Fellows Travel Award, 2011-2012 (The Western Pacific endMS Regional Research and Training Centre)
Mischa Harris
Warburton Lab
Masters Award, 2011-2013 (Canadian Institutes of Health Research)
Mark Lam
Delongis Lab
Meritorious Award for research presented (Society for Behavioral Medicine)
Megan O'Neill
Roskams Lab
Doctoral Studentship (CIHR)
Aaron Phillips
Warburton Lab
MITACs Accelerate Internship
Leanne Ramer
Krassioukov Lab/Steeves Lab

Top Graduating Doctoral Student (Vancouver Coastal Health Research Institute)
Paralyzed Veterans of America Poster Award at the 14th International Symposium on Neural Regeneration

Jane Wacker
Townson Lab
Winner of the Medical Student Essay Contest for essay titled "Levocarnitine treatment in SCI: a potential treatment for fatigue" (Canadian Association of Physical Medicine and Rehabilitation)
2010
Trainee
Lab
Award
Nima Alan
Krassioukov Lab
Technicians and Research Assistant Professional Development Award (UBC)
Lisa Ang
Granville Lab

Frederick Banting & Charles Best Canada Graduate Scholarship (CIHR)
Top Oral Presentation (UBC Pathology Day)

Peggy Assinck
Tetzlaff Lab

Best Poster Award at the Stem Cell Network Annual General Meeting
2nd Place for Presentation at the Vancouver Coastal Health Transplantation Research Day

Wendy Boivin
Granville Lab

Young Investigator Forum Poster Award (CIHR)
Travel Award (American Society for Matrix Biology)

Dawn Cooper
Granville Lab

Alice Wilson Award of the Royal Society of Canada
Postdoctoral Fellowship (NSERC)

Anastasia Dikareva
Claydon Lab
Best Poster by an undergraduate student (Disabilities Health Research Network)
Debbie Field
Miller Lab
Women's & Children's Professional Development Scholarship Fund
Heather Foulds
Warburton Lab
Postgraduate Fellowship Scholarship – Doctoral Level, 2010-2013 (Natural Sciences and Engineering Research Council of Canada)
Ed Giesbrecht
Miller Lab
UBC 4 for 4 Entrance Scholarship, 2010-2014
Alon Hendel
Granville Lab

Jean-Francois Bowden Award (Institute for Heart & Lung Health)
Vanier Canada Graduate Scholarship

Paul Hiebert
Granville Lab

Doctoral Fellowship (NSERC)Skin Research Training Centre Scholar Award (CIHR)
Jean-Francois Bowden Award (Institute for Heart and Lung Health)
Top Poster Award (Providence Heart and Lung FEST)

Jessica Inskip
Claydon Lab

Certificant of Excellence for Outstanding Poster Presentation (CIHR)
CD Nelson Entrance Award (Simon Fraser University)
Commemorative Medal and Diploma (International Paralympic Committee)

Adam Ivey
Warburton Lab
Own the Podium Research Assistantship, 2010-2011
Claire Jones
Cripton Lab
Margaret H. Hines Award for Best Oral Presentation at the Ohio Injury Biomechanics Symposium
Clare Protheroe
Claydon Lab
Best poster by an undergraduate student (Disabilities Health Research Network)
Indergeet Sahota
Claydon Lab
Best poster by a master's student (Disabilities Health Research Network)
Dr. Gillian Simonett
Krassioukov Lab
S. Stewart Murray Prize (UBC Faculty of Medicine)
Almira Tanner
Hoffer Lab
Alexander Graham Bell Canada Graduate Scholarship (Natural Sciences and Engineering Research Council of Canada)
Shirley Wong
Krassioukov Lab
Commemorative Medal and Diploma (International Paralympic Committee)
Jeanne Yiu
Miller Lab
British Columbia Society of Occupational Therapists Shaugnessey Research Award
2009
Name
Lab
Award
Nima Alan
Krassioukov Lab
Chan and Peggy Gunn Prize (UBC)
Lisa Ang
Granville Lab

Travel Award (North American Vascular Biology Organization)
Top Poster Prize, Runner-up (UBC Pathology Day)

Peggy Assinck
Tetzlaff Lab
Frederick Banting & Charles Best Canada Graduate Scholarship – Master's Level (Canadian Institutes of Health Research)
Krista Best
Miller Lab

4 for 4 Entrance Scholarships
PhD Scholarship (Social Sciences and Humanities Research Council) [Declined]

Grace Boutilier
Sawatzky Lab

Best Poster Award (Disabilities Health Research Network)
Best Poster Award (Experimental Medicine Research Day)

Samatha Lloyd Burton
Roskams Lab
Postdoctoral Fellowship, 2009-2011 (Multiple Sclerosis Society of Canada)
Adam Campbell
Carpenter Lab
Postgraduate Scholarship – Doctoral (Natural Sciences and Engineering Research Council of Canada)
Katharine Chan
Claydon Lab
Graduate Fellowship (Simon Fraser University)
Ben Esch
Warburton Lab
Senior Trainee Award (Michael Smith Foundation for Health Research)
Alon Hendel
Granville Lab

Graduate Scholarship (Pacific Century)
Graduate Research Fellowship (UBC)
Have a Heart Bursary Program Award (Canadian Cardiovascular Society)
Top Junior Poster Presentation (Centre for Blood Research, UBC)

Paul Hiebert
Granville Lab

Skin Research Training Centre Fellowship (CIHR)
Have a Heart Bursary Program Award (Canadian Cardiovascular Society)
Top Poster Presentation (UBC Pathology Day)
Top Senior Poster Presentation (Centre for Blood Research, UBC)

Brian Horslen
Carpenter Lab
Postgraduate Scholarship – Master's (Natural Sciences and Engineering Research Council of Canada)
Adina Houldin
Lam Lab
Canada Graduate Scholarship – (Natural Sciences and Engineering Research Council of Canada)
Arwen Hunter
Granville Lab
Postdoctoral Fellowship (Heart and Stroke Foundation of Canada)
Hannah Gustafson
Cripton Lab
US National Science Foundation Fellowship
Mark Lam
Delongis Lab
Doctoral Graduate Fellowship (UBC)
Dr. Ana Le-Meur
O'Connor Lab
Brain Star (Canadian Institutes of Health Research)
Christie McShane
Roskams Lab
Frederick Banting & Charles Best Canada Graduate Scholarship, 2009-2011 (Canadian Institutes of Health Research)
Chantelle Murnaghan
Carpenter Lab

Student Poster Award for Innovation in Basic Science (ISPGR Conference)
Alexander Graham Bell Canada Graduate Scholarship – Doctoral Scholarship

Paula Rushton
Miller Lab
Student Research Data Collection Award (BC Network for Aging Research)
Indergeet Sahota
Claydon Lab
Graduate Fellowship (Simon Fraser University)
Brodie Sakakibara
Miller Lab

Frederick Banting & Charles Best Canada Graduate Scholarship – Master's Level (Canadian Institutes of Health Research)
Margaret Hood Scholarship

Jessica Scott
Warburton Lab
Senior Trainee Award (Michael Smith Foundation for Health Research)
Ada Tang
Eng Lab
Allied Health Professional Fellowship
Sarah Williams
Granville Lab

IMPACT Award (CIHR)
Postdoctoral Fellowship (CIHR)

Shirley Wong
Krassioukov Lab

Travel Subsidy Award (Disabilities Health Research Network)
Doctoral Award (Canadian Institutes of Health Research)
Research Foreign Study Supplement (Canadian Institutes of Health Research)
Frederick Banting & Charles Best Canada Graduate Scholarship – Doctoral Level, 2009-2011 (Canadian Institutes of Health Research)
2008
Name
Lab
Award
Grace Boutilier
Sawatzky Lab
Best Poster (Experimental Medical Research Day)
David King
Delongis Lab

Student Paper Award (International Conference on Personal Meaning)
Elizabeth Young Lacey Scholarship (UBC)
Doctoral Fellowship Award (Social Sciences and Humanities Research Council)

Dr. Mingorance Le Meur
O'Connor Lab
First Prize for Best Poster (MipTec Drug Discovery Conference)
Paula Ruston
Miller Lab
PhD Trainee Award, 2008-2011 (Michael Smith Foundation for Health Research)
Jessica Tang
Hoffer Lab
McGraw-Hill Ryerson Student Scholarship Award
Carolyn van Toen
Cripton Lab
Post-Graduate Scholarship (Natural Sciences and Engineering Research Council of Canada)
2007
Name
Lab
Award
Cary Cunic

Miller Lab

Rejean Hebert Prize in Geriatric Research (Canadian Institutes of Health Research
Christina Ekegren

Miller Lab

Women's Auxiliary Scholarship in Rehabilitation Sciences
Seth Gilchrist

Cripton Lab

Bridge Program Fellowship
University Graduate Fellowship

Robyn Newell

Cripton Lab

Mathematics of Information Technology & Complex Systems Scholarship
Paula Rushton

Miller Lab

Clinical Post-Doctoral Scholarship, 2007-2011 (Canadian Institutes of Health Research