We are happy to offer these virtual exercise options:
About the Yuel Family Physical Activity Research Centre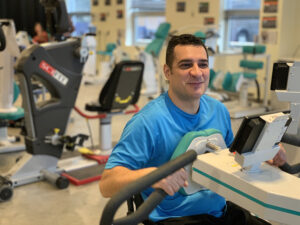 The Yuel Family Physical Activity Research Centre (PARC) is a community-based research facility that is led by ICORD researchers and a PARC Advisory Committee made up of members from ICORD, Spinal Cord Injury BC, GF Strong Rehabilitation Centre, and the UBC School of Kinesiology Outreach Program.
The facility is committed to providing opportunities for the local spinal cord injury (SCI) community to participate in research on exercise and physical activity. We envision that the PARC will nurture an active exchange of ideas between the community of individuals living with SCI and ICORD researchers. Most of the exercise equipment at PARC can be used directly from your wheelchair or are easily transferable from your wheelchair.
Hours
Monday 10am – 6pm
Tuesday 10am – 7pm
Wednesday 10am – 6pm
Thursday 10am – 7pm
Friday 10am – 6pm
Saturday 11am – 3pm
Please let us know if you have any questions by sending us an email (parc@icord.org). We look forward to seeing you!
Location
PARC located on the ground floor of the Blusson Spinal Cord Centre (BSCC), 818 West 10th Avenue. Click here to learn about visiting the BSCC, including transit and parking information.
Research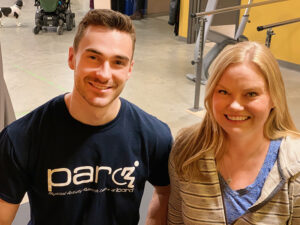 Our goal is to advance research to understand the best strategies for providing opportunities for people with complete or partial paralysis due to spinal cord dysfunction to participate in exercise and physical activity.  The aim of this study is to examine physical activity and health outcomes in people with spinal cord injury (SCI) resulting in complete or partial paralysis. We plan to elucidate the best approaches to providing opportunities for people with SCI in and around Vancouver to participate in exercise and physical activity. We will also investigate whether increasing physical activity and exercise leads to benefits in different aspects of your physical function, fitness and quality of life.
Get Started
If you are interested in joining PARC, please check out Getting Started in PARC. You can also contact us at parc@icord.org or call us at 604-675-8814 for more information. Please also see our FAQ page.
PARC Exercise Videos
We have created a PARC Youtube channel where we upload online PARC exercise videos for people to follow along at home while our in-person facility is temporarily closed.
Accessible Media visits PARC
In 2017, PARC won a City of Vancouver Award of Excellence in the Accessible City category. Accessible Media visited PARC to learn how its volunteers and participants are making Vancouver healthier and more accessible.
In 2017, PARC was renamed the Yuel Family Physical Activity Research Centre.
Greg Yuel and his family have been donors of the Rick Hansen Foundation (RHF) and Rick Hansen Institute (RHI) for over 20 years. Greg is also a board member of the Foundation. Their extraordinary contributions have helped advanced spinal cord injury research and improve quality of life for people with disabilities. The Yuels share RHF's commitment to equal accessibility and inclusivity for all, and want their philanthropy to contribute to the greater good and development of the community. Greg is an avid athlete and when he saw the amazing people working out in PARC and the generosity of the volunteers, he knew immediately this was the room he wanted his recognition to be associated with.
Acknowledgements
PARC is generously supported by Canada Foundation for Innovation, BC Knowledge Development Fund, Rick Hansen Foundation, UBC Kinesiology, UBC Medicine, Vancouver Coastal Health Research Institute, Spinal Cord Injury BC, and HAL Industries, and a Spinal Chord Community Research Grant.
If you would like to make a donation to support PARC, click here.