At-home resources
Please use this compilation of online resources to find information and programs you may access from home. The following resources and programs are free of charge for PARC participants. We will continue to monitor and update this page with any new resources.
PARC Online Classes
With a successful launch in May 2020, PARC online classes have been continuing ever since. Participating
in the classes will help you stay healthy and will enable you to connect with the PARC community
remotely. The classes follow a regular schedule and are led by the UBC Kinesiology students. You can
join the classes by using Zoom. If you are interested in joining a class or have any questions, please send
us an email. We hope you will join us for a workout, stretch, conversation, exercise, or dance session.
We look forward to seeing you!
For those of you who may be unable to attend the class times, we also have recordings of some of the
classes. Feel free to watch the videos by visiting our PARC ICORD Youtube channel, including those
which are shown below under the description of each respective class.
We hope you will join us for an exercise session, dance class, or a stretch and mindfulness practice. We
look forward to seeing you!
Schedule for May – August 2023
Day
Class
Time
Instructor
Equipment
Monday
Sets for Success
11am – 12pm
Janice

Volunteers

Minimal (Household items)
Wednesday
Functional Flow
2pm – 3pm
Thomas

Volunteers

None
Thursday
H.I.I.T. At
Home
4pm – 5pm
Tim

Volunteers

Minimal

(Household items)

Saturday
ZOOMba
4pm – 5pm
Rebecca

Volunteers

None
H.I.I.T At Home
This is a 60 minute high intensity boxing circuit. This program includes a warm-up, 2-20 minute sweaty circuits, and a cool-down. This cardio class is a great option for participants wanting to punch out their frustrations while feeling the burn. There is no equipment needed but small weights can be added if participants want an extra challenge.
Sets for Success
This is a 60-minute low intensity workout class for all PARC participants of all fitness levels. Sets for Success is an excellent way to get back into exercising or to supplement your existing exercise routines. If you would like to get in some light strength training and cardio work, this is the program for you!
Required equipment:

Soup cans (and tote bag if a soup can is too light for you)
Open-ended resistance band (with/without handles)
Dowel/pants
Namastay Fit
During this very uncertain and extraordinary time, it is very normal for stress and anxiety levels to be running high. Each day is blurring into the next and being stuck indoors certainly does not help. That is why we have put together a program quite different from what we normally do at PARC. In this class, we will focus on releasing tension through gentle to deep stretching and learn how to use our breath to help relax both the body and mind. To end each class, we use the practice of mindfulness to help bring some positivity into this daunting time and hopefully get you ready for the rest of the day.
Bootcamp Champs
Bootcamp Champs is a 60-minute low intensity workout class for PARC participants of all fitness levels. By using minimal equipment this cardio and strength bootcamp offers a great workout for the whole body. Get back into exercising or supplement your existing exercise routines. If you wish to work on your strength and cardio, this is the program for you! Please make sure to gather the necessary equipment and have it ready before joining the class.
Required equipment:

Dumbbells between 1-5lbs (or higher depending on your strength level)
Different resistance bands (open-ended resistance bands preferred
Place to anchor resistance bands in front of you and above you, make sure it is sturdy to ensure safety
ZOOMba
ZOOMba is a 60-minute dance class where we build up intensity for a great cardiovascular workout. Dancing is an amazing way to build strength and cardio in an enjoyable way. We provide modifications for movements to challenge strength and endurance. We will be dancing to songs by Michael Jackson, Queen, Whitney Houston, and more. The class is available to individuals with all abilities and no prior dance experience is required! Join us for this fantastic and fun workout, no equipment is required!
PARC Exercise Videos
Michael has filmed several fitness videos for PARC members to help exercise various body parts and muscle groups. Keep an eye out for new video uploads! In order the access the pre filmed PARC exercise videos on YouTube, please click on the image below or visit this link.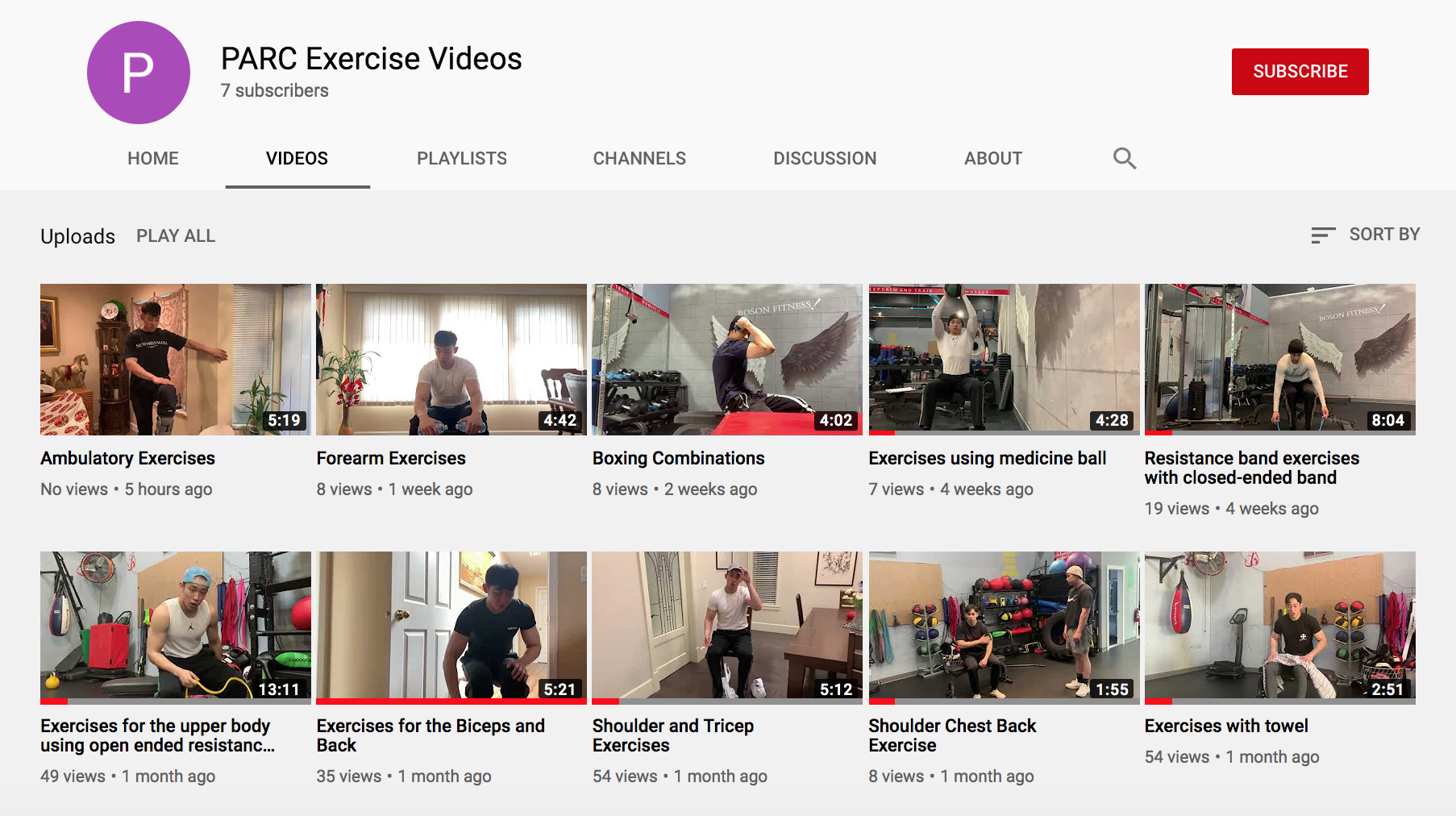 Get in Motion
Get in Motion is a phone or video based Physical Activity Coaching program offered to PARC participants. Several of our Work Learn students are involved in this program and they want to hear how you are doing while supporting you in your goal of staying physically active at home. A number of spots are still available. For more information on the project, click here. To sign up please email CDPPprojects@queensu.ca or call (613) 533-6000.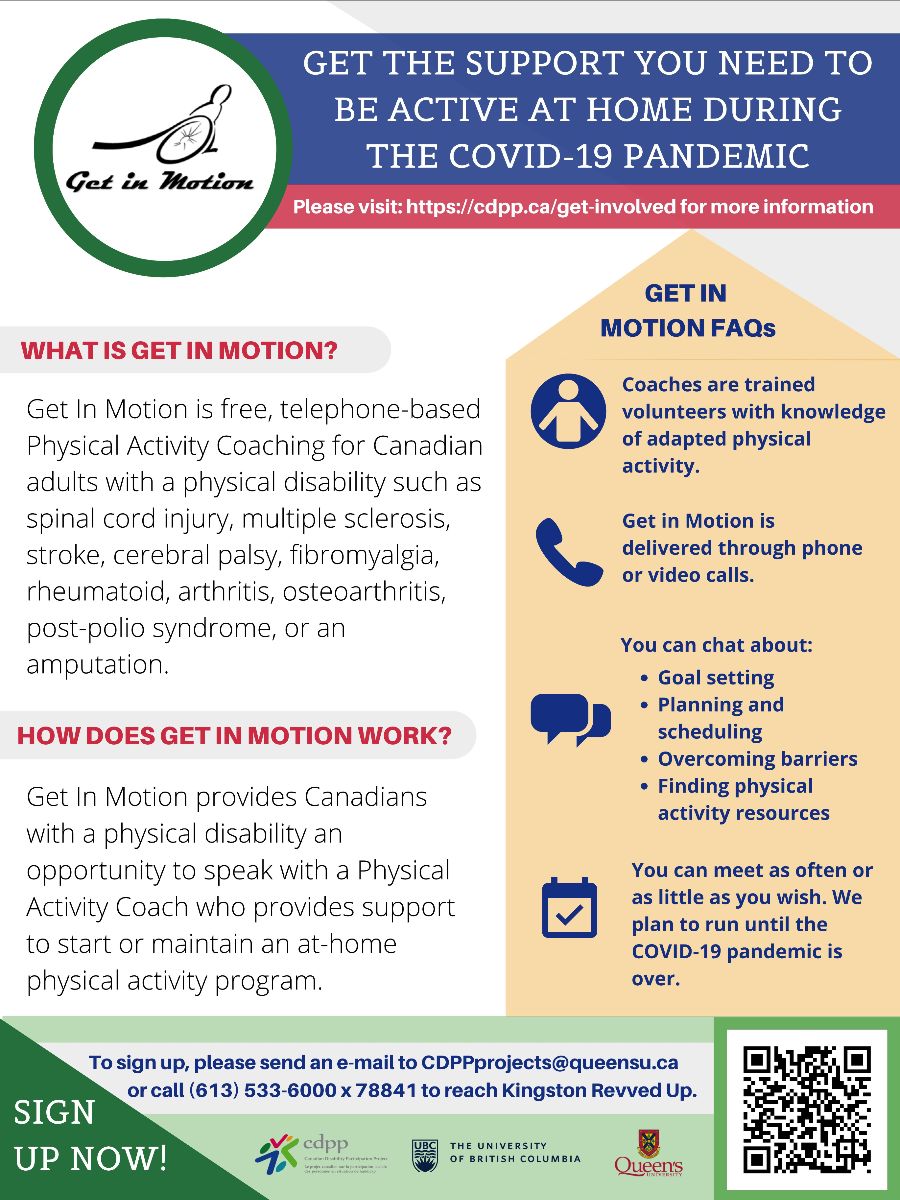 Adaptive Yoga Classes
Our yoga instructor, Bobbie Seale-Cobiskey, who offers her classes at PARC, has moved her Adaptive Yoga classes online and has kindly invited PARC participants to attend free of charge. All classes are free of charge and all abilities are welcome! Bobbie hopes that you can join her for these fun, live, online interactive yoga classes. If you are interested in participating, please send her an email and she will share the Zoom link prior to the class. A regular schedule is in place: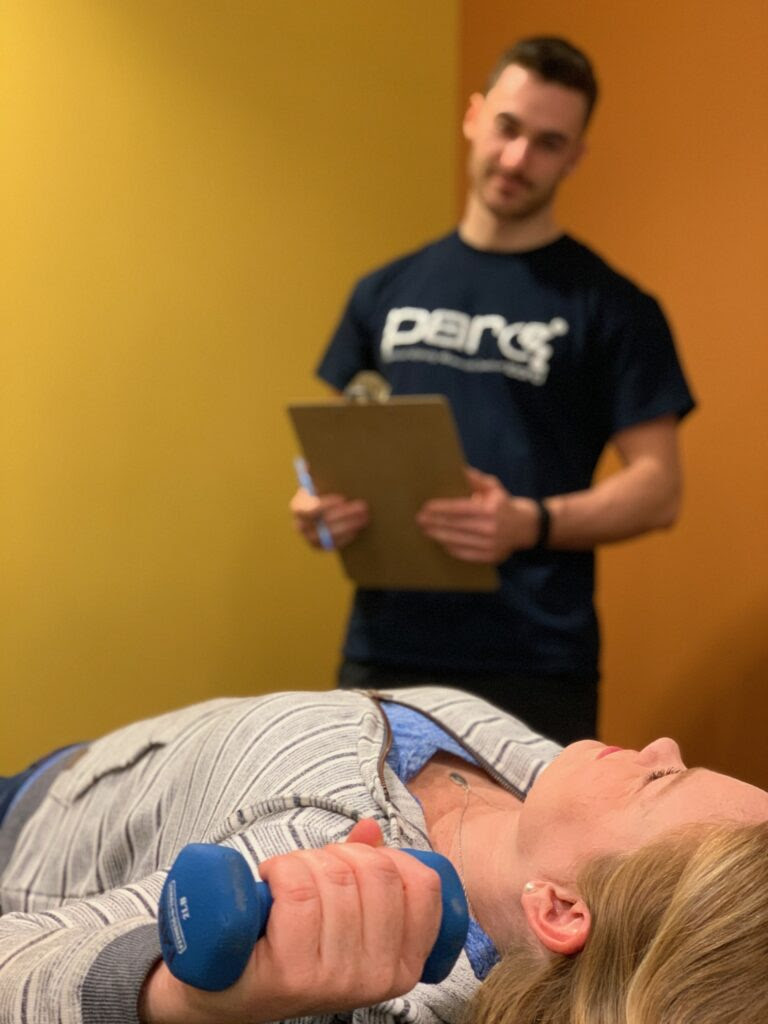 Remote Personal Training Program
Remote personal training sessions are now available for PARC participants. We offer safe and affordable sessions tailored to your personal goals and abilities. Student personal trainers are fully supervised and mentored by a certified exercise physiologist. Receive a personally designed training program and stay motivated by working out with our trainers! For more information and prices visit the PARC personal training webpage or send us an email. Try your first session for free!
Ocean Rehab and Fitness
Megan Williamson, a personal trainer who works with some PARC clients, runs an online website and blog called Ocean Rehab and Fitness. If you are looking for some recipes, diet and SCI fitness tips, please visit her site here. Ocean Rehab and Fitness also has a private group on Facebook.
Megan also has several YouTube home exercise videos. To view her home exercise videos, please click on this link or the image below.

Spinal Cord Injury BC Events
Spinal Cord Injury BC has organized a number of exciting online events. Among those are exercise and cooking classes. More details about the events and information on how to join are available on SCI BC's Event Calendar.
Rick Hansen Foundation: COVID-19 Resources for Persons with Disabilities
The Rick Hansen Foundation has compiled an extensive list of useful resources for people with disabilities. Among the resources are a number of quality videos addressing mental health and emotional well-being. To access this resource page, please visit their website here.