PARC Advisory Committee
PARC is overseen by the PARC Advisory Committee, led by Dr. Andrea Bundon, and includes faculty researchers and staff from the University of British Columbia and clinicians from GF Strong. Current Advisory Committee members are: Janice Eng, Sue Forwell, Andrei Krassioukov, Lowell McPhail, William Miller, Cheryl Niamath, Bonnie Sawatzky, Christina Sequeira, Shannon Sproule.
PARC Staff
Student Staff
PARC employs six UBC Work Learn students: five supervisors, and a personal trainer. Their role is to support the smooth operation of the PARC facility, to aid the ongoing research projects, to oversee volunteers and work integrated learning (WIL) students, and to develop and maintain good relationships with all PARC participants. The personal trainer designs and facilitates training programs for PARC participants.

2023-2024 Supervisors from left to right:  Ben Bowyer, Janice Chan, Julia Dancey, Ryan Feng, Chris Lee, Thomas Renovich.

Manager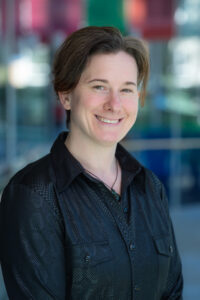 Milly Zaletelj is the PARC Manager. She's responsible for overseeing all the operations of the PARC facility, mentors Work Learn students and volunteers, and supports the Faculty Advisor with coordinating the PARC research activities and exploring funding for future research opportunities. Milly's role also involves implementing suggestions for further development of PARC's facility and its programs.
Faculty Advisor
Dr. Andrea Bundon took over as PARC Faculty Advisor from Dr. Tania Lam in 2020. The faculty advisor oversees all academic and research related activities pertaining to the PARC facility. This includes supervising ongoing research project, developing grant applications to fund future research, and coordinating collaboration with other ICORD/UBC research groups. As a faculty member in Kinesiology, Dr. Bundon's role also involves ensuring opportunities for UBC students to engage in PARC as volunteers supporting PARC participants to be physically active.
PARC Volunteers
Since the opening of PARC in 2013, there have been over 300 volunteers who have devoted their time and energy to support PARC. Currently, there are approximately fifty dedicated volunteers and/or WIL
students, each contributing two to four hours of their time each week to help PARC or help with
our online exercise classes.
The responsibilities of our volunteers include creating a positive and social environment and fostering the inclusion of others.  They are also responsible for providing support and assistance with equipment use and aiding in adapting equipment to the specific needs of each participant, while maintaining the safety of participants and protecting the equipment.
Many of our volunteers are students from university with a passion for fitness who are looking to gain more experience into healthcare and human physiology.  If you are interested in volunteering at PARC, please email parc@icord.org for more information.
Current and Past PARC Volunteers & WIL Students (Updated November, 2022)
Aaron Menon
Aaron Moulson
Abhiram Cherukupalli
Ada Chang
Adam Nishi
Ahmed Elsayed
Ailsa Siros
Alan Chang
Aleksander Saddlemyer
Alexandra Akl
Alexandra Huckova
Alexandra Ing
Ali Farrokhi
Alison Williams
Aliyah Muniff
Allan Guan
Allison Yu
Amanda Giacomazza
Amanda Wong
Amanda Zacharuk
Amy Baatz
Amy Young
Angela McLaughlin
Angelica Rossi
Angus Chan
Anna Sarafis
Annie Lu
Anthony Chen
Anthony Janalino
Anya Chi
Arden Sauer
Ariel Hung
Arvinder More
Asha Basi
Ashley Hultman
Ashley Oh
Aysha Brown
Bavenjit Cheema
Ben Bowyer
Benjamin Masuch
Bhavjot Naraina
Braeden Skyes
Brendan Chia
Brian Hayes
Bryan Foronda
Caitie Manser
Caitlin Chiu
Caitlin Newman
Cameron Sihoe
Candace Chau
Carina Wong
Caris Tin
Carly Peterson
Catherine Yip
Charan Sasan
Charlie Lau
Chelsea Chua
Chelsea Dumasal
Chelsea Henitiuk
Chihiro Abe
Chloe Plecash
Chris Curtis
Chris Sinclaire
Chris William
Christian Lacsamana
Christine Hsin
Christine Thomas
Christine Zawadzki
Cindy Yu
Claudia Lee
Clement Leung
Conor Regan
Constance Bos
Daisy Parti
Dan Dayrit
Daniel Do
Daniel Elesin
Daniel Kaiser
Danielle An
Danielle Curtis
Danielle Jayme
Daphne Xuan
David Ko
David Pham
Donald Yu
Donna Mae Malinlay
Edmond Gu
Eileen Jue
Elaine Chan
Elizabeth Mori
Ellie Gang
Emilu Butts
Emily Brewer
Emily Chong
Emma Beattie
Emma Gerrard
Eric Franks
Esther Chiang
Ethan Yeung
Eunice Wong
Faith Park
Fiona Drewbrook
Florence Chan
Gabriel Leung
Gavin Hutton
Geoffrey Cotter
Gevorg Eginyan
Gwyn Narayan
Hailey Perry
Hannah French
Hattie Shu
Henry Xu
Hirad Nourbakhsh
Hirmand Nouraei
Holly Potozny
Ian Nelson
Ian Standish
Ignacio Casal
Isabella Funa
Isabelle Pasin
Ishan Dixit
Isla Loo
Ivana Abrigo
Ivana Truong
Ivy Tan
Ivy Zhang
Jack Cubbon
Jade Shandro
Janice (HaeWon) Cho
Janice Chan
Jashn Sidhu
Jason Dong
Jay Almeda
Jazz Morgan
Jeffrey Der
Jeffrey Kong
Jenna Sbrocca
Jennie Chen
Jeramiah Humphries
Jerome Louie
Jess Wickett
Jessica Feng
Jessica Kaylan
Jessica Pham
Jessica Wong
Jessie Hall
Jinelle Chang
Joanne Chan
Jocelyn Dayal
Joey Cheng
Johnson Liu
Jonah Escharcha
Jonas Reforada
Jonathan Luk
Jonathan Yao
Jonathan Zhu
Josh Mahal
Joshua Britton
Joshua Chen
Juan Diaz Nieto
Juan Gomez
Julia Dancey
Justin Lui
Justin Ng
Justin Warford
Kaiz Jamal
Karen Tanaka
Karissa Bliss
Karoline Rzyski
Karson Schroeder
Katie Allesia
Katrin Denson
Kayleigh Youngman
Kelly Ho
Kerolos Daowd
Kevin Kwok
Kevin Liu
Kevin Weng
Kevin Yoon
Kiera Harnden
Kishore Hari
Konrad Joseph
Kristina Cukic
Kristina Smith
Kristina Toporkova
Kyle Diab
Laarni Tugay
Lamiah Adamjee
Lana Skeete
Laura McCracken
Lauren Choi
Lauren Palmer
Leaghan Penkala
Leah Taylor
Leeza Pertsev
Liam Brusse
Liane Tang
Lindsay Maclsaac
Lisa Nakagawa
Lisa Ruggles
Logan Peddie
Louisa Tsang
Lucas Bedford
Lydia Bellis
Mackenzie Gentek
Mackenzie Li
Madelyn Paterson
Madisen Obrovac
Maggie Woodward
Mahsa Sadeghi
Maia Marshall
Manpreet Nijjar
Marcela Botero
Mariah Moti
Mathew Dee
Matthew Girard
Matthew Yee
Max Walkes
Megan Brousseau
Megan Fann
Megan Gallant
Megan MacPhearson
Megan Williamson
Mehdi Eshraghi
Mehrnaz Javadian
Mei Mu (Annie) Zheng
Melissa Garcia
Meryn Sim
Michael Cong
Michael Kent
Michael Liu
Michelle Cruickshank
Michelle Korpijaakko
Mira Donaldson
Miya Embuscado
Mya Azemoudeh
Myah Sisson
Nadine Kallas
Naina Dhiman
Narges Bouzari
Natalia Montemayor
Natalie Chen
Nataliya Minenok
Natasha Chow
Neena Hull
Nejat Hassen
Nichita Ku
Nicholas Burton
Nicole McLellan
Nikita Kukushin
Nikolette Sidiropolous
Olivia Yung
Parker Laing
Parmis Atashzay
Patrick Rushton
Peter Christie
Peter Li
Peter Stockton
Peter Yi
Phillip Do
Preet Gandhi
Priya Dhaliwal
Queena Cheong
Rachel Chok
Rachel Cote
Rachel Lam
Rachel McGregor
Raed Almaro
Raha Tavakoli fard
Raza Malik
Rebecca Wong
Rhonda Tam
Riyad Zuber
Robin Mawson
Robyn Wozny
Rokin Wong
Rosemary Stringer
Rozmin Irani
Rui Ando
Ryan Feng
Salma Fargella
Salma Maged
Sam MacDonald
Samantha Lee
Sameeha Wadhwania
Sanya Jacob
Sara Durkin
Sara Jalili
Sarah Najafabadi
Sarah Richter
Scott Macdonald
Sean Cassidy
Sean Lee
Serena Midttun
Serena Woo
Shaireen Cassamali
Shaolin Rahman
Sharisse Lin
Sharon Jang
Shawn Lampen
Shayne Casey-Shaw
Shireen Ng
Shivani Mysuria
Simone Kieling
Sing Lok Ng
Sobhan Mardan
Sofia Hu
Sofy Tsai
Sonali Auluck
Sonya Kong
Sophie Davidson
Stefan Thomas
Stephan Veascly
Stephanie Doherty
Stephanie Shea
Steven Mao
Sumeet Chokker
Sumeet Saini
Suzanne Ng
Sveta (Anna) Yesakova
Sydney Dowling
Taj Gill
Takami Shirai
Tania Jagpal
Tanner Carnegie
Teghan Fedor
Tessa Goldberger
Thomas Renovich
Thora Rae
Tia Jang
Tiffany Lai
Tim Pak
Tim Schmidt
Tom Kanwischer
Tom Li
Tyler Chong
Victoria Mah
Vikesh Sharma
Vincent Zhang
Virgile Blais
Vito Chan
Wesley Wong
Xueqing Zhou
Yasmin Bains
Zack Vint
Zoe Fettig-Winn
Zoe Sarafis