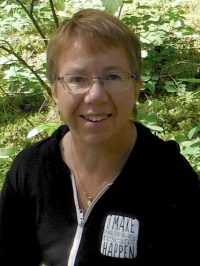 Principal Investigator
BPE (University of British Columbia), MPE (University of British Columbia), Ph.D. (Simon Fraser University)
Associate Professor, Department of Orthopaedics, Faculty of Medicine, University of British Columbia
Research Interests
crutch gait
;
Fatigue
;
Mobility
;
Segway
;
spasticity
;
Tire pressure
;
Wheelchair propulsion biomechanics
;
wheelchair skills
Dr. Sawatzky's main research focus is mobility for people with SCI and related injuries. Specifically, she examines wheelchair propulsion in both powered and manual wheelchairs, with the goal of improving their function. She aims to understand the science behind wheelchair propulsion, including exactly how someone with SCI moves when propelling a wheelchair and how they learn to use a power wheelchair. She also works with related devices, such as crutches and new tools to help improve walking ability.
Click here to see a video about Dr. Sawatzky's Segway Research.
Dr. Sawatzky is a Principal Investigator at ICORD and an Associate Professor in the Department of Orthopaedics at UBC. She completed her BPE and MPE at the University of British Columbia. She obtained her Ph.D. from Simon Fraser University.
Dr. Sawatzky is also interested in energy expenditure and how to reduce the amount of energy expended in walking or wheeling. Because individuals with SCI are prone to fatigue, even small energy savings are bound to translate into improved quality of life.
Because her work involves direct contact with people with SCI, Dr. Sawatzky is happy to have the access to these people that ICORD provides. She enjoys the relationship between researchers and individuals with SCI. ICORD also hosts a collegial environment between the students, staff, and faculty, as well as up-to-date equipment.
On account of her work with energy expenditure and tire pressure, Dr. Sawatzky is known as the "Tire Pressure Queen." At conferences, she is the first researcher to be consulted on any tire pressure questions. As she reports, "someone will look right at me as they say 'But we didn't control for tire pressure.'"
Her blog, titled Pump My Wheels, can be read here.
Recent Collaborations:
Dr. Sawatzky collaborated with Drs. Sonja de Groot of Amsterdam and Rachael Cowan (Miami University) on measuring the smallest detectable change in resistance to wheelchair movement. They also looked at the reliability of power output measures.
She works with Drs. Peter Cripton, Heather Finlayson, and Mark Carpenter on the role of vibration to spasticity as well as why spasticity is reduced in individuals with SCI who use a Segway for personal transport.
With Dr. Rachael McDonald from Monash University in Melbourne, Australia , Dr. Sawatzky is looking at wheelchair skills in children as well as other seating assessments related to children and wheelchair function.
She is a member of the Canwheel team along with Drs. Lee Kirby (Department of Medicine, Dalhousie University) and Bill Miller. Dr. Sawatzky is a member of the P5 group which is working on a powered wheelchair skill test and the training needed to increase skill level and confidence.
Major Findings:
Dr. Sawatzky was the first to show proof that decreasing tire pressure and altering the type of tire make a significant difference to energy expenditure during wheelchair use. Her research showed that tires must deflate by 50% before energy expenditure increases significantly. She also found that solid tires function only as well as tires that are one-quarter inflated.
Dr. Sawatzky's research has also shown that people with disabilities, even those with complete spinal cord disability, can use a Segway safely and effectively. In a follow-up study she examined whether people with disabilities should therefore use a Segway to achieve their mobility goals. The Segway was found to increase their quality of life as an alternative to a scooter or cane, largely because it allows individuals normally in a wheelchair to see others eye-to-eye. Furthermore, she has found that spasticity is reduced with Segway use, suggesting its potential as both a mobility and therapeutic device.
Techniques employed in the lab:
Biomechanical measures such as the force-sensing SmartWheel
Electromyography (EMG)
Motion capture to gather kinematic data
Physiological oxygen consumption to measure energy expenditure
Segway
Affiliation with organizations and societies:
American Association for the Advancement of Science (AAAS)
Canadian Society for Biomechanics (CSB)
Ethics Board, University of British Columbia (UBC)
Organizing Committee, International Seating Symposium
Advisory Board, University of Pittsburgh Model Center on Spinal Cord Injury (UPMC-SCI)
Awards
Some of Dr. Sawatzky's recent major awards and accomplishments include:
Distinguished Alumni Award (Canadian Mennonite University, 2012)
Nominee for the Killam Teaching Prize (UBC, 2010)
Paralympic 2010 Torch Bearer (2010)
Founders Medal for Best Paper (Canadian Orthopaedic Research Society, 2003)
Excellence in Education (Children's & Women's Health Centre of BC, 2002)
Current Lab Members
| Masters Student | Ph.D. Student | Medical Students | Research Staff |
| --- | --- | --- | --- |
| Mehdi Eshraghi | Megan MacGillivray | Talon Jones | Franco Chan |
| | | Rebecca Miller | |
| | | Mitchel Vu | |
| | | Mark Shewfelt | |
Trainee Awards
Year
Name
Award
2009
Grace Boutilier

Best Poster Award (Disabilities Health Research Network)
Best Poster Award (Experimental Medicine Research Day)

2008
Grace Boutilier

Best Poster (Experimental Medical Research Day)
Current Opportunities in the Lab
Dr. Sawatzky is accepting students who have their own funding sources. Please contact Dr. Sawatzky with inquiries.
Videos
Dr. Bonita Sawatzky talks about her research focuses and some of her findings.
Dr. Sawatzky talks about her Segway research in her ICORD Research Profile video.

Recent publications
Search PubMed