The Lecture Hall and the Atrium are available to be booked.

All booking forms were revised in August, 2019. Please follow the links below to download the new forms. Requests submitted on old forms will not be accepted.
The Lecture Hall has a maximum capacity of 80. Complete a booking form for the Lecture Hall. UBC and VCH departments, please use this form.
Administration & set up fees for the Lecture Hall
User
9am to 5pm
Before 9am / after 5pm
UBC / VCH
see booking form
External non-profit groups
$200
additional $75/hour
External for-profit groups
$400
additional $100/hour
Additional fees may be applicable. Please contact us for more information.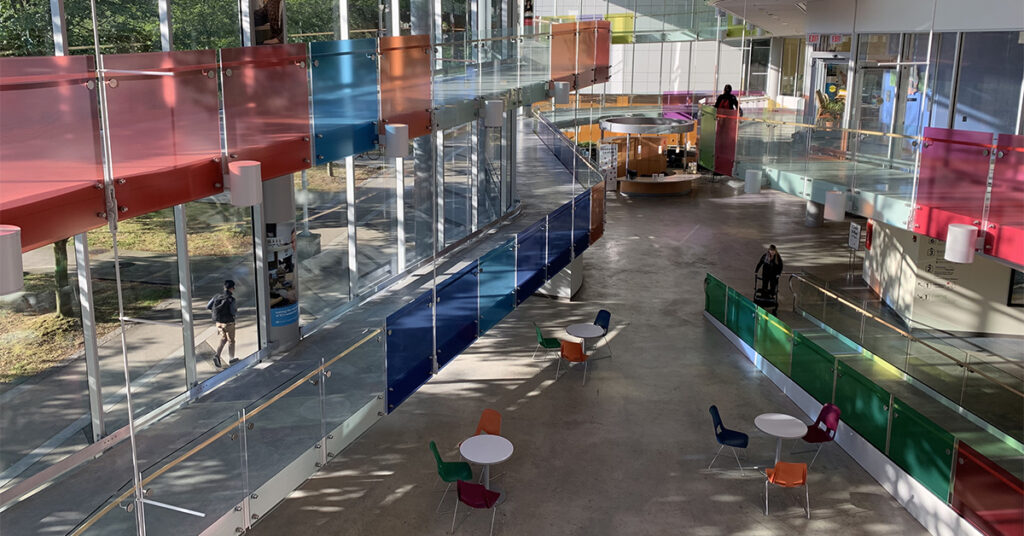 The Atrium can accommodate up to 300 people for a concert or cocktail reception, or 70 to 100 for a sit-down meal.
The Atrium is only available for booking after 5pm weekdays and on weekends.
Complete a booking form for the Atrium.
Atrium booking
 
User
first 4-hour block
add'l hour
UBC / VCH
contact us
External non-profit
$700
$150
External for-profit
$1,000
$200
Fee includes one on-site ICORD staff member who will be present during your booking as an emergency contact. Space is available as-is (there are ten café tables, 30 stackable chairs, and five two-seat couches in the atrium. No additional furniture or equipment is available). Please note that you will be booking the atrium of a research centre. While the space has excellent acoustics, it was not built as a performance space and does have some limitations. We will do our best to help you, but ICORD staff have very limited control over the lighting in the atrium, and no control over the ventilation, temperature, random noises, etc. If you plan to bring in extra lighting or specialized equipment for your production, you must provide details and get approval at least 3 weeks prior to your event.
Bookings will only be confirmed upon receipt of full payment to ICORD.
Cancellation policy:
A booking may be cancelled up to 5 business days after the confirmation of booking, beyond which the payment will be non-refundable. For events booked less than two weeks in advance, any cancellations will be non-refundable.