PARC Programs
We are again offering in-person programs, additional programs will be added based on demand.
PARC hosts several activities and offers a number of programs throughout the year. Programs include adaptive fitness and exercise programs, yoga, wheelchair ballroom dancing, wheelchair table tennis and RMT massages. Most of the programs are free of charge for PARC participants. Read on for detailed descriptions of the programs and activities:
Adaptive Boxing
Adaptive boxing class is a small group exercise program (up to 8 participants), which consists of a number of resistance exercises and boxing elements. The main focus of the class is to build muscle strength, raise endurance and enhance general cardiovascular fitness. The class runs in a fun, supporting, and motivating atmosphere, and takes place twice a week:
The number of spots is limited and they are filled on a first come first serve basis. For more information please contact Milly.
Adaptive Spin Class
Adaptive Spin Class is a group exercise program that provides an excellent form of aerobic exercise that benefits the cardiovascular system and strengthens the core. PARC offers adaptive spin classes twice a week:
The number of spots is limited and they are filled on a first come first serve basis. For more information please contact Milly.
Adaptive Yoga
Adaptive yoga is a small specialized yoga class with a focus on the breathing techniques and yoga postures, designed to meet the needs of all participants. The class is part of a pilot study with a focus on evaluating the efficacy of therapeutic adaptive yoga for individuals living with SCI. Classes are facilitated by Bobbie Seale-Cobiskey from Yogability.
Classes are $15 each and run by 8 week terms. All PARC participants and community members are welcome! For more information please contact Milly or Bobbie.
Langara College RMT Massage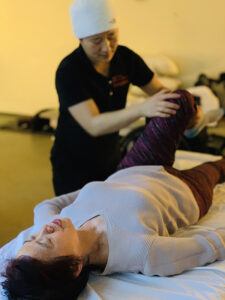 PARC has partnered with Langara College and their Registered Massage Therapy Program (RMT). Langara RMT students offer free 60-minute massages to PARC participants. Massage sessions are supervised by a qualified RMT instructor and help alleviate various muscle and joint issues. Massage sessions take place once a week (two sessions available):
Tuesday 1:30 pm – 2:30 pm
Tuesday 3:00 pm – 4:00 pm
Tuesday 4:30 pm – 5:30 pm
You can sign up for massage sessions in PARC or by phone (604) 675-8814.
Wheelchair Table Tennis
PARC has two table tennis tables, which are available to all PARC participants twice a week:
Monday 5:00 pm – 6:00 pm
Paddles, balls and an adapted tool for picking up balls are provided.
Wheelchair Dance
Wheelchair dancing fuses together wheelchair users and standing partners in dance. The social is hosted by Fuse Wheelchair Dance.
No experience or partner is required and all abilities are welcome. Come out and learn wheelchair partner dancing. For more information please contact Milly or Fuse Wheelchair Dance.
Fitness Classes
ICORD offers lunchtime fitness classes in the PARC multipurpose room. Classes are taught by certified Stott Pilates instructor Kayla Schibli and combine mat pilates and core strengthening with a variety of exercises targeting all parts of the body. Classes take place twice a week:
Monday 12:10 pm – 1:00 pm
Classes are designed for staff, but everyone is welcome to join. Mats and props provided. Very reasonable rates. Please email Cheryl if you are interested.
Community organizations
If you are interested in opportunities outside of ICORD and PARC, please consult Spinal Cord Injury BC's Resource Centre.