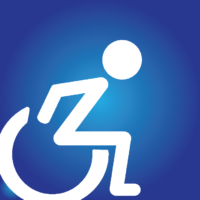 |
0 comments
Lay Summary by Arman Mohseni
Edited by Crystal Han
This is a lay summary on the paper by ICORDians Dr. Ben Mortenson, Dr. Jaimie Borisoff, and Dr. Bonita Sawatzky, and their colleagues Rachel Wong, Ashley Stewart, James Laskin, Johanne Mattie, and Carolyn Sparrey. Read the original article here.
---
Cardiovascular and respiratory disease are among the most significant contributors to mortality in people with spinal cord injuries (SCI), so engaging in aerobic exercise is very important. Besides improving physical health, exercise has mental health benefits and can  improve quality of life. Unfortunately, people with SCI are often limited in their ability to use standard gym equipment and the cost and availability of professional support can be prohibitive.
The most commonly used form of aerobic exercise device for people with SCI is an arm crank ergometer. It functions like a stationary bike, except the cranks are turned with the arms. The main issues with these ergometers are that they are not commonly available at community fitness centres and are relatively expensive. Therefore, our research group developed and evaluated a new inexpensive way to retrofit existing rowing machines to make them more accessible. The adaptive rower (AROW) allows a standard rowing machine to be used while seated in a wheelchair. The main benefit is that the kit costs only $400 CAD and can be used with a standard rowing machine. 
The purpose of this study was to explore wheelchair users' general experiences with exercise, while also assessing how efficient, effective, and satisfying they found the adaptive rower compared to the arm crank ergometer.
How was the study done?
This mixed-methods study collected data from 14 people with SCI or related conditions ranging from 21-63 years of age. A mixed-method study is one where quantitative data, which is expressed as a number, is combined with qualitative data, which is expressed through words, in order to analyze the given subject.
In this study, 21% of participants were female. All participants used a wheelchair as their primary means of mobility, and engaged in cardiovascular exercise at least once a week. 
This study involved 3 components:
Exercise session: Participants spent five minutes using both the adaptive rower and the arm crank ergometer at different exercise intensities.

The System Usability Scale Questionnaire was administered to measure participants' perceptions about the efficiency, effectiveness, and satisfaction using the adaptive rower and arm crank ergometer. 

Qualitative interview session: Participants were asked questions about their overall experience exercising on each machine, features they liked or disliked, how easy the machines were to use, and how the availability of this specialized equipment in their local fitness centres could affect them.
What were the results of this study?
According to the qualitative interviews, participants reported exercising to improve their physical and mental health, functional independence, and community participation. Participants identified a lack of accessible equipment as a major barrier to their ability to exercise.
On the System Usability Scale, both the ACE and aROW ranked quite high overall, indicating a high level of satisfaction and efficiency of both machines, but the aROW was described as a more enjoyable and effective method of exercise by the participants.
What does this mean for the SCI community?
The study provides preliminary support to promote the adoption of the adapted rowing machine in community fitness centres to reduce barriers to exercise encountered by wheelchair users in the community.