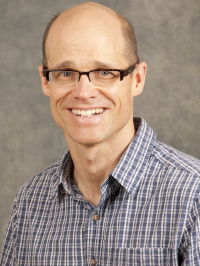 Principal Investigator
B.Sc. [Occupational Therapy] (University of Alberta), M.Sc. [Rehabilitation Sciences] (University of British Columbia), Ph.D. [Rehabilitation Sciences] (University of British Columbia), Post-Doctoral Fellowships (University of Montreal & Simon Fraser University)
Associate Professor, Department of Occupational Science and Occupational Therapy, Faculty of Medicine, University of British Columbia
Adjunct Professor, Simon Fraser University
Research Interests
Accessibility
;
Aging
;
Assistive technology
;
caregiving
;
Mobility
;
Occupational therapy
;
Outcome measures
;
Quality of life
;
Rehabilitation
;
Robotics
;
social participation
;
spinal cord injury
Dr. Mortenson is not accepting summer students for 2017. 
Dr. Mortenson has always had an interest in helping people, and so his early career healthcare is not surprising. After practicing as an occupational therapist for seven years, he returned to academia to address his clinical questions and find answers that could be used to provide more evidenced-based healthcare.
Dr. Mortenson's research is focused on aging, social participation, outcome measurement, and assistive technology. His studies include four main overlapping populations: individuals with SCI, assistive technology users, residents of residential care facilities, and both formal and informal caregivers. He is currently conducting studies exploring the effects of assistive technology interventions on users and their informal caregivers and exploring the experiences of power mobility users over time. He is starting a study to see if better scooter training will improve the social participation and safety of users.
Dr. Mortenson is an Associate Professor in the Department of Occupational Science and Occupational Therapy in the Faculty of Medicine at the University of British Columbia. He is also an Adjunct Professor at the Simon Fraser University and is a Principal Investigator at ICORD. He completed his B.Sc. in Occupational Therapy at the University of Alberta, followed by his M.Sc. and Ph.D. in Rehabilitation Science at the University of British Columbia. He completed his post-doctoral fellowship at the University of Montreal, funded by a CIHR grant, and a post-doctoral fellowship at the Simon Fraser University, funded by a Banting Postdoctoral Fellowship Award.
Dr. Mortenson's research has important implications. His work on aging with SCI is relevant to a growing population. His research on wheeled mobility and social participation is applicable to individuals with a wide variety of diagnoses including SCI. Given the issue of caregiver burn-out, his findings may help find ways to improve the quality of their lives and help those they assist remain in their homes. By gaining a better understanding of the implications of assistive technology training and interventions, Dr. Mortenson hopes to increase the social participation of individuals who use these devices and to enable them to do activities that give meaning to their lives. Dr. Mortenson's favourite aspects of working in ICORD is the collegial and supportive nature of everyone who works here. Dr. Mortenson deeply appreciates being surrounded by people with a common interest: to help people with SCI. Though his peers' avenues of research may differ, everyone contributes to that shared objective. He also enjoys the view of the North Shore mountains above downtown Vancouver from his office window!
Currently recruiting for:
Awards
Some of Dr. Mortenson's recent major awards and accomplishments include:
Legacy Travel Award (Canadian Association of Gerontology, 2013)
Post-doctoral Scientific Prize (CIHR, 2012)
Banting Post-Doctoral Fellowship (2012-2014)
CIHR New Investigator Award (2016)
Trainee Awards
| | | |
| --- | --- | --- |
| Year | Name | Award |
| 2016 | Emma Smith | Fellowship award (3 year duration) & Alzheimer Society Research Program (ASRP) funding  (CIHR & Alzheimer Society) |
| 2016 | Kristine Theurer | UBC's nominee to the SSHRC Talent Award competition (SSHRC) |
| 2017 | Alison Williams | CIHR Canada Graduate Scholarships-Master's Award (CIHR) |
| 2017 | Alison Williams | Rising Star Award (VCHRI) |
| 2017 | Dominique Gélinas-Bronsard | Best poster award (Centre of research in interdisciplinary rehabilitation (CRIR) Student Colloquium) |
Current Lab Members
| Masters Students | Ph.D. Students | Postdoctoral Fellows | Medical Students | Research Staff |
| --- | --- | --- | --- | --- |
| Mehdi Eshraghi* | Kristine Theurer | Mineko Wada* | Katherine Liu | Leena Chau |
| Sharon Jang | Michael Prescott | | Po Lun Jone | Mary Ellen Johnson |
|  Gurkaran Singh | Beena Parappilly | | Stephanie Wong | Megan MacGillivray |
| | Emma Smith | | Mitchell Vu |  Mahsa Sadeghi |
| | Lisa Simpson | | | Marli Siebrits |
| | Riley Louie | | | Louise Alice Smith |
| | | | | |
* has graduated in the past year
Current Opportunities In the Lab
Dr. Mortenson is not accepting volunteers for summer 2017.
Recent publications
Search PubMed