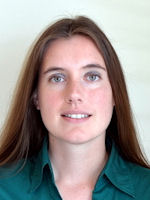 Principal Investigator
S.B. [Biology] (Massachusetts Institute of Technology), S.B. [Chemical Engineering] (Massachusetts Institute of Technology), M.S. (Washington University), Ph.D. [Biomedical Engineering] (Washington University), Post-Doctoral Fellowship [Bioengineering and Chemical Engineering] (University of California)
Associate Professor, Mechanical Engineering and Division of Medical Sciences, University of Victoria
Member, Centre for Advanced Materials & Related Technology
Research Interests
Biomaterials
;
Bioprinting
;
neuroscience
;
Regeneration
;
Scaffold
;
spinal cord injury
;
Stem cell
;
Tissue engineering
How can we restore function to diseased or damaged tissue? The field of tissue engineering can meet this demand by producing replacements for tissue and organs that no longer function properly. Regenerating simple tissues or repairing defects, such as in skin, can be accomplished using biomaterial scaffolds alone. The current challenge is how to develop engineered tissues for replacing more complex organs such as the spinal cord. Dr. Willerth's research program addresses this challenge and its complexities. These complexities include finding how to replace the variety of cell types present in tissue while also achieving the necessary arrangements of these cells. In particular, her work has focused on the use of pluripotent stem (iPS) cells, which can differentiate into any type of cell found in the body. Her research group analyzes the behaviour of stem cells inside three-dimensional biomaterial scaffolds with the goal of engineering complex tissues.
Dr. Willerth is an Associate Professor of Biomedical Engineering and Canada Research Chair at the University of Victoria. During 2017, she served as the Acting Director of the Centre for Biomedical Research and as the President of the Canadian Biomaterials Society. She is also a member of the Centre for Advanced Materials & Related Technology and a Principal Investigator at ICORD. She obtained her S.B. in biology and another in chemical engineering from the Massachusetts Institute of Technology. Her M.S. and Ph.D. in biomedical engineering were completed at Washington University and she pursued her NIH supported Post-Doctoral Fellowship in bioengineering and chemical engineering at the University of California.
When cells are transplanted into the harsh environment of injured tissue very few survive. Dr. Willerth's research works to make scaffolds which can increase the survival of these cells. The biomaterial scaffolds can be used in combination with stem cell therapies as a potential strategy for regeneration and improving functional recovery.
Dr. Willerth enjoys working at ICORD because it enables her to work with a variety of scientists, each with their own unique perspective on how to address the challenges associated with SCI. Her lab is located in the University of British Columbia Faculty of Medicine campus on Vancouver Island, where she shares space with other biomedical researchers. She appreciates the shared lab space because it allows "real interdisciplinary research."
Recent Collaborations:
Dr. Willerth collaborates with Martin Jun of the Department of Mechanical Engineering at the University of Victoria on producing electrospun scaffolds.
She works with MedGenesis Therapeutix Inc. on ways of delivering the protein GDNF, which increases the survival of neurons and she works with Stem Cell Technologies products to engineer neural tissue in a reproducible fashion. She also works with Aspect Biosystems to 3D print neural tissue.
Dr. Willerth collaborates with iProgen Biotech to use transcription factors to engineer neural tissue. Their publications on this work include: 
Robinson, M., Chapani, P., Styan, T., Vaidyanathan, R., Willerth, S.M. Functionalizing Ascl1 with novel intracellular protein delivery technology for promoting neuronal differentiation of human induced pluripotent stem cells.  Stem Cell Reviews and Reports. 2016 12 (4) 476- 483.
Willerth, S.M. Using functionalized transcription factors to engineer personalized neural tissue. Neural Regeneration Research. 2016 Oct 11(10):1570-1571.
Major Findings:
Fibrin is a protein involved in the clotting of blood. It is commonly used clinically as surgical glue. As a graduate student, Dr. Willerth was the first to determine the conditions needed to grow embryonic cells in fibrin scaffolding. Her work with three-dimensional fibrin scaffolds involves environments which more closely resemble the human body, allowing better understanding of how cell-tissue processes work. For example, her research has shown how naturally occurring proteins and hormones can change stem cells into recovery cells.
Techniques employed in the lab:
Immunohistochemistry
Electrospinning
Flow cytometry
Three-dimensional cell culture systems
Quantitative real time polymerase chain reaction (qPCR)
Affiliation with organizations and societies:
Centre for Advanced Materials and Technology (CAMTEC), University of Victoria
Centre for Biomedical Research (CBR), University of Victoria
Biomedical Engineering Society (BMES)
Board of Directors, Canadian Biomaterials Society
Awards
Some of Dr. Willerth's recent major awards and accomplishments include:
Canadian Society of Senor Engineers Fellow (2022)
McKelvey Emerging Leader Award (Washington University in St. Louis, 2020-21)
REACH Award for Excellence in Research Partnerships (UVic, 2020)
Women of Innovation (Canadian Institute of Mining, Metallurgy and Petroleum, 2017)
Young Innovator in Cellular and Molecular Bioengineering (Biomedical Engineering Society, 2015)
Faculty of Engineering Award for Teaching (University of Victoria, 2015)
Canada Research Chair in Biomedical Engineering (2013)
Post-doctoral Fellowship (National Institutes of Health, 2010)
Travel Awards (Biomedical Engineering Society, 2007)
Current Lab Members
| Undergraduate Students | Graduate Students | Postdoctoral Fellows | Research Staff |
| --- | --- | --- | --- |
| Milena Restan | Chris Lee | Dr. Ruchi Sharma | Nadia Masri |
| | Claire Benwood* | Dr. Chris Laver | Jon Walters-Shumka |
| | Becka Kirsch* | | |
| | Lennard Shoppely | | |
* has graduated in the past year
Trainee Awards
Year
Name
Award
2016
John Edgar
 2016
Andrew Agbay
 2016
Meghan
2015
John Edgar

Computational Biology Undergraduate Summer Student Health Research Awards (Canadian Institutes of Health Research)
J. Cura Scholar Award (University of Victoria)
Finalist for the Sunnybrook Research Prize (University of Toronto)
Current Opportunities in the Lab
Yes. Students are encouraged to email Dr. Willerth directly to find out more about opportunities.
Other Publications
Dr. Willerth has also published a book about using stem cells to engineer neural tissue. To learn more, click here. 
Recent publications
Search PubMed