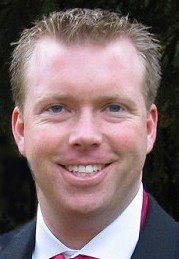 Investigator
B.Sc. [Kinesiology] (University of Waterloo), M.Sc. [Kinesiology] (University of Waterloo), Ph.D. [Kinesiology] (University of Waterloo), Post-Doctoral Fellowship [Neuroscience] (Karolinska Institute)
Professor, School of Kinesiology, Faculty of Education, University of British Columbia
Research Interests
Balance
;
EEG
;
Falling
;
Fear
;
Postural control
The first objective of Dr. Carpenter's research is to identify the factors in the mind, the brain, and the body which contribute to losing balance and falling. In particular, he examines the elements associated with age, Parkinson's disease, damage to the inner ear, and SCI. His second focus is on identifying the best exercise, training, and treatment strategies to improve these conditions and thereby reduce the occurrence and impact of falls.
In addition to his position as an Investigator at ICORD, Dr. Carpenter is also an Professor in the School of Kinesiology at the University of British Columbia. He completed his B.Sc., M.Sc., and Ph.D. in kinesiology at the University of Waterloo. His Post-Doctoral Fellowship in neuroscience was at the Karolinska Institute.
Dr. Carpenter's current research is focused on investigating whether the use of surface and deep abdominal muscles can be preserved in individuals with complete, high thoracic SCI. This research is important because it will be used to improve current clinical assessment tools for motor function in SCI. It also highlights the potential for training trunk and abdominal muscles in order to improve posture and balance in these patients.
Dr. Carpenter's favourite aspect of working at ICORD is "the opportunity to work with, and learn from, such a wide variety of experts dedicated to research on SCI." He feels that the sense of collaboration within the centre fuels the interest and motivation of the researchers.
Recent Collaborations:
Dr. Carpenter is collaborating with Drs. Tania Lam, Anna Bjerkefors (Swedish School of Sport and Health Sciences), Romeo Chua, and Zhen Chen (Post-Doctoral Fellow at ICORD). They are working to further our understanding of abdominal muscle activity in people with SCI, and how these muscles are used during daily living. They are using such methods as ultrasound, electromyography, and transcranial magnetic stimulation (TMS) to study the complexity of trunk muscle function during different tasks.
Major Findings:
Dr. Carpenter provided evidence for a direct relationship between fear of falling and the strategies used for human postural control. In a study combining expected and unexpected pushes and pulls to the upper body, he showed that psychological factors affect the neural response associated with postural reactions to unpredictable disturbances. In a later study, Dr. Carpenter found that feelings of fear and anxiety are partially mediated by changes in the central and peripheral nervous system.
Humans, like other species, are unable to stand completely still; our bodies are continually swaying while we stand, even during concentrated efforts to be still. Traditionally, this has been viewed as an inability of the central nervous system (CNS) to maintain perfect balance using feedback from our senses to control corrective movements. But Dr. Carpenter has challenged this theory by providing evidence for an exploratory role of this movement. His results suggest that postural sway may be used to acquire sensory information from multiple sensory systems. In a follow-up study, he found further support for this new theory, which suggests that current clinical practices may need to be re-evaluated.
Dr. Carpenter has also shown evidence of both voluntary and reflexive abdominal muscle function in individuals with complete, high thoracic SCI. Body movements were similar in participants with and without SCI, although the pattern and timing of muscle responses differed.
Techniques employed in the lab:
Assessment of perceived and physiological effects of fear and anxiety
Electroencephalography (EEG)
Forceplates to measure ground reaction forces and leverage
Surface and intra-muscular electromyography
Virtual reality
3D full-body motion analysis
Affiliation with organizations and societies:
Djavad Mowafaghian Centre for Brain Health, University of British Columbia
Vice-President, International Society of Posture and Gait Research (ISPGR)
Canadian Association for Neuroscience (CAN)
Society for Neuroscience (SFN)
Awards
Some of Dr. Carpenter's recent major awards and accomplishments include:
Canada Research Chair Tier 2 (2010, 2015)
Post-Doctoral Fellowship (NSERC, 2002-2004)
Current Lab Members
| Undergraduate Students | Ph.D. Students |
| --- | --- |
| Shayne Casey-Shaw | Taylor Cleworth |
| Mina Gerges | Brian Horslen |
| Suzie Kimball | Eveline Pasman |
| Yu-Heng Li | Martin Zaback |
| Jonathan Wou | |
Current Opportunities in the Lab
There are currently no openings in Dr. Carpenter's lab. Please contact Dr. Carpenter with inquiries.
Recent publications
Search PubMed