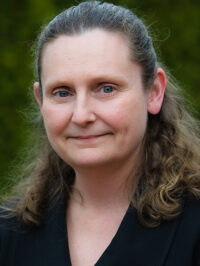 Principal Investigator
Director of Research, Bladder Care Centre, University of British Columbia
Professor, Department of Urologic Sciences, Faculty of Medicine, University of British Columbia
Active Staff, Vancouver General Hospital
Co-Appointment, Department of Healthcare and Epidemiology, Faculty of Medicine, University of British Columbia
Co-Appointment, Department of Anesthesiology, Pharmacology & Therapeutics, Faculty of Medicine, University of British Columbia
Research Interests
Brain mediation of LUTS
;
Female pelvic medicine
;
neurogenic bladder
;
neurourology
;
urinary tract infection
;
urodynamics
;
urology
Dr. Stothers is a Principal Investigator at ICORD. She is the Director of Research for the Bladder Care Center at the University of British Columbia and a member of the Active Staff at Vancouver General Hospital. At the University of British Columbia, Dr. Stothers is a Professor in the Department of Urologic Sciences, and she holds Co-Appointments to the Department of Healthcare and Epidemiology and the Department of Anesthesiology, Pharmacology & Therapeutics.
Currently recruiting for:
Recent Collaborations
Dr. Stothers and Dr. Ismail Laher from the UBC Department of Pharmacology at UBC have been collaborating to investigate the relationship between estrogen and lower urinary tract function, while allowing graduate students and post-graduate students to study lower urinary tract physiology and gain experience in a clinical setting.
Along with Dr. Andrew Macnab from the Child & Family Research Institute and funded by a grant from the prestigious Bill & Melinda Gates Foundation, Dr. Stothers is currently working on developing a wireless bladder monitoring system for the developing world.
She is also working on a home spinal cord injury monitoring method using telemedicine with Dr. Mark Nigro and Dr. Blayne Welk from the University of Western Ontario.
Major Findings
Dr. Stothers completed a large-scale, randomized trial of cranberry products for prevent of recurrent urinary tract infections (UTIs) in women, supporting the conclusion that cranberry tablets appeared to be the most cost-effective prevention for UTIs.
Dr. Stothers compared factors pertaining to live donor kidney transplant (LDKT) between nondonors and live kidney donors, uncovering previously unavailable information for health care workers who design donor recruitment for donors of different ethnic origins. They discovered that increasing knowledge about LDKT might not necessarily lead to increase donation. Dr. Stothers and her colleague suggest that a focus on the recipient should be made initially when educating a potential donor, and that potential donors might benefit from speaking with a former kidney donor.
Between 2008 and 2009, Dr. Stothers and her colleagues provided the first alternative to invasive pressure monitoring for the classification of degrees of lower urinary tract obstruction in men.
She is the founding inventor on the use of Near-Infrared Spectroscopy (NIRS) on the bladder and other targets in the pelvis, a considerably less invasive and less costly alternative to older urodynamics methods, while providing even richer information about bladder physiology.   The NIRS machines are currently at the clinical trials stage.
For more of her major findings, please see the selected papers below, as well as her recent publications listed at the bottom of the page:
Techniques employed in the lab:
Near Infrared Spectroscopy
Affiliation with organizations and societies:
American Urologic Association (AUA)
European Urological Association (EUA)
Fellow Royal College of Physicians and Surgeons of Canada (FRCSC)
International Consultation on Incontinence, World Health Organization (WHO)
Awards
Some of Dr. Stother's recent major awards and accomplishments include:
Victor A. Politano Award (American Urologic Association, 2020)
Distinction (Canadian Insider 58th Annual AUA Award Winners, 2020)
Harry G Cooper Award (Northwest Urological Association, 2017)
Peter Wall Scholar (Peter Wall Institute of Advanced Studies, 2017)
Elected to UBC Senate (UBC, 2017)
First prize research – best poster section on Urodynamics (American Urological Association, 2016)
First prize research – best poster section on non neurogenic voiding dysfunction (American Urological Association, 2016)
Best Original Research by a Member – Second Prize (Northwest Urologic Society, 2015)
First Place Ribbon, Section Urodynamics (American Urologic Association, 2010)
Harry Cooper Award for Research (Northwest Urologic Society, 2007)
Special Merit for Research (UBC, 2007)
Women of Distinction Nominee (YWCA, 2005, 2006)
Outstanding Researcher Award (UBC, 1998-1999)
Current Lab Members
| | | |
| --- | --- | --- |
| Undergraduate Students | Medical Students | Research Staff |
| Kelsey Petersen | Mostafa | Seyedeh Ameneh Madjd Jabari |
| | | Kelsey Petersen |
| | | Kennedy Cresswell |
*has graduated in the past year
Trainee Awards
| | | |
| --- | --- | --- |
| Year | Name | Award |
| 2017 | Emily Deegan | First Prize, Northwest Urological Association Student Category (Northwest Urological Association) |
Current Opportunities in the Lab
Please contact Dr. Stothers with inquiries.
Recent publications
Search PubMed