|
0 comments
Lay summary and illustrations by Xueqing Zhou
This is the lay summary written on the paper "Acute physiological comparison of sub-maximal exercise on a novel adapted rowing machine and arm crank ergometry in people with a spinal cord injury" Sawatzky, B., Herrington, B., Choi, K., Mortenson, B., W., Borisoff, J., Sparrey, C., & Laskin, J. J. (2022). Read the original article here.
---
The goal of this study was to test and compare oxygen uptake (VO2) during exercise using the adapted rowing machine and the arm cycle in people with spinal cord injury/disease (SCI/D). VO2 during aerobic exercise reflects a person's ability to take in and use the oxygen in active muscles and other tissues to keep moving. Greater VO2 values can be thought of as more intense exercise challenging one's heart, lungs, and metabolism.
How was the study done? 
The rowing machine used in this study was adapted from a Concept2 Indoor Rower, and could fit manual or power wheelchairs. It had an adjustable frame with support pads, one over the thighs and one in front of the chest. The chest support was optional to accommodate different levels of trunk stability.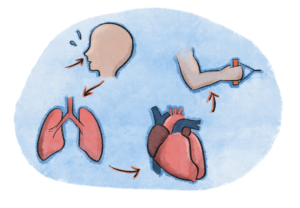 14 adults with SCI/D with varying levels of trunk stability participated in this study. After an orientation session, participants were tested on the arm cycle and the adapted rowing machine on two separate days. On each day, participants began with a warm-up/practice on the selected machine, and exercised for 5 minutes each at self-selected low and moderate workloads. Metabolic data, such as VO2 and heart rate, and perceived physical exertion (how hard you feel like your body is working), were recorded during the exercise.
What were the results of this study? 
The main findings of this study were that:
At the same workload, participants reached a much higher VO2 using the adapted rowing machine than they did on the arm cycle. This might be explained by:
(1) the biomechanics of the rowing machine makes it less efficient to transfer power from the body to the rowing system;
(2) the rowing machine uses more of the larger posterior shoulder muscles.
Participants reported that exercising on the adapted rowing machine felt harder than exercising on the arm cycle. However, participants did not necessarily think of "feeling harder" as a negative thing.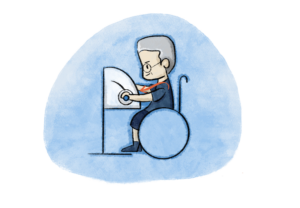 What does this mean for the SCI community? 
Aerobic exercise is beneficial for health and wellbeing after SCI/D. However, lacking access to affordable, adaptive exercise facility/equipment prevents many individuals from participating.
Since wheelchair users rely heavily on anterior shoulder muscles for daily activities, it is important to balance with exercises that focus on the posterior shoulder muscles while not worsening shoulder pain.
The adapted rowing machine developed for this study broadens the options for aerobic exercises for people with SCI/D. It could use more of the posterior shoulder muscles, offer an enjoyable and effective workout, and challenge one's body more compared to the traditional arm cycle machine.
Limitations:
The sample size was relatively small, and the participants were likely more active than the general population of people with SCI/D.
Participants exercised on the arm cycle and adapted rowing machines only for 5 minutes; researchers still need to test exercises over longer durations for potential overuse injuries, such as skin shearing.