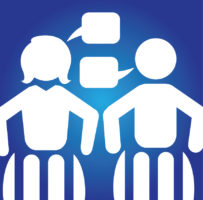 |
0 comments
Lay summary by Preshon Pillay
Edited by Crystal Han
This is the lay summary written on the paper by Mélissa Nadeau, Supriya Singh, Lise Belanger, Vanessa Noonan, Lynsey Hamilton, Dr. Michael Boyd, Nicolas Dea, Dr. Brian Kwon, Dr. Scott Paquette, Dr. John Street, Dr. Marcel Dvorak, and Charles Fisher. Read the original article here.
---
Individuals who have experienced a spinal cord injury (SCI) may have different severities of symptoms and outcomes. However, a shared experience amongst individuals who have experienced an SCI is receiving the news of their injury. This news is typically delivered to patients by their surgeon, and although these surgeons are well trained in evaluating and treating the spinal cord, they may lack the training in complex communication, such as delivering bad news. 
The purpose of this study was to understand the patient and family member perspective of receiving information on the severity and outcomes after sustaining a SCI. 
How was the study done? 
This was a qualitative study in which the research team interviewed fifteen individuals with SCI and eleven of their family members. Interviews were conducted with both the participants and family members together where possible. Each interview was recorded, and the researchers analyzed the specific words used in the interview as well as their underlying meaning. The results were grouped into major and minor findings. 
Demographic data was collected for the patients only, not the family members. Patients between 17-77 years of age (average of 42.6 year old), with 87% of patients being male. The interviews occurred between 1 and 2 years after the SCI was sustained. 
What were the results of this study? 
The results of this study can be divided into two major themes: Physician Demeanor (general approach and attitude towards the patient) and Delivery of Information (content, timing, and source of information). These major themes are further divided into minor themes which are explored below. 
Physician Demeanor
Being Personable 

Participants in the study valued interactions from the physician that consisted of friendly demeanor, positive energy, and a sense of humour. Participants also felt a sense of comfort when healthcare providers took the time to get to know them personally. 

Participants felt the daily visits with physiotherapists and occupational therapists was sufficient,  but would also appreciate visits from their surgeon. 

Maintaining Patient Dignity 

Participants voiced the need to be treated respectfully and as individual humans, rather than as disabled patients. 

Many participants shared concern over being treated differently after the SCI, but appreciated being treated with dignity. 
Delivery of Information 
Initial state of shock 

Participants reported understanding the severity of their injury as soon as it occurred, or soon after in the emergency department. When surgeons shared the severity again with them and the need for surgery, participants stated this was sufficient information, however they were not in a state to discuss specific details regarding diagnosis and prognosis. 

Stating the facts 

Basic terms and a description of the injury helped improve the understanding of diagnoses. 

Understanding the difficulty in predicting prognosis 

Most participants were aware that predicting their specific prognosis was difficult, but they preferred it when surgeons shared this view as a personal journey to recovery, rather than being uncertain and ambiguous.

Balancing truth and hope 

This minor theme was one that was very patient-specific and required healthcare workers understanding their patients' needs. In general, participants wanted surgeons to provide both realisms, while maintaining hope. 

Emphasizing short term goals 

By helping participants focus on short term goals and providing positive feedback when obtaining these goals, participants to maintain motivation throughout the duration of their treatments. 

However, it is important to emphasize that long-term prognosis and goals were still important, but at another time: long-term goals and prognoses were more appropriate during the rehabilitation phase. 
This flowchart from the paper summarizes the themes which are discussed in the results of the study.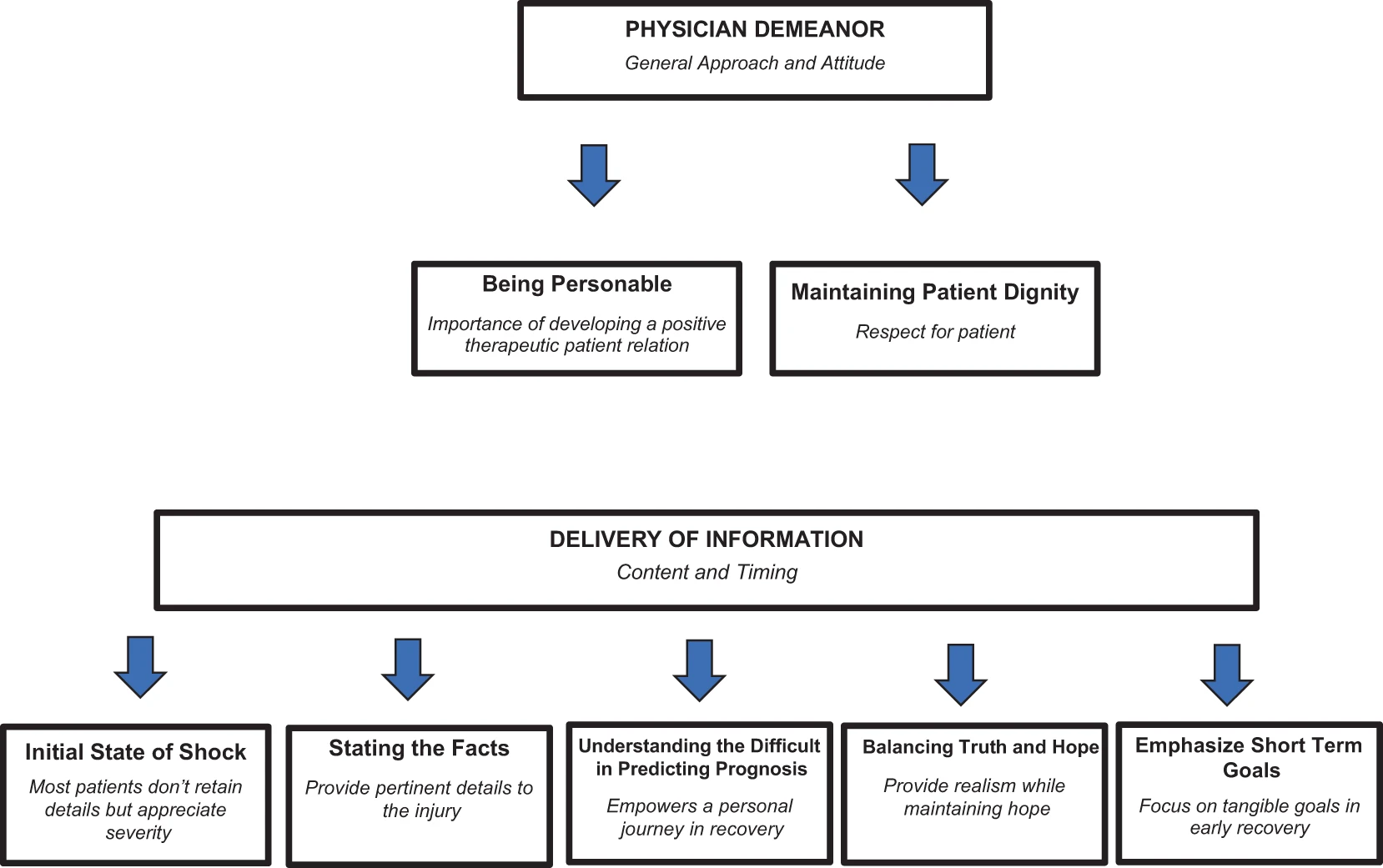 What does this mean for the SCI community? 
Although the focus of this study was to understand patient perspectives to help health care professionals with communicating diagnosis and prognosis of SCI to patients, it can also be helpful for patients who have experienced a SCI. Patients who have experienced an SCI can use the findings from this study to communicate with their health care providers and advocate for their own care and understanding. In knowing how others may have been treated in these situations, patients can feel more empowered to seek communication that is personable and meets their individual needs.