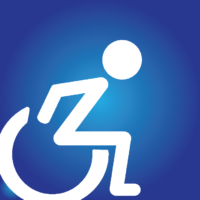 |
0 comments
Lay summary by Aleksander Walter
Edited by Crystal Han
This is a lay summary of the research article by ICORD researchers Dr. Ben Mortenson, Dr. Jaimie Borisoff, and Mahsa Khallili, and their colleagues , Chelsea Jonathan, Nicole Hocking, and Dr. Mike Van Der Loos. Read the original article here.
---
Many people who use Wheeled Mobility Assistive Devices (WMADs) have identified environmental and personal factors, as well as their WMADs themselves, as the top factors in the limitation of participation in activities around their homes, as well as within their community, and even during use with other modes of transportation. Although WMADs make everyday life more accessible, it is worth noting that different types of WMADs have different trade-offs, which are listed below:
Power Wheelchairs (PWCs)

have minimal wear and tear on the body, as well as some models being able to traverse through uneven or rough surfaces, which allows for access to more environments. They can be more difficult to transport though.

Manual Wheelchairs (MWCs)

are relatively lightweight, and therefore easier to transport. MWCs are also very maneuverable and promote more of an active lifestyle, however, secondary health issues such as joint pain may arise with prolonged use. 

MWCs can have powered and non-powered "add-ons" that have addressed some of the challenges for MWC users. These

add-ons (AOs)

can help in manoeuvrability in taxing environments, such as uneven or rough surfaces. However, these AOs add extra weight, which can cause usability complications of its own.
What was the purpose of the study?
The purpose of this study was to measure the level of autonomy felt by WMAD users, via a survey which assessed satisfaction with autonomy in their home, facilities outside of their home, outdoor environments (both human-made and natural), and transportation. The questionnaire aimed to examine the frequency of WMAD use across different environments, compare and evaluate how autonomous WMAD users felt, and more specifically, the differences among users of different WMAD types.
How was the study done?
The study focused on the measurement of autonomy, which the researchers defined as "having a choice about the types of activities one does, or having control over what, where, when, how, and in what manner those activities are carried out." An online questionnaire was used to measure the perception of autonomy amongst WMAD users in five different environments:
inside the home

facilities outside of the home

outdoor natural environments

outdoor human-made environments

transportation
The questionnaire was split into four main sections: background information about the participant, demographics, satisfaction with autonomy assessment in the five environments, and satisfaction with autonomy concerning WMAD-related factors (e.g. portability, durability, speed). Participants were also asked what type of WMAD they used, as well as if they had any type of add-ons or modifications.
What did the researchers find?
All WMAD users reported generally high satisfaction levels with their autonomy. However, higher overall satisfaction levels were found amongst MWC+AO users in comparison to PWC or MWC-alone users. MWC+AO users were the most satisfied with their health conditions in all five listed environments. Although both MWC and PWC users were the most satisfied with autonomy with respect to specific individual device-related factors in certain environments, MWC+AO users appeared to report a more balanced sense of autonomy satisfaction across most factors and environments
Why is this study important for the SCI community?
This study could help future WMAD users weigh the advantages and disadvantages of different types of WMADs prior to choosing one. This study could also help physicians and other healthcare professionals improve their understanding of the various WMADs and provide WMAD recommendations to their patients which best suit their needs. It also highlights the understudied area around MWC+AOs. It may also point engineers and designers towards making improvements to WMADs and pursuing innovative new wheelchair add-ons.
What were some limitations of the study? 
According to the researchers, the participants of this study are not representative of all WMAD users, due to the lack of randomization. The majority of participants were located in North American countries, who may have access to more advanced technologies. Thus, these results may not be generalizable to WMAD users outside of North America.
Definitions:
WMAD – Wheeled Mobility Assistive Devices
MWC – Manual Wheelchair
AO – add-ons
PWC – Power Wheelchairs