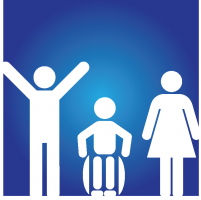 |
1 comment
Summary by Daniel Chang and Lisa Liu
This is a summary of a research study done by ICORD Principal Investigator Dr. Stacy Elliott and colleagues. To read the original research article, please click here. 
---
What is bowel, bladder and sexual dysfunction?
Persons with a spinal cord injury (SCI) can experience changes to their bladder, bowel, and sexual function secondary to the spinal cord damage. Problems  can occur due to a  lack of voluntary control over urination and defecation, possibly leading to complications like urinary tract infections. Persons with a thoracolumbar (lower back) SCI often develop these health problems because the nerves that control such bodily functions are contained in the lower region of the spinal cord. In this study, the researchers wanted to report on how common bowel, bladder, and sexual dysfunctions are in individuals with a thoracolumbar SCI, and to examine the relationship between these dysfunctions and an individual's overall physical and mental health status.
What did participants do?
All participants had an SCI between the T11 and L3 vertebrae and were previously diagnosed with motor movement problems. For this study, participants filled out a questionnaire. The questionnaire was composed of the following sections: bowel, bladder and sexual dysfunctions, pain, depression, and health status. Health status questions aim to grade an individual's quality of life across various categories, such as mental and physical health, social functioning, and vitality. Responses were then summarized into a physical component summary score and a mental component summary score. 
What did the researchers find?
Of the 51 participants who completed the questionnaire, 59% of participants reported bladder problems, 54% reported bowel problems, 61% reported sexual dysfunction, and 29% reported having all three problems. Significant predictors of health status included age at the time of injury, bowel incontinence, sexual dysfunction, presence of pain, and poor motor ability. Those who reported having less bowel, bladder, and sexual function had lower physical and mental health. Interestingly, those with higher motor capabilities reported higher physical health but lower mental health. The authors suggest that persons with lower motor capabilities may have accepted their disability, compared to persons with greater motor capabilities who have a higher expectation of recovery that most often is not fulfilled, leading to a lower mental health status.
Why is this important?
The results from this study show that there is a high risk of developing bladder, bowel, and sexual dysfunction for those with a thoracolumbar SCI, and that these functions are important in determining the quality of life for individuals with SCI. Importantly, the study confirms that these problems often occur together, and was the first to look at the combination of these problems on overall health in persons with thoracolumbar SCI. The authors recommend improving bladder, bowel, and sexual dysfunction in the context of improving overall health conditions for those in the community who have a thoracolumbar SCI and their health care providers.