Principal Investigator
Clinical Professor, Departments of Psychiatry and Urologic Sciences, Faculty of Medicine, University of British Columbia
Medical Director, BC Centre for Sexual Medicine
Co-Director, Vancouver Sperm Retrieval Clinic
Medical Director, Men's Sexual Assessment and Rehabilitation Service, Prostate Centre
Physician Consultant, GF Strong Sexual Health Rehabilitation Service
Research Interests
Autonomic Dysreflexia
;
Clinical Research
;
Fertility
;
Fertility rehabilitation
;
Neuroplasticity
;
Plasticity
;
Sensory substitution
;
Sexual rehabilitation
;
Sperm retrieval
Dr. Elliott's focus is on community sexual health work, outpatient sexual rehabilitation, and fertility following SCI. As part of her work with the Vancouver Sperm Retrieval Clinic, she and her colleagues work to improve sperm retrieval techniques and conception rates in men with ejaculatory disorders. Since the 1980s, their work has enabled approximately 100 children to be born to families living with spinal cord injuries. She also researches prostate cancer in her consultative role in the Men's Health Initiative in Vancouver, aiming to facilitate sexual rehabilitation for men with prostate cancer while also developing survivorship programs as part of a wider approach to dealing with prostate cancer. The challenges of living with prostate cancer are similar to those of living with SCI, in that sexuality is a high priority and appropriate management can have a positive effect on quality of life. For Dr. Elliott, it is her privilege to be able to work with men and their partners struggling with such life-changing issues, and see them at their most vulnerable and open. She has gained immeasurable respect for them because of it.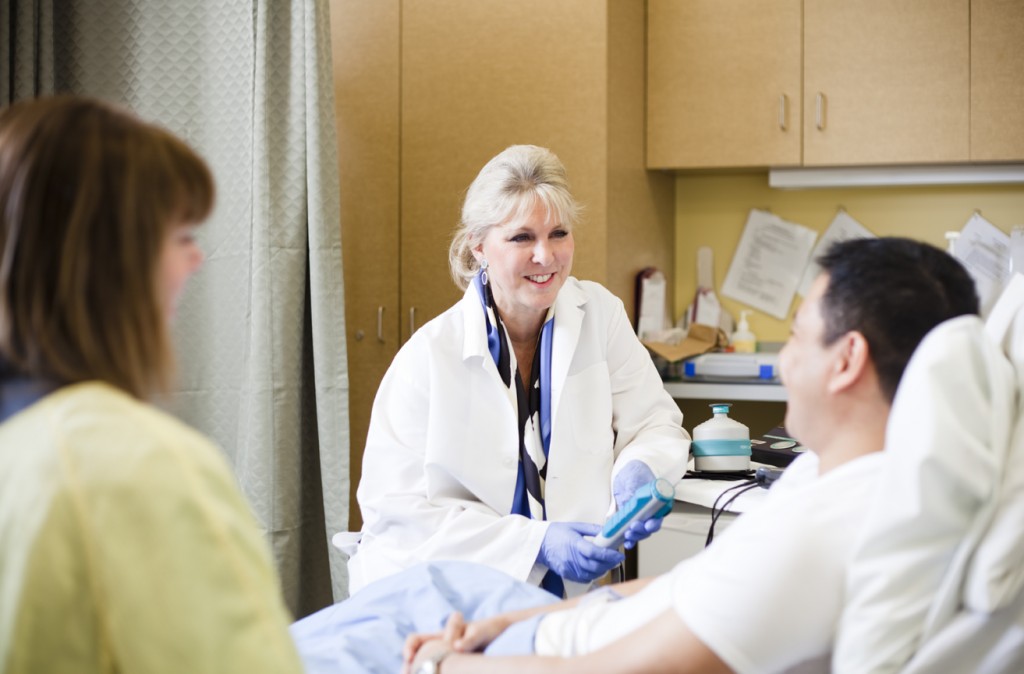 Dr. Elliott is a Clinical Professor in the Departments of Psychiatry and Urologic Sciences at the University of British Columbia and a Principal Investigator at ICORD. She is the Medical Director of the BC Centre for Sexual Medicine, Co-Director for the Vancouver Sperm Retrieval Clinic, Medical Director of the Men's Sexual Assessment and Rehabilitation Service at the Prostate Centre, and Physician Consultant to the GF Strong Sexual Health Rehabilitation Service. She is also a past Chair of the Canadian Male Sexual Health Council.
Dr. Elliott is also working on new techniques and devices related to penile vibratory stimulation (PVS), a sperm retrieval method useful for men with higher level SCI. She also studies the problems of autonomic dysreflexia (AD), a blood pressure problem common in people with SCI, and the dangers it poses, so that the very act of sex could be fatal for a person with SCI. She is involved in studying measures to safely reduce the risk posed by sexual acts without compromising sexual functioning. Dr. Elliott is also actively involved in the education of physicians and allied health care professionals through her work developing a sexual health rehabilitation primer course as part of a course stream for nurses at the British Columbia Institute of Technology. Based on learning and proficiency, it is designed to increase the knowledge of sexual health for practitioners.
Dr. Elliott finds the opportunity to mix with other physicians and surgeons to be one of the greatest assets that ICORD and the Blusson Spinal Cord Centre have to offer, as it brings together clinical research, rehabilitation research, physicians, nurses, physiotherapists and occupational therapists all within a single physical space, and all focused on solving similar problems from different perspectives in a team effort.
Recent Collaborations:
Dr. Elliott collaborated with Kate McBride, a Sexual Health Clinician at GF Strong Rehabilitation Centre to develop the sexuality and reproduction modules with the team of the SCI University Online (SCI-U) program, an educational opportunity for clients and the SCI community. Dr. Elliott and the Sexual Health Clinician Marie Carlson repeated a 2 day course (originally designed for the SCI Clinic at the Craig Hospital in Denver) for the Physical Medicine and Rehab Department at the University of Calgary in February of 2013 in order to educate the team on sexuality and reproductive issues after SCI in order to promote a sexual health service within their department. With Kate McBride and Shannon Griffin (both sexual rehabilitation nurse specialists) and the educational team of BC Institute of Technology, Dr. Elliott helped create two 3-credit university level courses on sexual health rehabilitation for nurses, with Course One (NSPN 7740) introduced in September 2012 and Course Two (NSPN 7745) introduced in April 2013.
With Nancy Brackett of the Miami Project to Cure Paralysis, Dana Ohl of Ann Arbor Michigan, and Jens Sønksen of Denmark, Dr. Elliott continues to work at the affiliated Vancouver Sperm Retrieval Clinic on shared knowledge and writing projects.
Major Findings:
Dr. Elliott is part of the Disabilities Health Research Network, involved with the development of the Sexual Device Manual for Persons with Disabilities. She and her co-director, Dr. Andrei Krassioukov, were in charge of developing a manual containing research, clinical expertise, and product information; all is intended for health care professionals and their clients.
As part of her work with Canadian Paraplegic Association Ontario and Toronto Rehabilitation Institute, Dr. Elliott is developing the sexuality and fertility components for the online SCI University (SCI-U), a program designed for e-learning about healthy living with spinal cord injury. It offers a repository of information, resources, and tools for the SCI community.
With fellow PI Dr. Jaimie Borisoff, Dr. Elliott has also worked on pilot studies with the BrainPort. The BrainPort is a sensory substitution device which is commonly used with a video camera to translate visual information into a stimulation pattern that is displayed on the user's tongue. With Dr. Borisoff, Dr. Elliott has shown that the use of the BrainPort tongue device has the potential to re-awaken some sexual sensory signals below the level of an SCI.
Techniques employed in the lab:
TENS and double PVS
Sensory substitution
Testosterone or gonadotropins replacement
Affiliation with organizations and societies:
Academy of Spinal Cord Injury Professionals (ASCIP)
American Spinal Injury Association (ASIA)
Canadian Fertility and Andrology Society (CFAS)
Consortium for Spinal Cord Medicine
Canadian Male Sexual Health Council (CMSHC)
International Spinal Cord Society (ISCOS)
International Society of the Study of Women's Sexual Health (ISSWSH)
Spinal Cord Injury University Online (SCI-U)
Society for Male Reproduction and Urology (SMRU)
Awards
Some of Dr. Elliot's recent major awards and accomplishments include:
A Mindfulness psychoeducational group interverntion targeting sexual adjustment for women with MS and SCI (ASCIP, 2016)
Difference Maker Award (Rick Hansen Institute, 2014)
Queen Elizabeth II Golden Jubilee Medal (Governor General, 2012)
Continuing Medical Education and Professional Development Award (UBC Department of Psychiatry, 2009)
Top 10 Platform Presentations (American Paraplegic Society Annual Meeting, 2006)
Current Lab Members
| Medical Students | Postdoctoral Fellows | Ph.D. Students | Administrative Staff |
| --- | --- | --- | --- |
| Emmanuel Tse | Dr. Tom Nightingale | Abdullah Alrashidi* | Andrea Ramirez |
| Chloe Lim | | Shane Balthazaar | Amanda Lee |
| | | | Tahira Tejpar |
*has graduated in the past year
Current Opportunities in the Lab
There are currently no openings in Dr. Elliott's lab. Please contact Dr. Elliott with inquiries.
Videos
Dr. Stacy Elliot talks about her research in fertility and sexuality in individuals with spinal cord injuries as well as the advancement  of support for the sexual health field.
Watch an interview between the Rick Hansen Institute and Dr. Stacy Elliot regarding sexuality after spinal cord injury and the progress in this area of care and research to improve sexual functionality and quality of life.
Dr. Elliot covers sexuality in males with SCI, as well as aspects of health that need to be considered.
Recent publications
Search PubMed