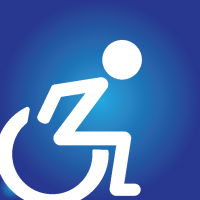 |
3 comments
Lynda Bennett
Learning to use a manual wheelchair can be like learning to ride a bike: through trial and error. Think about the skills you'd need to operate a wheelchair effectively in the community and how long it would it take you to acquire them. If you had the opportunity to receive training from a physical or occupational therapist, could that make the process more efficient?
The following is a summary of a survey of manual wheelchair training by physical and occupational therapists at Canadian rehabilitation centres.
Original article: Best, K.L., Routhier, F., Miller, W.C. A description of manual wheelchair skills training: current practices in Canadian rehabilitation centers. in Disabil Rehabil Assist Technol. 2014 Apr 7. Find the original article here. .
Why investigate wheelchair training?
Successful mastery of a wheelchair can dramatically reduce the impact of the user's disability by improving mobility and functioning, which in turn may reduce the user's reliance on others for assistance. Previous studies have indicated that wheelchair skills training can help users achieve wheelchair skills that may improve navigation around and beyond the house, performance in daily activities, participation in meaningful social activities, safety and future health care costs.
Yet despite the proven positive effects of wheelchair skills training, there is little evidence supporting the availability and growth of wheelchair training in Canada. Although marginal training is provided when a user purchases a wheelchair, formalized training is limited. For example, 11% of older stroke victims received wheelchair training in Canada, compared to 66% of SCI patients who received training in the US. Hopefully, further investigation about the current wheelchair training implementations in Canada will add momentum to increase training programs offered to wheelchair users.
Who teaches wheelchair skills?
In Canada, wheelchair provision, counseling and training are often provided by physical and occupational therapists. However, recent studies indicate that the therapists themselves may not receive the training necessary to teach necessary advanced skills such as pushing over gravel or mounting curbs, which another reason to call forth training investigation.
What did this study cover?
A survey was sent to licensed therapists from rehabilitation care centres across Canada, covering questions related to topics of:
Wheelchair skills taught by therapists
Hours of wheelchair training delivered by therapists
Use of a validated wheelchair skills training program
Type and amount of training received by therapists
Therapists' perceived barriers to the implementation of validated wheelchair skills training
What did this study discover?
Of all 68 the rehabilitation centres that answered the survey,
78% taught transfer skills to and from the wheelchair.
66% taught basic mobility.
54% taught daily activity skills (eg. feeding, toileting, grooming, dressing, bathing, transferring and walking).
25% taught advanced skills, wheelchair maintenance and repairs, and more complex instrumental daily activities (eg. financing, transportation, shopping, meal preparation, medication management, housework and basic home maintenance).
Additionally, of the 68 rehabilitation centres,
29% provided validated wheelchair skills training using the Wheelchair Skills Training Program (WSTP).
42% provided an average of 1-4 hours of training.
86% incorporated no validated wheelchair training program.
17% provided no wheelchair training whatsoever.
Furthermore, the participating therapists reported that they received instruction on teaching wheelchair skills from university studies, presentations, workshops, seminars and self-directed learning. Finally, therapists suggest that common barriers to implementing validated training include lack of time, resources, funding, and knowledge.
What are the limitations of this study?
Researchers solicited responses from the most suitable respondent. However, the anonymity of responses minimized the ability to ensure there was only one response from each center. Further, one respondent was asked to report on behalf of all clinicians in that facility on a subjectively defined ''typical case''. Therefore, there may have been some variability in responses. Despite the authors efforts to operationalize survey questions, self-report survey may be prone to misinterpretation.
What do these findings signify?
While most rehabilitation centres offer basic wheelchair training, there is limited training in advanced wheelchair skills. Few therapists use validated wheelchair training programs, due to perceived barriers time, resources and knowledge. In order to effectively access the community, wheelchair users and their caregivers often require advanced skills, such as maneuvering through doors, in and out of elevators, up and down curbs, and over uneven surfaces. Less than optimal skills may reduce accessibility, limit participation and increase risk of injury.
The demands of the increasing number of wheelchair users may be met through knowledge translation activities that help clinicians overcome the perceived barriers, or through novel approaches to wheelchair skills training that may reduce the burden on clinicians.