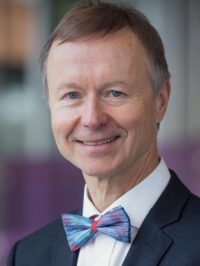 Principal Investigator
Past Director, ICORD (2012-2023)
M.D. (University of Essen), Dr.Med. (Ruhr-University Bochum), Ph.D. (University of Calgary)
John and Penny Ryan BC Leadership Chair in Spinal Cord Research
Professor, Department of Zoology, Faculty of Science, University of British Columbia
Professor, Department of Surgery, Faculty of Medicine, University of British Columbia
Research Interests
Cell transplantation
;
Diet
;
Myelin
;
Neural repair
;
Neuroprotection
;
Regeneration
Dr. Tetzlaff is currently focused on two distinct areas of research. The first focuses on early strategies that will assist in protecting against secondary damage after SCI, termed neuroprotection. After an injury, there is the possibility of a cascade effect, which involves a chain of secondary injuries. Neuroprotective strategies would work to mitigate further injury by preventing cascade effects. To this end, he is studying dietary strategies, like the ketogenic diet and every-other-day fasting (EODF). His second area of research is focused on repair, since you cannot protect against all injury. To re-connect with other neurons and restore function following injury, nerve fibres must grow across the lesion or injury site. Unfortunately, spinal cord cells are unable to regenerate in this way. Currently, Dr. Tetzlaff is using approaches such as gene manipulation to enhance the regenerative potential of nerve fibers. He is also working on remyelination strategies, which involves the construction of new myelin sheathes to replace those lost from the nerve fibers due to injury. In the brain and spinal cord, myelin helps neurons function more efficiently by wrapping around them and could also protect them from additional damage.
Dr. Tetzlaff is the Director of ICORD and a Professor in the Departments of Zoology and Surgery at the University of British Columbia. He also holds the Rick Hansen Man in Motion Chair in Spinal Cord Research. He obtained his M.D. at the University of Essen, completed his Dr. Med. at Ruhr-University Bochum and his Ph.D. at the University of Calgary.
His ultimate vision is to combine multiple strategies to encourage nerve cells to grow and enhance recovery after SCI. Nerve fibres lose their myelin sheaths after an injury and Dr. Tetzlaff's lab is working to determine whether what they see in their models can be translated to clinical practice.
In Dr. Tetzlaff's opinion, the greatest thing about working at a centre like ICORD is the ability to collaborate in discussion and dialogue amongst diverse groups all working on the same issues, but from different perspectives. Being able to have frank, open discussions, even disagreements, allows a much greater understanding of the challenges faced by everyone and leads to new innovative solutions.
Recent collaborations:
Dr. Tetzlaff has been working closely with the Orthopaedic Injury Biomechanics Group, headed by Drs. Tom Oxland and Peter Cripton, on how different biomechanic mechanisms influence injury, and what happens in the different injury models.
He also works with Dr. Brian Kwon on pre-clinical and translational studies, discussing what scientists should see or request as part of developing a road map to a clinical trial.
Dr. Tetzlaff has been actively engaged in a collaboration involving several researchers nationwide to find an ideal cellular source for transplantations after injury. In particular, he is testing the potential of Schwann cells derived from Skin progenitor cells that were previously discovered in the laboratory of Dr. Freda Miller at the University of Toronto (Hospital for Sick Children Research Institute). Dr. Tetzlaff is also collaborating with Dr. Samuel Weiss (Department of Cell Biology & Anatomy, University of Calgary) on studying another newly discovered neural cell.
Major Findings:
Dr. Tetzlaff's work with diet produced several significant findings. The ketogenic diet is a high fat, adequate protein, low carbohydrate diet which is used to treat epilepsy. Dr. Tetzlaff's work on the diet showed it to be neuroprotective and successful in improving outcome after cervical SCI. He also demonstrated that every-other-day fasting (EODF) is neuroprotective, even when started at time of injury, and promotes neural plasticity and recovery of function after cervical SCI without causing weight loss.
One approach to improve neural regrowth and remyelination is cell transplantation. Dr. Tetzlaff discovered that when skin-derived cells, called Schwann cells, were transplanted into the injured spinal cord, they were able to create a bridge across the lesion site and allow neural regrowth and remyelination. The transplantation of these cells was associated with improved recovery of function. This work is groundbreaking because skin is an easily accessible source and these cells could be a potential new treatment for SCI.
Dr. Tetzlaff's work on minocycline, a drug used clinically to treat SCI, showed that it is neuroprotective after SCI. The success of a delayed intervention with the drug is contributing to the rationale for clinical "off label" usage trials.
His landmark work demonstrated that chronically injured rubrospinal neurons survive for more than a year, and that these neurons can be rescued and stimulated to regenerate after SCI. This work was recognized by the National Institutes of Health as of "utmost important" and lead to a contract at the Reeve-Irvine Institute to replicate his data.
Techniques employed in the lab:
Confocal microscopy
Electron microscopy
Electrophysiology
Genetic manipulation in models
Modeling SCI
Molecular biology and biochemistry: western blotting, gene expressing tools
Stem cell and cellular transplantation
Affiliation with organizations and societies:
Scientific Advisory Committee, Christopher and Dana Reeve Foundation (CDRF)
Review Committee, Canadian Institutes of Health Research (CIHR)
Scientific Advisory Board, Kentucky Spinal Cord Injury Research Center (KSCIRC), University of Louisville
Editorial Board, Journal of Neurorehabilitation & Neural Repair (NNR)
Advisory Board, Paralyzed Veterans of America (PVA)
Awards
Some of Dr. Tetzlaff's recent major awards and accomplishments include:
Chair in Spinal Cord Research (UBC & Rick Hansen Institute, 1995)
Nominee for teaching award (University of Calgary)
Current Lab Members
| Undergraduate Students | Masters Students | Ph.D. Students | Postdoctoral Fellows | Research Staff |
| --- | --- | --- | --- | --- |
| Rafaela Zamataro | David Park | Sarah Wheeler | Dr. Bethany Kondiles | Dr. Jie Liu |
| Saina Nemati | Eric McGinn | Nima Alaie | | Dr. Ward Plunet |
| Sam Duenwald | Katelyn Hudak | Katherine Jeffris | | Dr. Oscar Seira |
| Maria Koh | Nathan Holmes | | | Nicole Janzen |
| Jasminka Tanner | | | | Elizabeth Rafaella |
| Stephanie Wilkinson | | | | Haley Briggs |
| Disha Gupta | | | | Aidan Loong |
| Valerie McPherson | | | | Min Lu |
| Priya Saini | | | | Alex Burden |
| Aidan Beresford | | | | |
| Charmaine Wong | | | | |
| Maggie Chan | | | | |
| Arnav Savla | | | | |
| Vittoria Baht | | | | |
| Shana George | | | | |
| Ahmed Masood | | | | |
| Michelle Pooyathukaran | | | | |
| Rosemary Vayalikunnel | | | | |
| Davey Li | | | | |
| Diana Lee | | | | |
| Nicholas Viegas | | | | |
| Meghan Houston | | | | |
| William Lee | | | | |
| Vivienne Zhao | | | | |
Trainee Awards
Year
Name
Award
2023
Sarah Wheeler
Second Place PhD Poster, ICORD ARM
2023
Sam Duenwald
Second Place Undergrad Poster, ICORD ARM
2023
Hyo Joon David Park
W.L McLeod Prize, ICORD ARM
2023
Dr. Bethany Kondiles
Paralyzed Veterans of America Research Foundation Fellowship Grant, Paralyzed Veterans of America Research Foundation
2022
Saina Nemati
First Place Undergrad Poster, ICORD ARM
2022
Dr. Bethany Kondiles
ICORD Trainee Travel Award
2022
Dr. Jie Liu
ICORD Lifetime Achievement Award
2022-2023
Katherine Jeffris

International Tuition Award, 2022
President's Academic Excellence Initiative PhD Award, UBC

2022
Katherine Jeffris

Best Poster, BC Regenerative Medicine Symposium
Best Poster, ICORD Trainee Symposium
Poster Presentation Award, ICORD ARM
BCREGMED Dragon Den's Trainee Competition Award
Faculty of Medicine Graduate Award, UBC

2022-2023
Nima Alaie
endMS Doctoral Studentship Award, MS Society of Canada
2021-2022
Nima Alaie
MS Scholar Program for researchers in Training, MS Society of Canada
2016
Greg Duncan

PhD Studentship (MS Canada)
Rising Star Award (Vancouver Coastal Health Research Institute)

Brett Hilton
Canadian Graduate Scholarship – Doctorate level (CIHR)
2015
Peggy Assinck

Canadian Graduate Scholarship – Doctorate level (CIHR)
Top Graduating Doctoral Student Award (Vancouver Coastal Health Research Institute)

Sheida Naderi-Azad
End MS Summer Studentship (MS Canada)
2013
Greg Duncan
Top Poster Award, Canadian Spinal Cord Conference
2013-2016
Brett Hilton
Frederick Banting & Charles Best Canada Graduate Scholarship Doctorate level, Canadian Institutes of Health Research
2012-2015
Peggy Assinck
Frederick Banting & Charles Best Canada Graduate Scholarship Doctorate level, Canadian Institutes of Health Research
2012-2013
Greg Duncan
Doctoral Studentship Award, Multiple Sclerosis Society of Canada
2011
Greg Duncan
Paralyzed Veterans of America Poster Award at the 14th International Symposium on Neural Regeneration
2010
Peggy Assinck
Best Poster Award at the Stem Cell Network Annual General Meeting

2nd Place for Presentation at the Vancouver Coastal Health Transplantation Research Day

2009
Peggy Assinck
Frederick Banting & Charles Best Canada Graduate Scholarship – Master's Level (Canadian Institutes of Health Research)
Current Opportunities in the Lab
Please contact Dr. Tetzlaff with inquiries.
Video
Dr. Tetzlaff presents at the announcement of the Blusson Integrated Cures Partnership, April 12, 2013

Watch a video of a presentation given by Dr. Tetzlaff on the state of stem cell research in Canada: what exactly is going on in Canada, the provinces, and here at ICORD, and where Canadian research policy stands on stem cell research.
Recent publications
Search PubMed