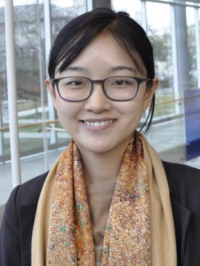 Principal Investigator
B.ASc. [Engineering Science] (University of Toronto)
M.Sc. [Bioengineering] (Stanford University)
Ph.D. [Bioengineering] (Stanford University)
Assistant Professor, Department of Mechanics, UBC
Research Interests
concussion
;
head impact sensing
;
soft tissue biomechanics
;
traumatic brain injury
Dr. Lyndia Wu's research program focuses on the biomechanics of mild traumatic brain injuries, known more commonly as concussions. In order to develop more accurate measures for the mechanisms of brain injury during head impact, Dr. Wu developed a mouthguard with sensors that can be worn during physical activities in her PhD work. This mouthguard captures both the translational and rotational kinematics of head motion and the skull, detects head impact and dangerous motions of the head with high sensitivity, and may enable the discovery of more accurate predictors of injury than traditional measures. In addition, Dr. Wu investigates the short- and long-term neurological effects of head trauma. Once she has established the link between the physical mechanisms of brain injury and the resultant neurological changes, she intends to further develop wearable sensors into a real-time injury screening device.
Dr. Wu's commitment to biomedical research stems from her passion for applying her skills in electrical engineering and bioengineering in ways that can directly benefit healthcare. She plans to continue developing wearable devices that can help gather data to characterize human diseases, and use data mining and machine learning approaches to analyze such data.
Recent Collaborations:
Dr. Wu collaborates with Drs. Peter Cripton and Tom Oxland at ICORD on injury biomechanics research. She has collaborated with Dr. Mehmet Kurt of the Stevens Institute of Technology, Dr. Kaveh Laksari of Arizona State University, Dr. Joel Stitzel of Wake Forest University, and Dr. Ellen Kuhl of Stanford University on brain injury biomechanics studies. She has also worked with Dr. Songbai Ji of Worcester Polytechnic Institute and Dr. Svein Kleiven of KTH on computational modelling of brain injury. Her clinical collaborators include Drs. Gerald Grant and Max Wintermark of Stanford University.
Major Findings:
Dr. Wu's work has led to more accurate head impact sensors in both the measurement of kinematics and detection of impacts. Through her work, it has also been discovered that helmeted impacts on the field may cause resonance of the brain, or vibrations at certain frequencies, increasing the relative motion of the brain and skull. In addition, Dr. Wu's work found that brain injury risks in other activities, such as roller coaster rides, may lead to brain deformations on a similar level as mild sports impacts.
Techniques Employed in the Lab
Wearable sensing
Inertial sensing
Data mining
Machine learning
Human studies
Affiliations with Organizations
Department of Mechanical Engineering, UBC
Institute for Computing, Information, and Cognitive Systems (ICICS), UBC
Awards:
UBC Mechanical Engineering Junior Faculty Teaching Award, UBC (2022)
Editor's Choice Award for the publication "In vivo Evaluation of Wearable Head Impact Sensors" in Annals of Biomedical Engineering at the 2017 Biomedical Engineering Society Meeting
Teacher Tribute, Stanford University
Rising Star in Electrical and Computer Engineering and Computer Science, Carnegie Mellon University
Trainee Awards
| Year | Name | Award |
| --- | --- | --- |
| 2023 | Rebecca Kenny | 2023 Athanasiou Student Paper Award, Annals of Biomedical Engineering journal |
| 2020 | Timothy Wang | 3rd Place in Student Paper Award in Group A: Musculoskeletal, Bone and Head Injury Biomechanics (2020 Summer Biomechanics, Bioengineering and Biotransport Conference) |
| 2020 | Yi Yi Du | Finalist in Undergraduate Student Paper Competition (2020 Summer Biomechanics, Bioengineering and Biotransport Conference) |
Current Lab Members
| Masters Students | PhD Students | Research Staff |
| --- | --- | --- |
| Cidnee Luu* | Calvin Qiao | Adam Clansey |
| Keili Sheperd | Ahmad Rezaei | |
| David Luke | Ryan Takagi | |
| Yuan Gao | Zaryan Masood | |
| | Rebecca Kenny* | |
Current Opportunities in Lab:
Interested students should contact Dr. Wu with inquiries.