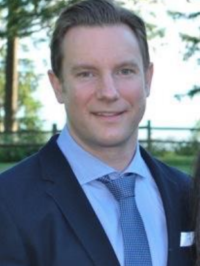 Principal Investigator
B.Sc. [Electrical Engineering] (University of Calgary)
M.D. (University of Calgary), FRCSC
M.P.H. [Clinical Epidemiology] (Harvard School of Public Health)
Clinical Assistant Professor, Department of Urologic Sciences, Faculty of Medicine, University of British Columbia
Research Interests
Central Nervous System
;
Electrical Stimulation
;
neurogenic bladder
;
pelvic reconstructive surgery
Dr. Alex Kavanagh is a clinician-researcher with a focus on leakage refractory to prior surgical therapy, treating pelvic organ prolapses, integration of laser sterilization of the urinary tract, and electrical stimulation of the central nervous system. As a native Calgarian, he completed his B.Sc. in electrical engineering at the University of Calgary. Five years later, he returned to the University of Calgary to pursue medical school, leading to a urologic residency where he worked on the integration of articulating robotic instruments in conventional laparoscopy. He then pursued a surgical fellowship on male and female incontinence, female pelvic floor reconstruction and neurourology in Houston, Texas. In conjunction with his fellowship, Dr. Kavanagh also attended Harvard where he completed a Masters of Public Health in clinical epidemiology prior to returning to Canada.
Dr. Alex Kavanagh is an ICORD principal investigator and academic urologist in the Department of Urologic Sciences at UBC, with a special interest in neurogenic bladder and pelvic reconstructive surgery. His prior research experience includes a number of peer-reviewed articles, presentations, and several awards based on his prior research. This included NSERC and CIHR studentship awards during his medical undergraduate for work on a novel type of perfusion imaging using laser speckle technology. In 2019, he has received grants from CUASF and has collaborated on a large grant from the US Department of Defense.
Current Opportunities in the Lab
There are currently no openings in Dr. Kavanagh's lab. Please contact Dr. Kavanagh with inquiries.
Recent publications
Search PubMed