Welcome to the Spring 2015 issue of the ICORDian Community Newsletter. In this issue, we introduce you to our Rehab Engineer, tell you about a fellow with lofty ambitions, and report on some new papers by ICORD researchers. Plus: our regular column by PhD student Jessica Inskip and some interesting events to keep you busy in the coming months.
---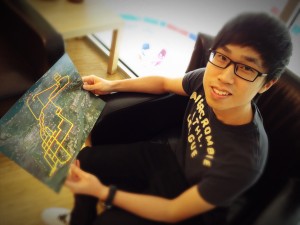 Franco Chan has been working as a Research Engineer at ICORD for the past year. He's done all kinds of helpful things for our Rehabilitation researchers, like creating custom software, modifying equipment, and designing and building specialized tools. Recently, he started on a new challenge: coordinating a research study.
The study, by ICORD researchers Dr. Bonita Sawatzky, Dr. Jaimie Borisoff and Dr. Ben Mortenson, aims to find out the mobility patterns of wheelchair users in Metro Vancouver and understand how their wheelchair use relates to their community participation. The research team began recruiting participants in April, and hopes to have 75 people complete the study. So far, four people have done it.
The study uses four specialized devices to collect and record information for a week: a seat sensor, an accelerometer, a fitness wristband, and a global positioning system (GPS) tracker. The GPS tracker records the places where the wheelchair goes, the accelerometer records when the wheels are moving, the wristband records body movement, and the seat sensor records the times when a person is seated in their chair. Depending on what a participant is doing at a particular time, all or just one or two of the devices will be recording data.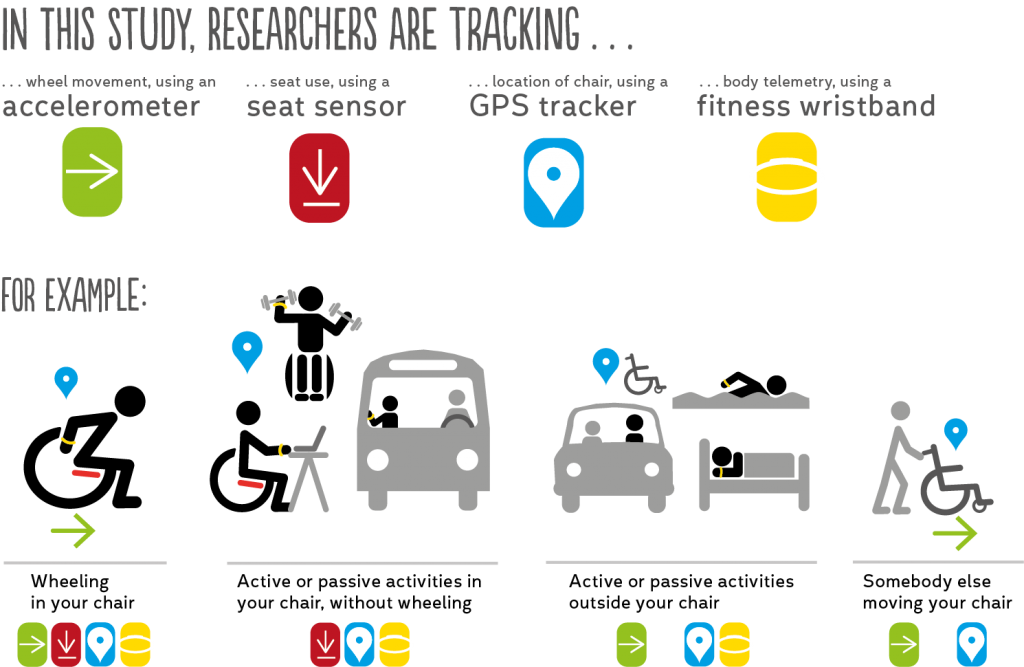 Franco used his engineering skills to write computer programs to process the huge amounts of data collected by the devices, and he is continually using his (ever-expanding) knowledge of wheelchair design to figure out where to attach the devices to each participant's chair in places that will keep the devices from getting detached or damaged, and also won't hinder users' movements. Each person's chair is set up differently, so this is an important aspect of the study.
Franco has been enjoying working directly with research participants. "It's really fun to download the GPS data with participants and show them their own activity map on Google Earth," he said. "Most people are surprised to see how much they actually do in a week."
Franco got his engineering undergraduate degree from UBC, followed by a diploma in biomedical engineering from BCIT. The next thing on his to-do list is to figure out how to modify the fitness wristband in order to incorporate more data into the study.
If you use a wheelchair for the majority of your mobility and are interested in participating in this project, you can read more details here, or contact Franco directly.

If you've ever been to the Blusson Spinal Cord Centre on a weekday afternoon, you've probably seen bushy-bearded Mike Skelton wheeling up (and then flying down) the 200 metre long ramp that wraps around our three-storey atrium. He's here three to four days a week.

Mike heard about the Blusson Centre four year ago when he was an in-patient at GF Strong, and has been working out on the ramp for the past four years. On days when he's not doing the ramp, you can usually find him working out at our Physical Activity Research Centre (PARC).
Mike wheels up the ramp between ten and fifteen times each day he visits, but he's working towards a specific goal: he plans to climb the ramp 50 times one day this autumn, to raise money for PARC. He's working on building up his stamina; each ascent takes him four to five minutes, so he expects that 50 will take him around four hours. "I also need to build up some good callouses on my hands," he added, with a smile.
"I want to climb 50 times, not just to raise money for PARC, but also to inspire younger people to do the ramp themselves," said Mike. "If a granddad can do it, then they can do it too! Although not many people want to do it more than once."
Mike said he gets a lot of thinking done on his climbs. "It's not just the physical challenge, it's also a mental challenge. But it can be pretty meditative."
Mike set his goal at 50 ascents because the distance covered (10,000 metres) is the same as the height of Mauna Kea–the tallest mountain on earth. (If you're interested, the vertical rise of this challenge is approximately 365 metres–the height of the iconic Fernsehturm Tower in Berlin).
Stay tuned: details of Mike's fundraising ramp climb will be announced on ICORD's Facebook page and in a future issue of the ICORDian.
---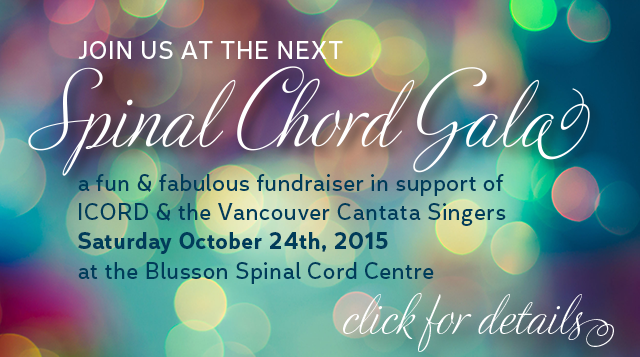 Tickets for the 7th annual Spinal Chord Gala on Saturday October 24th are now available. Still $100 (with $80 tax receipt), your ticket includes live jazz and choral music throughout the evening, tasty hors d'oeuvres by Lazy Gourmet, a complimentary drink, and selection of special desserts. Not to mention sparkling company and some covetable raffle prizes & silent auction items.
Need convincing? Check out some photos from last year's event, or this excellent video.
You can get your ticket online ($100 + $4.49 service fee) or in person at the ICORD Admin Office ($100; cash / cheque / Visa / Mastercard accepted).
If you are interested in supporting this event, please check out our sponsorship package or contact us.
---

ICORD researchers Drs. Scott Paquette, Andrea Townson and Rhonda Willms have been helping people injured in the Nepal earthquake last month. All three are volunteering their time with the Nepalese Spinal Cord Injury Collaboration. Founded by retired Vancouver physicians (and Emeritus ICORDians) Drs. Peter Wing and Dr. Claire Weeks, SpiNepal provides training and support to Nepalese physicians working at the Spinal Injury Rehabilitation Centre (SIRC) near Kathmandu.
Click here to read more.

Dr. Willms (left) provides advice to clinic staff in Nepal (right) over Skype.
Visit the SpinNepal blog.
---
By Jessica Inskip (@jessinskip), PhD Student in Dr. Victoria Claydon's Lab at Simon Fraser University
If you've hung around with graduate students for any length of time, you've likely heard them talk about going to academic conferences – but you may be curious what goes on at these "conferences": are they just "holidays" by another name?
Conferences are actually an important opportunity for scientists to get feedback on their research from their peers and other experts. Students often present a large poster showing recent results from the experiments we are conducting. These kind of "hot-off-the-press" results have normally not been published as a research paper, so we can get valuable feedback to help us improve our odds of getting the work published. Conferences can also be a chance to meet the "rock stars," like previous Nobel prize winners (even scientists can get starstruck!), or other leaders in the area, who can have a future impact on your career (such as hiring you for a post-doc). We can also find some solace in commiserating with other students who are grappling with similar frustrations, and work together to troubleshoot particularly tricky techniques.
Conferences themselves are rarely a holiday, with sessions starting at 8 am and often going to 5 or 6 pm, followed by discussions of science in the hotel restaurants lasting into the wee hours of the morning. This pattern continues for another two, three, or four days! Luckily, it is often possible to stay on a few days after the conference (on your own dime), to recover from the barrage of information and take advantage of the local culture and sights (full disclosure: during my PhD, I have been to conferences in the Bahamas, Brazil, Hawaii).
These days, we can get in touch with other scientists virtually by following them on twitter or connecting with them on LinkedIn, but the face-to-face discussions and debates (sometimes heated!) that happen when you get a critical mass of scientists in one room is hard to recreate online!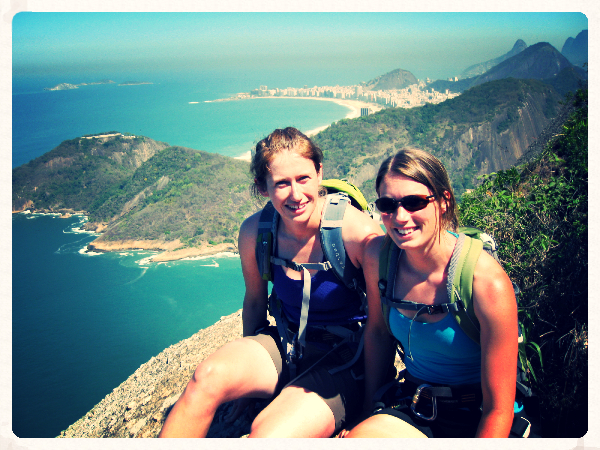 Jess and colleague Rianne doing some post-conference sight-seeing in Rio de Janeiro.
---
new papers by ICORD researchers
Schwann cells generated from neonatal skin-derived precursors or neonatal peripheral nerve improve functional recovery after acute transplantation into the partially injured cervical spinal cord of the rat
by J.S. Sparling
,
F. Bretzner
,
J. Biernaskie
,
P. Assinck
,
Y. Jiang
,
H. Arisato
,
W.T. Plunet
,
J. Borisoff
,
J. Liu
,
F.D. Miller
, and
W. Tetzlaff
.
Journal of Neuroscience
35(17) 6714-6730, April 29 2015.The Tetzlaff Lab is studying the transplantation of a type of cell called
Schwann cells
as a potential treatment for spinal cord injury. Right now, a human trial in Miami is using Schwann cells that are obtained surgically from nerves in a person's leg, but this can lead to complications. The Schwann cells the Tetzlaff lab are using are derived from progenitor cells in the skin. The lab recently published a paper in the prestigious
Journal of Neuroscience
that compares Schwann cells from nerves to Schwann cells from skin, with promising results. Dr. Tetzlaff has prepared an easy-to-understand summary of the paper, which you can read
here
.
---
Training with robot-applied resistance in people with motor-incomplete spinal cord injury: Pilot study By T. Lam, K. Pauhl, A. Ferguson, R. Malik, A. Krassioukov, J. Eng. Journal of Rehabilitation Research Development 52(1) 113-130; 2015
This article describes a pilot study in which Dr. Tania Lam and her colleagues tested the possibility of using the Lokomat (a robotic gait-training device) to apply resistance against leg movements during gait training for people with partial spinal cord injuries. Their results indicated that resistance training with the Lokomat is feasible. Their data also suggest that resistance training could lead to better improvements in the performance of skilled overground walking tasks (such as stepping over obstacles or walking up stairs) compared with standard Lokomat training (without resistance), and that these improvements were retained for 6 months.
You can access this paper here.
---

Speaking of publications, did you know that volunteers at our SCI Community Resource Centre prepare summaries of scientific papers and post them on our blog? If you're interested in what's going on in SCI research around the world, this is a good place to look.
---

Dr. Andrei Krassioukov and his team hosted a very successful 3nd International Autonomic Symposium, on Tuesday 19th of May 2015. This highly successful event provided the 130 participants with the latest on basic and clinical research on dysfunctions of the autonomic nervous system presented by 18 experts in the field from North America, Europe and Asia.
The plenary speakers were Dr. Denise Tate from the University of Michigan and Prof. Thomas Janssen from VU University Amsterdam. Participants included ICORD researchers and trainees, physicians and nurses from the VCH spine clinic, nurses from GF Strong Rehab Centre and other allied health individuals involved in the care of individuals with autonomic dysfunctions.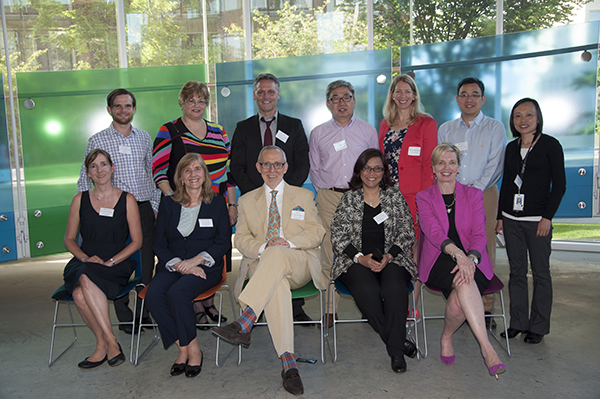 The symposium speakers and organizing team. Back row: Chris West, Cathy Craven, Thomas Janssen, Mouwang Zhou , Maureen Macdonald, Nan Liu, Catherine Yang. Front row: Vic Claydon, Denise Tate, Andrei Krassioukov, Nazirah Hasnan, Maureen McGrath
Thank you to these generous symposium sponsors: Rick Hansen Institute, UBC Faculty of Medicine, Murphy Battista, Coloplast Canada Corporation, Purdue Pharma, Allergan, Pfizer, David Doig & Associates, Road 13 Vineyards, Harper Grey LLP, Turing Pharma, Watson Goepel LLP, Gertsoyg & Company, Mylan PHARMA, Enertopia Corporation.
---

Improving cardiovascular health for Canadians living with spinal cord injury: effects of exercise and targeted education
ICORD investigator Dr. Andrei Krassioukov is leading a multi-centre clinical trial that aims to determine whether cardiovascular health in individuals with SCI can be improved through optimized exercise and targeted education.
If you are 18-60 years old and have a motor-complete, traumatic SCI between the C4 and T6 levels, you can receive free exercise training 3 times a week for 24 weeks and contribute to an important research study.
To sign up or for more information, contact the study co-ordinator Cameron Gee by email or phone 604-379-8550. See the study website here.
---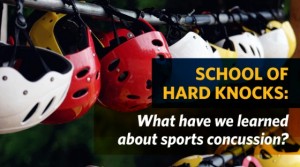 On June 11th, the UBC Alumni Association and Faculty of Medicine are co-presenting a special talk about sport concussions, and one of the featured speakers is ICORD PI Dr. Cheryl Wellington.
At least 332,000 professional and amateur athletes in North America will watch their sport from the stands or the couch as they recover from a concussion this year. Being sidelined certainly isn't the most severe consequence of a rough or violent hit in sport. Concussions can have serious, cumulative, and long-lasting effects. When concussed athletes return to play before their brain function is fully restored, they are more likely to sustain a second concussion, which in turn may have greater consequences.
Join scientists and clinicians from UBC's Faculty of Medicine for a discussion on the latest science behind sport concussions. Tailored for parents, athletes, coaches, and teachers, this panel of international thought leaders will cover the big questions on everyone's mind:
What are the real dangers of sport concussions?
How can they be prevented?
What treatments are available?
How much do we really know?
Is there more to learn?
This event takes place on June 11th, 6:30 to 9pm at the Robert H. Lee Alumni Centre (UBC Point Grey Campus). Click here for more information or to RSVP
---


Inspired by The Amazing Race, the Bus Stop Hop (BSH) is a one-day event that has participants racing across the city, using accessible transportation, completing fun activities and collecting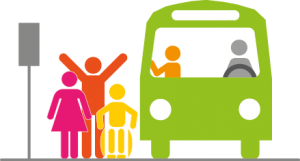 points. The Bus Stop Hop scavenger hunt is a fun, free, team-based event taking place on July 19th. Teams include four people: two able-bodied people and two people using wheelchairs or other mobility devices. One team member must have a Smartphone for use throughout the event.
The Bus Stop Hop was developed by SCI-BC in partnership with Translink to provide a low-stress and fun way for people who use wheelchairs or mobility devices to become familiar and comfortable using public transit.
For more information, please contact Alfiya Battalova.
---
A benefit concert for the Downtown Eastside Women's Centre is being organized by local musicians, and will take place in the Blusson Spinal Cord Centre atrium on Friday June 12th. For more information, click here.  SORRY, THIS EVENT HAS BEEN CANCELLED
---
Realwheels proudly presents Super Voices, a community-based, multimedia performance featuring the amazing talents and stories of Vancouver's disability community!
Super Voices moves beyond the typifying of people with disabilities as objects of pity or mere sources of inspiration. Clichés are deconstructed so that the true 'superpowers' of this community may be examined in a lively, comedic and refreshing way.

Super Voices will run for two performances only at the Roundhouse Performance Centre:
Friday, June 12th at 7:00 pm  & Saturday, June 13th at 4:00 pm
ASL interpretation and audio description will be offered at the performance on June 13.
Tickets are pay-what-you-can and reservations are recommended to avoid disappointment. Click here for tickets.
---
Thanks for reading this issue of the ICORDian–we hope you enjoyed it! Please subscribe and have future issues delivered to your email box. If you have any comments about this issue or suggestions for future ones, please contact us.