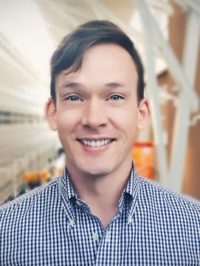 Associate Member
M.Sc. (Master of Health Science), Ph.D in Experimental Medicine (University of British Columbia), Postdoctoral Fellowship (ICORD), Postdoctoral Fellowship (Centre for Heart, Lung and Vascular Health)
Assistant Professor, Department of Cardiac Sciences and Clinical Neurosciences, University of Calgary
Research Interests
Autonomic function
;
Blood Pressure Control
;
Cardiovascular health
;
cerebral blood flow regulation
;
Neural control
;
Neurophysiology
;
Neurovascular coupling
Dr. Phillips's research focuses on understanding the mechanisms underlying neurovascular regulation, or the brain's ability to regulate blood pressure, and developing a neurostimulation therapy to restore this ability in people with autonomic dysfunction. Dr. Phillips combines neuroscience with integrated physiology, or the study of processes in the body on different levels, from single cells to the whole body, as a means of investigating cardiovascular function. He is particularly interested in the possibility of using electrical stimulation of the spinal cord to restore autonomic function following spinal cord injury and neurological conditions causing damage to the spinal cord.
Recent Collaborations:
In collaboration with ICORD Principal Investigator Drs. Andrei Krassioukov, Chris West, and Tania Lam, Dr. Phillips investigates the effectiveness of electrical stimulation as a treatment for autonomic dysfunction.
Drs. Phillips and Krassioukov collaboratively research the effects of bladder emptying on autonomic dysreflexia, as well as the need for a consistent definition of neurogenic shock, which causes dangerously low blood pressure following spinal cord injury.
Together with ICORD Principal Investigators Drs. Krassioukov, Stacy Elliott, and Piotr Kozlowski, Dr. Phillips studies the effects of transient hypertension, or temporary episodes of high blood pressure, on the development of cerebrovascular disease.
Major Findings:
In collaboration with the labs of ICORD PIs Drs. Chris West, Tania Lam, and Andrei Krassioukov, Dr. Phillips discovered that spinal cord stimulation could lead to improved control of blood pressure in people with spinal cord injury (results published in JAMA Neurology).
Techniques employed in the lab:
Vascular and cardiac ultrasound
Beat-by-beat blood pressure
MRI
Orthostatic stress testing
Arterial blood gas reactivity testing
Surgically implanted and non-invasive neurostimulation modalities
CLARITY-optimized light-sheet microscopy
Arterial cannulation
Spinal cord transection/contusion
Genetic strains for optogenetic manipulation (Th-Cre, PV-Cre)
Current Opportunities in the Lab
Dr. Phillips currently has openings in his lab. Trainees at the Postdoctoral, graduate, or undergraduate level are encouraged to review this ad and send their CV and a letter of interest to Ms. Courtney Hubl.
Recent Publications