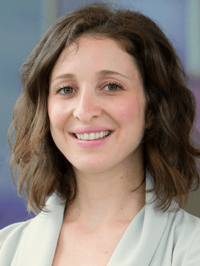 Principal Investigator
B.Sc. [Mathematics and biology] (University of British Columbia), M.P.H. [Biostatistics] (University of British Columbia), Ph.D. [Epidemiology/biostatistics] (University of British Columbia)
Assistant Professor, Faculty of Pharmaceutical Sciences, University of British Columbia
Research Interests
Data Science
;
Drug Effectiveness
;
Drug Safety
;
Epidemiology
;
SCI Progression
Dr. Jacquelyn Cragg aims to be a world leader in neuro-analytics, helping to uncover innovative treatment strategies and therapies for people suffering from neurological diseases. She is working with statistical algorithms to better understand neurological diseases, including Parkinson's disease, amyotrophic lateral sclerosis (ALS) and SCI.
Dr. Jacquelyn Cragg is an Assistant Professor in UBC's Faculty of Pharmaceutical Sciences and a Principal Investigator at ICORD. She is leveraging clinical and population "big data" sources and machine-based learning to identify novel, reliable predictors of spinal cord injury progression. She also researches other neurological diseases beyond spinal cord injury, such as Parkinson's disease, multiple sclerosis, and amyotrophic lateral sclerosis (ALS).
As the sole North American recipient of L'Oréal-UNESCO for Women In Science International Rising Talent Prize for 2019, Dr. Cragg is a champion for encouraging women and girls to pursue careers in science.
Techniques employed in the Lab
Longitudinal analysis
Meta-analysis
Statistical learning
Recursive partitioning
Survival analysis
Causal inference
Awards
Some of Dr. Cragg's recent major awards and accomplishments include:
Recognition by L'Oreal Canada in L'Oreal-UNESCO for Women in Science Celebration (8500+views):

https://twitter.com/i/status/1624423017265905668

Michael Smith Health Research BC Scholar Award (2021-2026)
Canadian Society for Epidemiology & Biostatistics (CSEB) Early Career Award (2021)
Canadian Society for Pharmaceutical Sciences (CSPS) Early Career Award (2021)
Tier 2 Canada Research Chair (Canada Research Chairs, 2020-2025)
Current Lab Members
| Ph.D. Students | Postdoctoral Fellows | Research Staff |
| --- | --- | --- |
| Anh Khoa Vo | Dr. James Crispo | Lisa Liu |
| Analisa Jia | Dr. Freda Warner | Lisa Kuramoto |
| | | Rebecca Lim |
Trainee Awards
| Year | Name | Award |
| --- | --- | --- |
| 2022-2026 | Analisa Jia | Four Year Doctoral Fellowship, UBC |
| 2022-2024 | Anh Koa Vo | Mitacs Accelerate |
| 2022 | Analisa Jia | Best Poster Award, PharmSci Graduate and Postdoctoral Research Symposium 2022 |
| 2021-2024 | Dr. James Crispo | Michael Smith Health Research BC Trainee Award |
| 2021 | Analisa Jia | Syd Vernon Graduate Student Award, UBC Faculty of Graduate Studies |
| 2021 | Analisa Jia | 3 Minute Thesis (3MT), Faculty of Pharmaceutical Sciences, 1st Prize (UBC PharmSci, 2021) |
| 2020 | Analisa Jia | Summer Student Research Program 1st Prize (poster presentation) (UBC PharmSci, 2020) |
Current Opportunities in the Lab
There are currently no openings in Dr. Cragg's lab. Please contact Dr. Cragg with inquiries.
Recent publications
Search PubMed