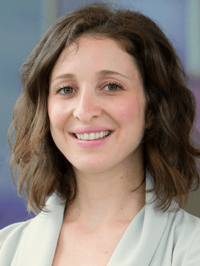 Principal Investigator
B.Sc. [Mathematics and biology] (University of British Columbia), M.P.H. [Biostatistics] (University of British Columbia), Ph.D. [Epidemiology/biostatistics] (University of British Columbia)
Assistant Professor, Faculty of Pharmaceutical Sciences, University of British Columbia
Research Interests
Data Science
;
Drug Effectiveness
;
Drug Safety
;
Epidemiology
;
SCI Progression
Dr. Jacquelyn Cragg aims to be a world leader in neuro-analytics, helping to uncover innovative treatment strategies and therapies for people suffering from neurological diseases. She is working with statistical algorithms to better understand neurological diseases, including Parkinson's disease, amyotrophic lateral sclerosis (ALS) and SCI.
Dr. Jacquelyn Cragg is an Assistant Professor in UBC's Faculty of Pharmaceutical Sciences and a Principal Investigator at ICORD. She is leveraging clinical and population "big data" sources and machine-based learning to identify novel, reliable predictors of spinal cord injury progression. She also researches other neurological diseases beyond spinal cord injury, such as Parkinson's disease, multiple sclerosis, and amyotrophic lateral sclerosis (ALS).
Current Opportunities in the Lab
There are currently no openings in Dr. Cragg's lab. Please contact Dr. Cragg with inquiries.
Recent publications
Search PubMed