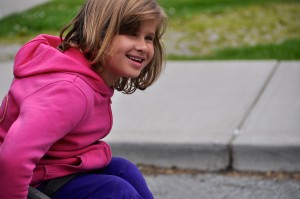 Over the course of four Saturdays in June, children and their parents improved their wheelchair skills through ICORD's indoor training course, with the guidance of Dr. Bonnie Sawatzky and UBC Kinesiology graduate Warren Springer.  The aim of the wheelchair skills camp was to translate information gathered at ICORD into short training sessions in order to promote wheelchair independence in children. With this goal in mind, Dr. Sawatzky and Warren Springer led the 1.5-hour long interactive workshops, guiding the children through the mechanics and skills needed to safely maneuver around the community.
Each session focused on a different aspect of wheelchair usage and took place both outdoors and indoors, in ICORD's wheelchair training space. The first week introduced and focused on efficient wheeling. Many people who use wheelchairs are not aware of the effect stroke length has on wheeling: a longer stroke is more efficient and conserves more energy, allowing for the individual to expend that energy elsewhere. In the second week, children worked on developing challenging skills, such as chair transfers and wheelie executions to climb stairs and curbs. In the penultimate session, the children learned how to climb steep hills safely, how to take their chairs apart, and how to put them back together again. In the same session, a wheelchair mechanic arrived to give a talk on bearings and the importance of ensuring proper wheelchair function and maintenance.
There was a remarkable diversity in everyone's skills: one young lady had only been using her wheelchair for one day, whereas another individual was already quite proficient in sports and had relatively developed skills. Despite the differing levels of expertise between individuals, Dr. Sawatzky and Warren Springer managed to provide sufficient one-on-one attention to ensure that everyone was challenged according to their level of experience.
In the last session, after reviewing the skills and lessons learned from the previous sessions, a special guest came to visit: Rick Hansen! He gave a very personal and relevant talk to the families about the importance of wheelchairs skills and maintenance and the freedom that the mobility gives him.  The camp concluded with a pizza party, which was quite a hit – especially among the children! – and very well-deserved for the four great weeks of hard work.
Thank you to all the families for participating in this event.