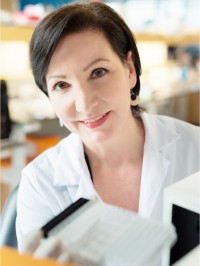 Principal Investigator
B.Sc. [Microbiology] (University of Alberta), Ph.D. [Microbiology] (University of British Columbia)
Professor, Department of Pathology and Laboratory Medicine, University of British Columbia
Research Interests
Aging
;
lipid metabolism
;
Neurodegeneration
;
neuroscience
;
pathology
Dr. Wellington may accept summer students in 2016. Please see Current Opportunities in the Lab (below).
Dr. Wellington's major research interests are on both genetic and environmental factors that modulate risk for Alzheimer Disease (AD), the most common dementia. An increasingly recognized environment risk factor for dementia includes a history of traumatic brain injury (TBI). Current projects include understanding how injury severity, number of injuries, and age at injury all affect dementia risk, and understanding how the neuropathology and clinical presentation of TBI-related syndromes overlap with classical dementias. Over two million TBIs occur annually in North America, with rapidly increasing public concern over the long-term effects of concussion on brain health during development and aging. Existing animal models of TBI, however, fail to replicate the mechanics of most real-life human TBIs, which are caused by sharp, angular and/or linear accelerations or decelerations of a freely moving intact head.
Working with biomechanical engineers at ICORD, Dr. Wellington and her colleagues have developed a transformative new model of rodent closed head TBI, called CHIMERA (Closed Head Injury Model of Engineered Rotational Acceleration) that was specifically designed to overcome the caveats that limit the translational relevance of existing TBI models. CHIMERA's innovation lies in its ability to generate, in a biomechanically controlled and reproducible manner, a wide range of TBI severity with completely free head movement, where head motion analyses are integrated with behavioral and neuropathological outcomes.
Current Lab Members
| Ph.D. Students | Post-Doctoral Fellows |
| --- | --- |
| Wai Hang Cheng (Tom) | Kris Martens |
| Emily Button | Jerome Robert |
| Dhananjay Namjoshi | Jianjia Fan |
| Sophie Stukas | Qingchun Mu |
|  Asma Bashir | Dhananjay Namjoshi |
Current Opportunities in the Lab
Dr. Wellington may accept a 3rd or 4th year summer student for 2016. Student should be majoring in neurosciences or engineering. Contact Dr. Wellington to apply.
Recent publications
Search PubMed