Welcome to the fourth issue of the ICORDian community newsletter. In this issue, we introduce you to some interesting ICORD researchers who are finding new ways to look at spinal cord injury, share some exciting funding news, and tell you about some not-to-be-missed upcoming events.
Contents
ICORD's 2013-14 Annual Report is now available.
You can download your own copy right now. Read the year's highlights, and check out the really interesting results of our Trainee Survey.
Province announces new funding for PARC
Provincial MLA Naomi Yamamoto and BC Minister of Children and Family Development Stephanie Cadieux were at ICORD on July 14th to announce some exciting news: a $350,000 investment by the Province to support ICORD's Physical Activity Research Centre (PARC), a community-based, integrated fitness and research facility. PARC is specifically designed and operated for people with SCI and equipped with fully-accessible, state-of-the-art exercise equipment.
"As someone who lives with a spinal cord injury, I appreciate the work that the researchers at ICORD do to support British Columbians living with this type of injury," said Minister Cadieux on behalf of Health Minister Terry Lake. "This new funding will build on existing work, improve accessibility and support continued research into new rehabilitation strategies."
"With this funding, we can now make the gym more accessible by extending our hours into the evening and weekends, and opening up the research to people with non-traumatic spinal cord injuries and other illnesses or diseases affecting the spinal cord. The funding will also allow us to build on research results to create and evaluate strategies to enhance participation in exercise and physical activity in the SCI community," said ICORD researcher Dr. Tania Lam.
ICORD is very grateful for this funding and sincerely thanks the BC Government and the Ministry of Health for this support.

Wheelchair ballroom dancing comes to the BSCC in October
Did you know that wheelchair ballroom dancing has become a world-wide sport? It is included in the Asia Para Games 2014, is being considered for the 2016 Rio Paralympic Games, and is being practiced in 29 countries around the world with competitions happening regularly. On Saturday, October 4th, you can see some wheelchair ballroom dancing for yourself at Shall We Dance–a ballroom dancing showcase featuring championship-level dancers as well as demonstrations of wheelchair ballroom dance by some special guests. Event organizers David and Alisa Popok hope the showcase will raise awareness about wheelchair ballroom dance, potentially leading to regular workshops and lessons at PARC. Alisa has been a competitive dancer for the past 8 years and is looking forward to promoting wheelchair dancesport throughout the city. Her brother David is a graduate student in the Krassioukov Lab at ICORD. Proceeds from the event will support PARC. Admission is by donation at the door, but reserve your ticket today!
Don't miss this year's Spinal Chord Gala!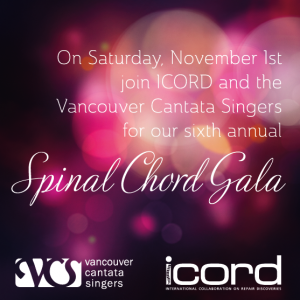 Our annual Spinal Chord Gala is coming up on Saturday, November 1st! This fabulous evening is in support of ICORD and the Vancouver Cantata Singers, two leading groups in Vancouver's science and arts communities.
Get dressed up and listen to the award-winning choir while sipping on wine from our exclusive wine sponsors La Stella and Le Vieux Pin and dining on a spectacular assortment of hor d'oeuvres from gala sponsors The Lazy Gourmet, The Cookie Jar, The Cake Pop Shop, La Macaronette, Aeyra Cakes, and more! Up for bid is a fantastic collection of raffle prizes and auction prizes from our many sponsors, including Sutton Place Hotel, BierCraft Restaurant, Hawksworth Restaurant, Semperviva Yoga, and many more.
Butter Studios will be on site to capture memories of you at the Gala in the beauty of the Blusson Spinal Cord Centre's grand atrium lit up at night and decorated by Sunflower Florist's beautiful flower arrangements. Life Studios will also be at the Gala to capture the night's events on film.
Purchase your tickets before October 1st to be automatically entered in a draw for a prize package, including vintage rosé cushion cut Swarovski crystal earrings with clear pave stones from Jeweliette Jewellery and gift cards from Luxe Beauty Lounge and BierCraft Restaurant – worth over $175!
Tickets are $100 (with a tax receipt of $80 for each ticket) and the proceeds go to supporting spinal cord injury research at ICORD and the artistic efforts of the Vancouver Cantata Singers. You can get your tickets either online, by phone at 604-730-8856, or in person in Room 3303 at the Blusson Spinal Cord Centre.
ICORD + TGen: Evaluating SCI in a new way
The current, widely used classification tool for spinal cord injury is the ASIA (American Spinal Injury Association) Impairment Scale (AIS). The AIS is based on the patient's neurological response, sensitivity to a light touch or pin prick in specific areas of the skin, and the strength of certain key muscle groups. The underlying basis behind this scale is that a particular level of the spinal cord and its corresponding spinal nerve supplies specific regions of the body. Any movement or sensation in a particular region lets the clinician know that its respective nerve is functioning and helps to determine the extent and severity of the patient's spinal cord injury (SCI).
While the scale is widely used, it has been argued that an AIS assignment may not always provide an accurate prognosis due to confounding factors that limit examination. For example, the body areas demarcated for specific spinal nerves can differ between individuals and thus reduces the consistency of this scale. In addition, patients who have just suffered an SCI may not be fully conscious or may be under the influence of drugs or alcohol, lowering the scale's accuracy due to this subjectivity. One of the goals of Dr. Brian Kwon and his research team is to develop an objective tool to evaluate injury severity and predict neurological outcome in patients who suffered an SCI, so that they can be treated post-injury as optimally and efficiently as possible.
In 2010, Dr. Kwon and his research team published a paper describing how the expression level of various proteins in the cerebrospinal fluid (CSF) that circulates in the space surrounding the spinal cord can better predict motor outcome 6 months after sustaining an injury compared to the standard AIS classification. Some of these proteins were also detectable in the peripheral blood, albeit at a very low concentration.
There is no doubt that blood samples are easier to collect than CSF; however, the development of reliable and stable blood biomarkers of SCI have been extremely difficult to identify. Interestingly, recent studies have reported significant levels of various small RNA molecules, scalled microRNAs (miRNAs), in serum and other bodily fluids following Alzheimer's disease, traumatic brain injury and stroke. This raises the possibility that circulating miRNAs could serve as useful clinical biomarkers for SCI.
Seth Tigchelaar is a PhD student in Dr. Kwon's laboratory at ICORD. His research is focused on determining if traumatic SCI of varying injury severity provide unique miRNA fingerprints, particularly useful for the classification of SCI. In order to detect and quantify SCI specific miRNAs in blood and CSF samples, Seth will be using state-of-the-art sequencing technology, a relatively new technique used to profile thousands of transcripts simultaneously during a single experiment.
During the 2013 Society for Neuroscience (SFN) conference in San Diego, Seth had the opportunity to meet Dr. Kendall Van Keuren-Jensen of the TGen neurogenomics group, whose laboratory is focused on neurodegenerative diseases, particularly Amyotrophic Lateral Sclerosis, Alzheimer's disease and Parkinson's disease. They were among the first to apply next-generation sequencing to profile the miRNA fraction of human CSF. Together with Dr. Brian Kwon and Dr. Femke Streijger, Seth travelled to Phoenix, Arizona to visit the team at the Translational Genomics Research Institute (TGen), a genomics laboratory with affiliations to Arizona State University and the University of Arizona.
Over the span of two warm weeks in Arizona and with the expertise and guidance of Dr. Kendall Van Keuren-Jensen and her team, Seth mastered the protocol and techniques needed to isolate and sequence miRNA. "It was a very exciting process, to learn from the experts in this field, and be able to perform Next-Gen sequencing, myself," said Seth. Presently, Seth is working with Dr. Corey Nislow at UBC Pharmaceutical Sciences where some of the next-gen sequencing technology exists, and is awaiting the results of the sequence data on the miRNA profile from blood and CSF samples taken from human SCI patients that he analyzed in Arizona.
The NOVA Lab looks at SCI
Did you know that there are vision scientists working at ICORD? Drs. Miriam Spering and Ipek Oruc brought their Neuroscience of Vision and Action (NOVA) lab to ICORD in the summer of 2013. Drs. Oruc and Spering are both faculty members in Ophthalmology and Visual Sciences at UBC.
Dr. Oruc's research focuses on understanding the brain mechanisms behind higher-level vision with the goal of developing ways to reverse and rehabilitate visual dysfunction caused by different types of brain disorders such as prosopagnosia (face blindness) and autism spectrum disorder.
For example, she studies visual adaptation–how neurons in the brain can change as a result of experience. Dr. Oruc believes that this form of neuroplasticity can be used to help restore high-level visual function, such as recognition of objects and faces. She has already shown that visual adaptation produces a temporary benefit, a moment of hypersensitivity, to a person's ability to identify faces. She is currently running a large-scale web-based study to examine how people detect, identify, and notice subtle changes in visual objects, and how this ability is impacted by prior visual experience. You can check this experiment out (and even participate) here.
Dr. Spering investigates how the brain uses visual information to control movements in humans. Or, in other words, how our movements can affect the way we see and perceive the world around us. She also studies various disease models and their impact on vision and the related motor responses ranging from schizophrenia to Parkinson's disease, and most recently, SCI.
She and her graduate students are doing a variety of studies, from quite basic (recording eye movement and correlating movement and vision) to very complex (studying eye movements versus overall hitting performance in professional baseball players, and whether eye movements can be trained in order to improve performance).
According to Dr. Spering, eye movements contribute to posture, gait and balance (and sports performance). She is now starting to look at eye movements in wheelchair users to investigate potential changes in peoples' brains following spinal cord injury. This completely novel study uses computer eye-tracking to follow wheelchair users' eyes as they track a moving object on a computer screen. You can read all about the study here. If you're a wheelchair user yourself, Dr. Spering and her research assistant Kaity would love to spend an interesting hour with you sometime.
Eventually, Dr. Spering hopes that the knowledge gained in this study could be used in the design and calibration of gaze-based assistive devices, or to help with gait and posture rehabilitation and obstacle avoidance training.
To learn more about what happens in the NOVA lab, you can visit the web pages of Dr.Spering and Dr. Oruc.

Take this survey! Barriers and Facilitators to International SCI Research
The Rick Hansen Institute has joined a team of international SCI organizations to conduct a survey with researchers and clinicians to identify barriers and facilitators to international SCI research. Results from this survey will help identify and implement initiatives that could be supported by SCI organizations to enhance international collaborations that will ultimately lead to improved care and future cure(s) for persons living with SCI. The survey will take 20 minutes to complete.
If you are a researcher or clinician, we encourage you to participate in this survey, and to share the survey link with anyone in your network who you think may be interested.
Click here for more information or to take the survey.
Spinal Cord Injury BC wants you to know about some interesting upcoming events: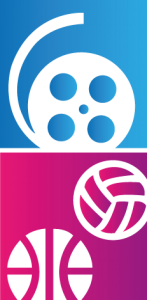 International Disability Film, Art, and Culture Festival, Sept 10, 2014
The International Disability Film, Art, and Culture Festival will feature award-winning films, mixed media art and live performances.
Presented by Project Everybody and Spinal Cord Injury BC.
Sport, Recreation, and Wellness Fair, October 5, 2014
Get active and discover ways that everyone can be involved in sports, recreation and wellness! Watch live demonstrations, talk to experts, and join in the fun. Connect with professionals, programs, and resources about your health and wellness.
Presented by Project Everybody and Spinal Cord Injury BC.

Thanks for reading this issue of the ICORDian–we hope you enjoyed it!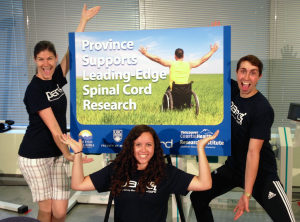 We leave you with a shot of some very happy PARC staff on the day of the PARC funding announcement. From left to right: Megan Brousseau, Alison Williams and Sebastian Akl.
Please subscribe and have future issues delivered to your email box. If you have any comments about this issue or suggestions for future ones, please contact us.