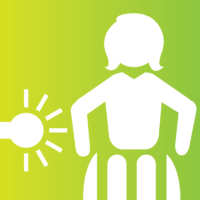 The purpose of this study is to measure the strength of pelvic floor muscles with light technology and to assess how strengthening pelvic floor muscles with exercise impacts bladder issues. The study involves two in-clinic pelvic floor muscle assessments at the Blusson Spinal Cord Centre. These assessments will include a review of any bladder related issues and use of a vaginal tool to measure pelvic floor muscle strength. The use of ultrasound will also be used to observe any changes in the pelvic floor and bladder. In between these two in-clinic assessments, you will need to complete an 8-week exercise program at home. You will also be asked to complete a bladder diary and a short questionnaire. This study will be ongoing from November 2016 to January 2018.
Why should you participate in this study?
Participation in this study will help researchers develop a better understanding of how pelvic floor muscle function is affected by neurologic injuries and disease. It will also help determine if pelvic floor exercises improve urinary incontinence related to neurogenic bladder complications. Findings from this study will be used to improve current therapies for management of urinary incontinence.
You may be able to participate in this study if you:
are a woman over 19 years of age, and have

symptoms of urinary incontinence
a history of neurogenic injury or disease for at least 6 months
You may be excluded from this study if you:
have had pelvic radiotherapy
are pregnant (or plan to start pregnancy soon)
have postpartum periods less than 2 months
have pelvic pain symptoms
use an intra-uterine device
have an indwelling catheter
Time commitment
2 in-clinic appointments and 8 week exercise program completed at home, 2 months in total
The study will take place at ICORD (Blusson Spinal Cord Centre, 818 West 10th Avenue, Vancouver). Free parking available for research participants with a valid SPARC pass.
For more information or to sign up to participate
please contact the study coordinator, Emily Deegan, by email or phone 604-675-8881
Study type
This study involves physical activity
This study involves minimally-invasive procedures
This study involves taking a survey or being interviewed