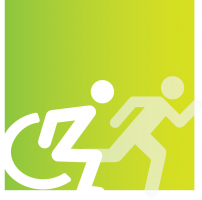 Project title: Evaluation of Video Gaming Programs for Improving Function in Older Adults with a Single-leg Below-knee or Above-knee Amputation: WiinWalk Study
The aim of this project is to determine if the Nintendo Wii physical activity or cognitive intervention enhances walking capacity in older (50+ years) community living adults who have a single-leg above or below knee amputation.
You may be eligible to participate if you:
Have a single-leg below knee or above knee amputation
Are 50 years of age or older
Have been using a prosthesis for at least 2 hours per day for the past 6 months
Have a TV at home
What is involved?
Participants will be randomly split into two groups, a physical activity group and a brain activity group. Each participant will be asked to complete 3 sessions of supervised training with a physical activity or brain activity video gaming program at GF Strong and 9 sessions in their homes as well as 4 data collection sessions at GF Strong. Overall participation will take about 11 weeks as well as a 1-hour follow-up session at the 1-year mark.
Why you might like to participate:
Your participation in this study will help us determine whether technology such as the WiinWalk program can assist in enhancing walking capacity. This type of research could reach people who may not otherwise have access to rehabilitation resources. A stipend will be provided to you for your involvement.

If you are interested in participating or would like more information, please contact Bita at wiinwalk@gmail.com or phone 604-737-6311.

You can see a video about this project here.
Researchers: Dr. Bill Miller; Bita Imam