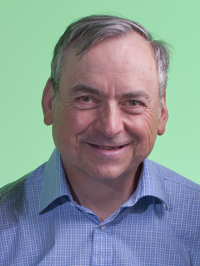 Principal Investigator
Active Staff, Vancouver General Hospital
Consultant Staff, Children's & Women's Health Centre of British Columbia
Consultant Staff, St. Paul's Hospital
Consultant Staff, GF Strong Centre
Consultant Staff, Pearson Hospital
Director, Provincial Organ Retrieval Program
Surgical Director of Renal Transplant, Vancouver General Hospital
Co-Director, Vancouver Ejaculatory Dysfunction Clinic
Clinical Professor, Department of Urologic Sciences, Faculty of Medicine, University of British Columbia
Research Interests
Infertility
;
Organ transplantation
Dr. Nigro's research focus is on adult urologic cases. He also studies infertility and urologic prosthetics. He has a special interest in organ transplantation.
Dr. Nigro is a Clinical Professor in the Department of Urologic Sciences at the University of British Columbia. He is also a Principal Investigator at ICORD, the Director of the Provincial Organ Retrieval Program, Surgical Director of Renal Transplant at the Vancouver General Hospital, and Co-Director of the Vancouver Ejaculatory Dysfunction Clinic. Dr. Nigro also works with many hospitals; he is a member of the Consultant Staff at the Children's & Women's Health Centre of British Columbia, St. Paul's Hospital, GF Strong Centre, and Pearson Hospital.
Current Lab Members
Research Staff
Emily Deegan
Current Opportunities in the Lab
Please contact Dr. Nigro with inquiries.
Recent publications
Fougere, RJ et al.. 2016. Reduction in Bladder-Related Autonomic Dysreflexia after OnabotulinumtoxinA Treatment in Spinal Cord Injury.. J. Neurotrauma. doi: 10.1089/neu.2015.4278.
Liu, N, Fougere, R, Zhou, MW, Nigro, MK, Krassioukov, AV. 2013. Autonomic dysreflexia severity during urodynamics and cystoscopy in individuals with spinal cord injury.. Spinal Cord. doi: 10.1038/sc.2013.113.
Gotto, GT, Chang, SD, Nigro, MK. 2010. MRI in the diagnosis of incomplete testicular torsion.. Br J Radiol. doi: 10.1259/bjr/95900989.
Ma, S et al.. 2000. Selection of viable sperm from frozen-thawed immotile spermatozoa based on the phenomenon of sperm tail curling in men who underwent testicular biopsy and epididymal sperm aspiration.. Fertil. Steril. doi: 10.1016/s0015-0282(00)00550-1.
Shackleton, CR et al.. 1995. Cadaver kidney transplantation with minimal delayed function: experience with perioperative strategies to enhance initial renal allograft function.. Transplant. Proc.
Search PubMed