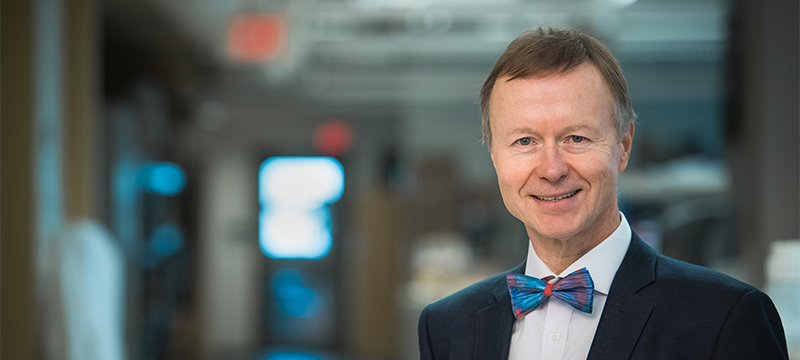 On August 6, 2019, Dr. Rob McMaster, Executive Associate Dean, Research, UBC Faculty of Medicine and Executive Director, Vancouver Coastal Health Research Institute, released the following announcement:
I am pleased to announce the reappointment of Dr. Wolfram Tetzlaff, as Director, International Collaboration on Repair Discoveries (ICORD), for a five-year term effective May 1, 2019 to June 30, 2023.
Dr. Tetzlaff, a Professor in the Departments of Zoology and Surgery has led ICORD since July 2013 and has been a faculty member at UBC since 1995. He also holds the John and Penny Ryan BC Leadership Chair in Spinal Cord Injury Research.
In his laboratory, Dr. Tetzlaff leads a research program focusing on spinal cord injury experimental modeling and experimental strategies for neuroprotection and neural repair after spinal cord injury. He also directs preclinical studies for the discovery of novel combinations of clinically used drugs with neuroprotective properties in the injured spinal cord.
His work is funded by CIHR, NSERC, the Craig H. Neilsen Foundation, Wings for Life, the US Department of Defense and the Blusson Integrated Cures Partnership – a collaboration of the Rick Hansen Institute and ICORD supported by the Rick Hansen Foundation.
ICORD, a major research centre of the Vancouver Coastal Health Research Institute and the Faculty of Medicine, encompasses over 40 principal investigators and more than 400 trainees and staff. It fosters collaborative, multidisciplinary activities spanning basic, translational and outcomes research from cells to communities. ICORD's faculty members are drawn from Applied Science, Arts, Education, Medicine and Science at UBC as well as from other B.C. universities.
In this continued role, Dr. Tetzlaff will lead this team of investigators and promote integrative research that seeks to understand basic mechanisms of spinal cord injury, to accelerate the search for cures, as well as to improve functional outcomes and quality of life for persons with spinal cord injury.
Please join me in congratulating Dr. Tetzlaff on his reappointment.