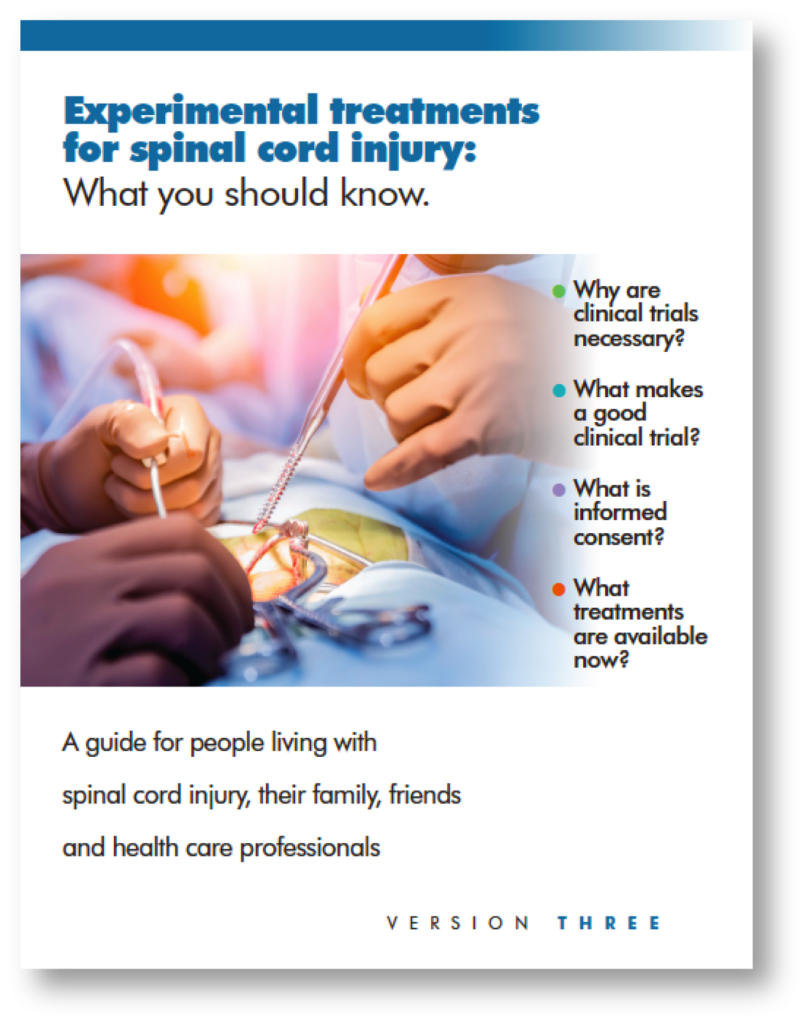 June, 2021: An updated and revised version of the popular and informative publication, Experimental treatments for spinal cord injuries: what you should know. A guide for people living with spinal cord injuries, their families, friends and health care professionals, is available for download.
The revision was prepared by SCI experts from around the world, including ICORD's founding director, Dr. John Steeves. There were 11 authors in total. It was revised and updated without sacrificing accuracy, to make it reader-friendly for people with spinal cord injury wanting to learn about, or considering participation in, clinical trials.
A shortened version of the document includes two appendices with a checklist of questions to ask (and answers to expect) before agreeing to take part in a human study, and a summary of each section of the full document.
Translations of Version 3 will be posted when available.
For more information about this booklet, please contact Dr. Steeves.
The authors are grateful for support from the following organizations, which have contributed to one or more versions of the booklet:
International Collaboration On Repair Discoveries (ICORD, Canada) • American Spinal Injury Association (ASIA, USA), Christopher and Dana Reeve Foundation (USA) • Craig H. Neilsen Foundation (USA), • Fondation internationale pour la recherche en paraplégie (Switzerland) Institut pour la Recherche sur la Moëlle épinière et l'Encéphale (France) • International Spinal Research Trust (UK) • Japan Spinal Cord Foundation • Neil Sachse Foundation (Australia) • Paralyzed Veterans of America (USA) • PRAXIS (Canada) • Spinal Cord Outcomes Partnership Endeavour (SCOPE, International) • The Miami Project to Cure Paralysis (USA) • Wings for Life (Austria).
---
For people with SCI, their families, friends and caregivers, the decision to receive an experimental treatment or enter a clinical trial is a challenging one. In order to establish a set of guidelines for the design and conduct of valid clinical trials for SCI, an expert panel of researchers and doctors with extensive scientific and clinical experience in SCI was formed in 2004. The panel, originally supported through the ICCP (International Campaign for Cures for spinal cord injury Paralysis), developed a set of 4 papers outlining the guidelines for the conduct of SCI clinical trials, which were published in the Nature journal, Spinal Cord (see below). In addition to these peer-reviewed publications, the panel summarized these guidelines in an easy-to-read booklet. A revised and updated version of the booklet was published in June 2021.
Download documents:

Experimental Treatments for Spinal Cord Injuries: What you should know if you are considering participation in a clinical trial (Version 3, 2021).
Download Questions to Ask / Summary
Original 2004 versions: Version 1 (full 40-page document)  Version 1 (summary document)

Traitements expérimentaux des lésions médullaires : ce qu'il faut savoir si vous envisagez de participer à un essai clinique. Un résumé pour les personnes atteintes de lésions médullaires, leurs familles, leurs amis et leurs soignants.

Tratamientos experimentales para lesiones en la médula espinal: lo que debe saber si está pensando en la posibilidad de participar en un estudio clínico. Guía para personas con lesiones en la médula espinal y sus familiares, amigos y cuidadores.

Experimentelle Therapien für Rückenmarksverletzungen: Was Sie wissen sollten wenn Sie an einer klinischen Studie teilnehmen môchten. Ein Leitfaden für Menschen mit einer Rückenmarksverletzung, ihre Familien, Freunde und Betreuer.
Ein Zusammenfassung für Menschen mit einer Rückenmarksverletzung, ihre Familien, Freunde und Betreuer.

flag-Japan脊髄損傷の実験ケア:あなたは何を知っているべき場合は、臨床試験への参加を検討している。

脊 脊髓损伤的试验性治疗: 假如你想参加临床试验, 你应该知道些什么? 这是一份供脊髓损伤者及其家属, 朋友和看护者使用的指南 由治疗脊髓损伤所致瘫痪国际运动 (International Campaign for Cures of spinal cord injury Paralysis, 简

Omurilik yaralanmasında deneysel tedaviler: klinik araştırmalar hakkında bilmeniz gerekenler. Omurilik yaralanması sonrası, aileleri, arkadaşları ve bakıcıları için bir rehber.
Click here to visit the Spinal Cord website, where the following 4 documents can be downloaded for free from the journal's home page:
1. Spontaneous recovery after spinal cord injury and statistical power needed for therapeutic clinical trials
2. Clinical trial outcome measures
3. Clinical trial inclusion/exclusion criteria and ethics
4. Clinical trial design