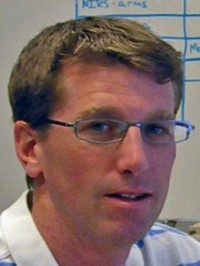 Investigator
B.P.E. (University of New Brunswick), M.Sc. [Human Kinetics] (University of British Columbia), Ph.D. [Human Kinetics] (University of British Columbia), Post-Doctoral Fellowship (University of Wisconsin-Madison)
Professor, School of Kinesiology, Faculty of Education, University of British Columbia
Research Interests
Cardiovascular health
;
Exercise
;
Rehabilitation
;
Respiration
;
Sport cardiology
Dr. Sheel focuses his research on exercise science. He studies exercise physiology, athletic performance, and respiratory and cardiovascular physiology. The main theme of his research is that the respiratory and cardiovascular systems are inextricably linked and have influences each other's function. Through his research, Dr. Sheel hopes to understand the physiological basis and importance of cardio-respiratory interactions in different conditions, such as exercise and disease. Dr. Sheel also examines the therapeutic potential of exercise. Dr. Sheel is an Associate Professor in the School of Kinesiology at the University of British Columbia. He is an Investigator at ICORD. Dr. Sheel completed his B.P.E. at the University of New Brunswick. He moved to the University of British Columbia to complete both his M.Sc. and Ph.D. in human kinetics. His Post-Doctoral Fellowship was at the University of Wisconsin-Madison.
Awards
Some of Dr. Sheel's recent major awards and accomplishments include:
Fellow, American College of Sports Medicine (2015)
CIHR New Investigator Award (2004-2010)
Scholar Award (MSCFHR, 2005-2010)
Current Lab Members
| M.Sc. Students | Ph.D. Students |
| --- | --- |
| Carli Peters | Joseph Welch |
| Josh Bovard | Bill Henderson |
| | Yanick Molgat-Seon |
| | Paolo Dominelli |
| | Kathryn Duff |
Current Opportunities in the Lab
Please contact Dr. Sheel with inquiries.
Recent publications
Search PubMed