PARC Programs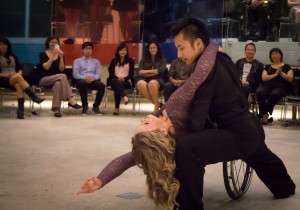 PARC hosts several different exciting activities throughout the year, including adapted fitness classes, wheelchair ballroom dancing, and GameCycle Mario Kart competitions.
Our current program offerings are listed below.
Adapted yoga
Adaptive yoga runs on Fridays from 11am to noon between September 25, 2015 to December 4, 2015. The instructors are Bobbie Seale-Cobiskey and Sarah Murray from Yogability. Classes are held in PARC.
The first class is free; subsequent classes are by donation. All PARC participants and community members are welcome! Please contact Ali if you have any inquiries.
Wheelchair table tennis
The ping-pong table in PARC is currently available for everyone to try during Tuesday to Friday afternoons from 1pm onwards. Paddles and balls provided. An adapted tool is available for picking up ping pong balls.
Also, if you are interested in being part of a weekly league or tournament play, or need some pointers, please contact Kip or Megan.
Wheelchair ballroom dancing
Our last wheelchair ballroom dance showcase was held in October 2014. Stay tuned for some exciting updates regarding wheelchair ballroom dance studies!
Fitness classes
Sign up now for the next session of lunchtime fitness classes in the BSCC. Taught by professional instructors, classes take place Tuesdays and Thursdays from 12:10 to 1:00 in the Access Lab on the ground floor. The Fall session starts on September 8th/10th and runs through December 15th to 17th. Beginners welcome!
Tuesdays with Alison: pilates meets bootcamp. This class includes lots of variation and challenges, with some standing/balance work plus a 2-and-a-half-minutes-of-plank challenge.
Thursdays with Kate: yoga meets pilates. This is a more gentle class with lots of stretching but also some good core work.
Prices are as follows:
Tuesdays AND Thursdays (all 30 classes): $210
Either Tuesdays OR Thursdays (15 classes): $115
10-class drop-in: $85 (must be used within the Fall session)
Single drop-in: $10
Please email Cheryl if you are interested.
Community organizations
If you are interested in opportunities outside of ICORD and PARC, please consult Spinal Cord Injury BC's Resource Centre.