February 22, 2017
Blusson Spinal Cord Centre
8:00 am
Map & Directions

4th International Autonomic Symposium:
Interfacing Man and Machine: Neuroprosthetics for managing autonomic function after spinal cord injury
Wednesday, February 22, 2017
Vancouver, BC, Canada
Organizer: Professor Andrei Krassioukov, Autonomic Laboratory ICORD/UBC, Vancouver, BC, Canada
History of the Symposium
2011 1st International Autonomic Symposium – 110 participants from 3 countries.
2013 2nd International Autonomic Symposium – 150 participants from 5 countries.
2015 3rd International Autonomic Symposium – 130 participants from 7 countries.
Event Description
The 4th International Autonomic Symposium will focus on the poorly understood and, until recently, ignored topic of autonomic dysfunctions that individuals with spinal cord injury (SCI) and other neurological disorders face on a daily basis. The Symposium will examine the latest technological advances in management of autonomic dysfunctions in individuals with SCI. Autonomic disturbances, such as life-threatening fluctuations in blood pressure (i.e. autonomic dysreflexia), are amongst the most common debilitating complications in individuals with SCI. Moreover, cardiovascular, bladder, bowel, respiratory and sexual disorders (all autonomic in nature) are among the leading causes of re-hospitalizations and major concerns for individuals with SCI and other neurological disorders. This event will gather international experts in various disciplines of medicine, basic science and the community to provide a truly multidisciplinary platform for participants to exchange ideas and learn from each other. Community participants will have the possibility to interact with clinicians and scientists during this symposium.
To attend the event, you must purchase tickets from our Eventbrite page and fill out the registration form and send it to Ms. Andrea Ramirez.
Metered street parking is available. The nearest parkade is at the Gordon and Leslie Diamond Health Care Centre at 2775 Laurel St.
Symposium organization and audience:
This symposium has three programs:
Program 1: Full-day program, eligible for up to 6.5 MOC Section 1 credits as defined by the Maintenance of Certification program of the Royal College of Physicians and Surgeons of Canada.
The University of British Columbia Division of Continuing Professional Development (UBC CPD) is fully accredited by the Committee on Accreditation of Continuing Medical Education (CACME) to provide study credits for continuing medical education for physicians. This course has been reviewed and approved by the UBC Division of Continuing Professional Development. This course is an Accredited Group Learning Activity eligible for up to 6.5 MOC Section 1 credits as defined by the Maintenance of Certification program of the Royal College of Physicians and Surgeons of Canada. Each physician should claim only those credits he/she actually spent in the activity
Program 2: Half-day program, eligible for 4 hours of Continuing Professional Education Credits for Allied Health Care Professionals.
Program 3: Café scientifique for clinicians, scientists, people with SCI, family members, and caregivers, with both panel and round-table discussions.
Participants will learn the latest advances in technology (epidural implantation, exoskeleton devises, and others) that could improve various secondary conditions that result from spinal cord injury; such as, life-threatening episodes of autonomic dysreflexia, orthostatic hypotension, neurogenic bladder, and neurogenic bowel.
Download the conference program here.
Objectives of the Symposium
To gather international and local experts in the area of modern technology and amelioration of autonomic functions following SCI, they will be invited to present and lead discussions.
To foster greater interaction between basic scientists and clinical research on autonomic dysfunction in neurological disorders.
To provide educational opportunities and foster dialogue between community representatives with SCI, clinicians, residents, nurses, medical students, and graduate students.
To exchange the latest advances in research in each discipline with a focus on the evaluation of mechanisms of acute and chronic autonomic dysfunction and the development of novel therapeutic interventions.
 Call for abstracts
Call for Abstract and Registration is open as of December 01, 2016; deadline for abstract submissions will be Sunday, February 05, 2017.
Post-doctoral fellows, students, medical residents, nurses and allied health care professionals are invited to submit abstracts for poster and oral presentation competitions. The top 3 research posters and presentations will be recognized at the evening reception of the symposium and will receive a cash prize.
Any research on spinal cord injury or dysfunctions/disorders of the autonomic nervous system caused by either traumatic or non-traumatic injuries will be accepted for review. Research may be basic or clinical and cover topics such as cardiovascular health, cerebrovascular health, and bowel, bladder, and sexual function, etc.
Please download and complete our Abstract Submission form and send it to Ms. Andrea Ramirez.
Sponsorship opportunities 
Sponsorship opportunities exist for companies and individuals that would like to support this unique and valuable community engagement event. Recognition is available at the following levels:
Diamond sponsorship (contribution $10,000 and above)
Gold sponsorship (contribution $5,000 – $9,999)
Silver sponsorship ($3,000 – $4,999)
Bronze sponsorship (up to $2,999)
Exhibition table minimum $1,000
Your company name and logo will be displayed on our website, brochure and slide show at the conference. You are invited to set up an exhibition booth on site. You are invited to participate in all social and academic events of the day with complimentary registration. In addition you are invited to join a pre-conference reception/dinner with the panel of Canadian and International guest speakers.
To sponsor our event, please contact Ms. Andrea Ramirez.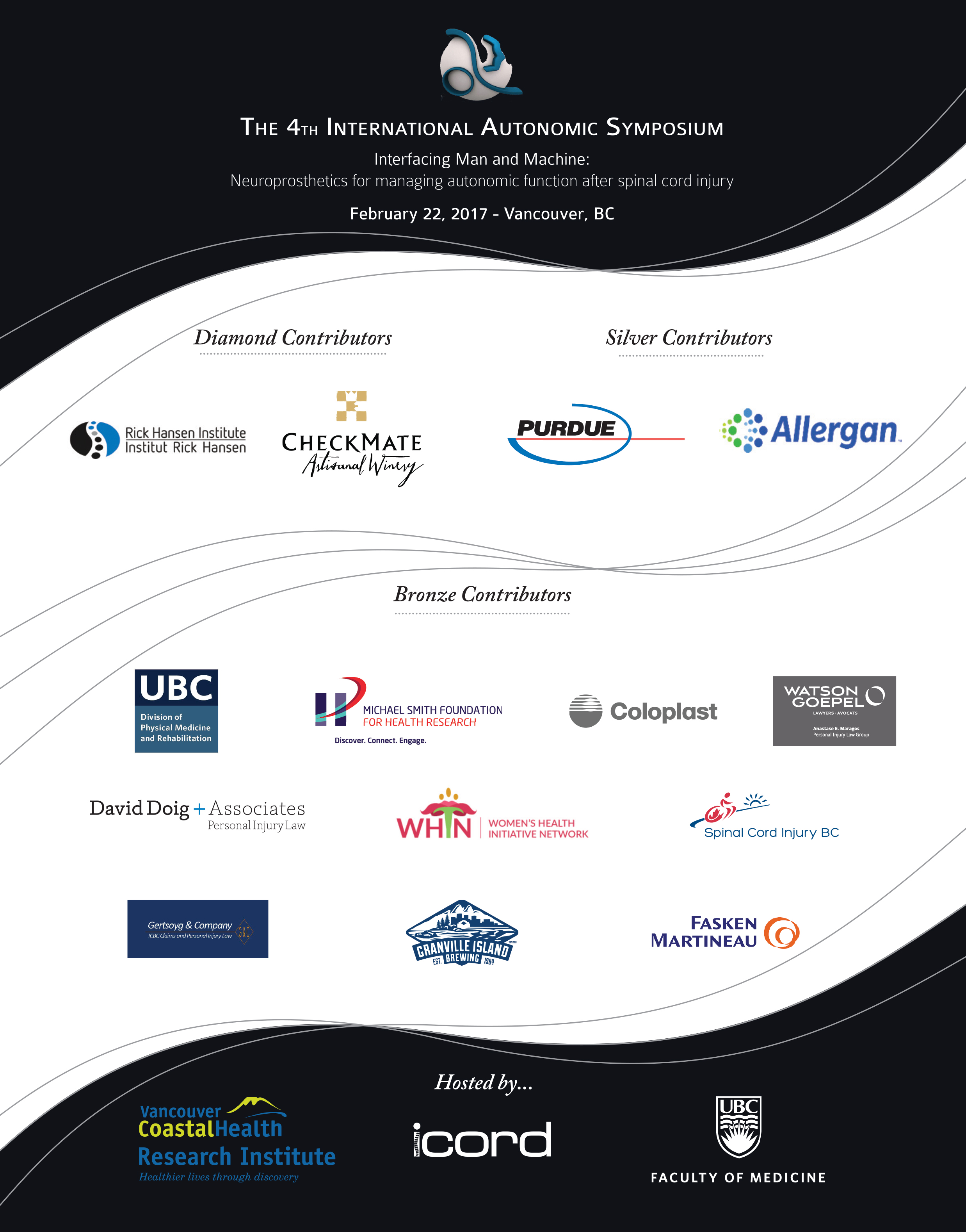 Our previous sponsors
Past symposia have generously and proudly been supported by the following:
Allergan
Abbott Laboratory
Bladder Health BC
Coloplast Canada Corporation
David H. Doig & Associates
Division of Physical Medicine and Rehabilitation, UBC
Eli Lilly Canada Inc.
Enertopia Corporation
Gertsoyg & Company
Harper Grey LLP
ICORD (International Collaboration On Repair Discoveries)
Manfred Sauer Canada (Chair Stuff Sales LTD)
Murphy Battista LLP
Mylan Canada EPD (BGP Pharma ULC)
Paralyzed Veterans of America
Pfizer Canada Inc.
Purdue Pharma
Rick Hansen Institute
Road 13 Vineyards
Stephens
Turing Pharma
Watson Goepel LLP