What's new at ICORD? Read the ICORDian Community Newsletter for Spring 2017.


In this issue, we tell you about a spectacular scientific event we held in April, a new collaboration with a talented Mexican, and some exciting research. Plus: lots of photos, and some interesting events to put in your calendar.
---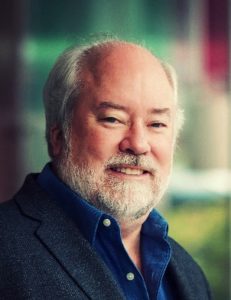 On April 5 and 6, ICORD hosted a spectacular scientific event to celebrate the career of our Founding Director, Dr. John Steeves, who retires this year after a distinguished 38-year career. In honour of John's profound contributions to ICORD, ICORD hosted an exciting two-day SCI symposium featuring fifteen internationally renowned SCI experts who visited to share their research, either as speakers or session chairs. The symposium also featured 86 research posters by ICORD and RHI trainees and staff, which were presented in two poster sessions. Looking back on the event, Dr. Steeves had this to say:
"International speakers always provide unique insights and inspiring visions. The Symposium agenda provided a broad representation of the field of SCI research. But no less impressive, and very gratifying to me, were the range of the presentations by ICORD trainees. You all put your best efforts forward and our out-of-town visitors were very impressed. I am extremely grateful to the ICORD staff for creating an event that all could enjoy. I cherish your warm wishes for my retirement, although that has shown no signs of appearing on my near-term horizon. From time to time, you will all face frustrations in your research, but trust in yourself and your colleagues to overcome the challenges. As the founding Director of ICORD I am pleased at the growth of ICORD's contributions to the world. Your future looks very bright and I hope you will share your successes with me when I visit from time to time."
Visiting speakers and session chairs:
Andrew R. Blight, Acorda Therapeutics
Robert Brownstone, University College London
Susan Charlifue, Craig Hospital
Catharine Craven, Toronto Rehabilitation Institute
Armin Curt, Balgrist University Hospital
James Fawcett, University of Cambridge
Michael Fehlings, University of Toronto
Linda Jones, Toronto Rehabilitation Institute
Larry Jordan, University of Manitoba
Sukhvinder Kalsi-Ryan, Toronto Rehabilitation Institute
Naomi Kleitman, Craig H. Neilsen Foundation
Gillian Muir, University of Saskatchewan
Milos R. Popovic, Toronto Rehabilitation Institute
Rüdiger Rupp, Heidelberg University Hospital
Edward D. Wirth, Asterias Biotherapeutics
---

The Blusson Integrated Cures Partnership has been instrumental in helping ICORD fulfill its mission of international multidisciplinary research. Funds from the BICP have supported travel for ICORD researchers and for the hosting of international scholars. This year ICORD Principal Investigator Dr. Chris West sponsored Dr. Adrian Alanis from Guadalajara, Mexico for the Visit ICORD on a Scholarship for International Trainees (VISIT) program.
Adrian is a physician with an expertise in arterial physiology, who was searching for a supervisor with whom to do research in Vancouver. Adrian contacted Chris after finding ICORD publications on cardiovascular health after SCI. Their exchange led to Chris inviting Adrian to ICORD for a project on ventricular-arterial coupling (VAC) in individuals with SCI. VAC is a measure, which can be obtained non-invasively, of how the heart and artery system interact with each other, and it can serve as an indicator of overall cardiovascular health.
"The study of VAC has been done in high cardiovascular risk individuals—people with hypertension and diabetes—and VAC has been proven to have prognostic value for things such as exercise capacity," says Adrian. "But this has never been applied to individuals with SCI."
Heart disease is one of the most common and dangerous secondary complications that occur after SCI, and studying VAC could give clinicians a valuable diagnostic method for evaluating cardiovascular health in people with SCI, especially because it can be obtained non-invasively with relative ease.
Adrian's clinical practice and research in Guadalajara is focused on arterial physiology in people with auto-immune diseases who are at high risk of cardiovascular disease. Because of the high incidence of heart problems in people with SCI, the techniques that Adrian has acquired are easily transferable to research being done at ICORD.
"Adrian's keen interest in arterial physiology was a natural complement to my lab's expertise in cardiac physiology," says Chris. "He has excellent training in the assessment of arterial function is critical for this research."
Chris has established in experimental models that VAC is impaired after SCI, and this work continues ICORD's world-leading research on cardiovascular health and SCI, particularly that of Chris and Dr. Andrei Krassioukov.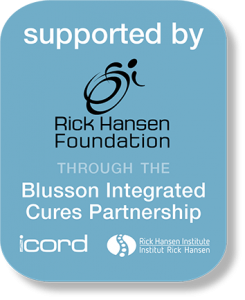 In Adrian and Chris's three-month project, they measured the VAC in able-bodied individuals and people with SCI, using echocardiography, or ultrasound, and arterial tonometry, which are ways of easily and comfortably monitoring the cardiovascular system. They plan to also monitor elite wheelchair rugby athletes to determine how physical fitness affects VAC.
"If we prove the clinical capability of these techniques it could be a very good screening tool to see which SCI patients need more attention or intervention, and just to evaluate their cardiovascular status," says Adrian.
The VISIT program helped establish this project, and it has led to Adrian returning to UBC in the fall to continue a line of this research for a master's degree supervised by Chris in the School of Kinesiology.
---

ICORD Principal Investigator Dr. Lynn Stothers has been named a Scholar at the Peter Wall Institute for Advanced Studies. Dr. Stothers specializes in urology and SCI, also studying these issues in a world health context in collaborative research projects in Uganda. During her time as a Wall Scholar, Dr. Stothers will investigate the 'mind-body-bladder' connection in health and disease using novel technology.
---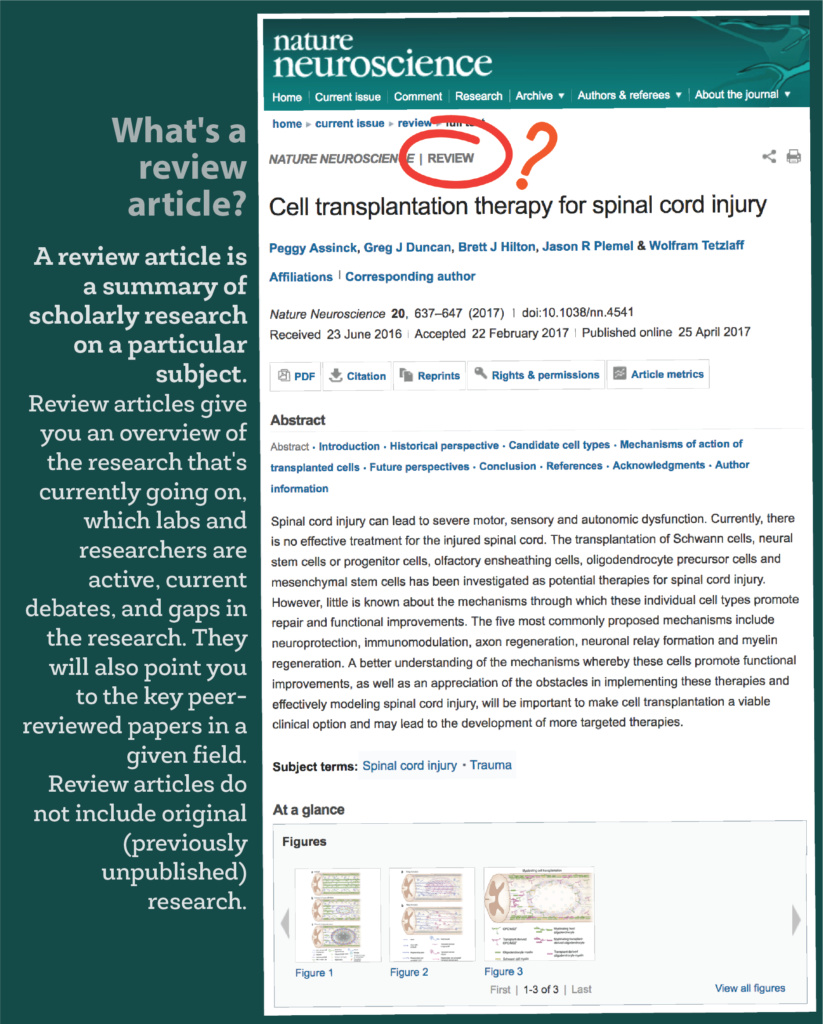 In April, ICORD Director Dr. Wolfram Tetzlaff's lab published a major review in the prestigious journal Nature Neuroscience on the use of stem cells to treat spinal cord injury. The Tetzlaff lab at ICORD has been studying the practice extensively in animal models, while stem cell treatments have been getting more and more attention in the media. This article offers an informative overview on the use and challenges of making stem cell treatment a reality for SCI.
"This review summarizes many of the unknown questions the we still face regarding transplanting cells into the injured spinal cord to make the reader aware that we do not really understand why and how cell transplantation works in animals," says ICORD Director Dr. Wolfram Tetzlaff.
The authors note that there are still many hurdles before the viability of these treatments is established:
With several clinical trials ongoing, cell transplantation for spinal cord repair remains an important avenue for further research. To date, causal relationships between functional improvements and particular mechanisms have rarely been established. Usually, only correlative evidence is provided, and the effect sizes are modest. Unfortunately, this is enough to fuel stem-cell tourism with unproven cell treatments in clinics worldwide. Still, while few studies have demonstrated which interactions between transplanted cells and host tissue mediate functional benefits, thanks to technological advances, there has never been a better time to investigate this further. By more accurately modeling human SCI and through rigorous interpretation, the field can further advance cell transplantation strategies for spinal cord repair.
Congratulations to the Tetzlaff Lab for this publication, especially the ICORD Trainees Peggy Assinck, Greg Duncan, and Brett Hilton, and former ICORDian Dr. Jason Plemel!
---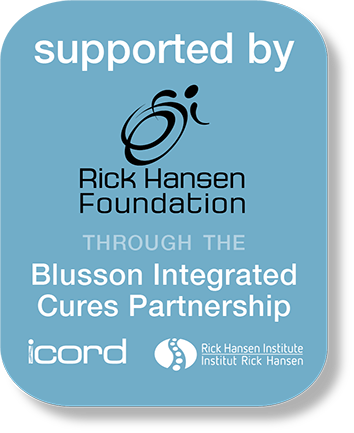 ICORD Principal Investigator Dr. Aziz Ghahary has been making progress in translating his research to the clinic. This year he won a Vancouver Coastal Health Research Institute Innovation and Translational Research Award and Lumira Capital Innovator's Challenge for his work on MeshFill, a liquid skin substitute. This technology can be stored in a powdered form and then be applied as a skin substitute after adding liquid. It has the potential to aid skin graft treatments by filling in gaps that a graft cannot cover and by preventing scarring and infections. MeshFill also has applications for hard-to-heal wounds such as pressure ulcers, which are a common secondary complication of SCI, and it is part of Dr. Ghahary's overall research program in wound healing. His recent success in these competitions bring this easy-to-use and practical treatment closer to commercialization and to the clinic to help patients.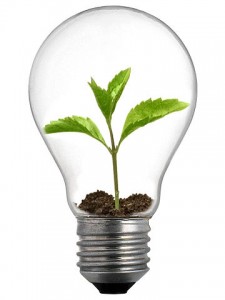 The MeshFill project was started with the help of an ICORD Seed Grant, which are awards funded by the Blusson Integrated Cures Partnership. These grants give researchers opportunities to take risks by exploring new ideas and gathering data for even bigger projects. ICORD researchers have leveraged BICP grants into millions of dollars of additional research funding. To learn more about the winners of this year's ICORD Seed Grants competition, click here.
---

ProACTIVE SCI
Drs. Christopher West and Kathleen Martin Ginis want to see if personal training and brief physical activity coaching sessions that are tailored to the individual can improve physical activity participation, fitness, and health. This study involves two 2-hour testing sessions, 9 weeks of weekly 15-minute coaching sessions, and 4 six-day physical activity monitoring sessions. By taking part in this study, you can help us better develop strategies for physiotherapists to ensure their clients with SCI remain active post-discharge. Click here for complete details.
---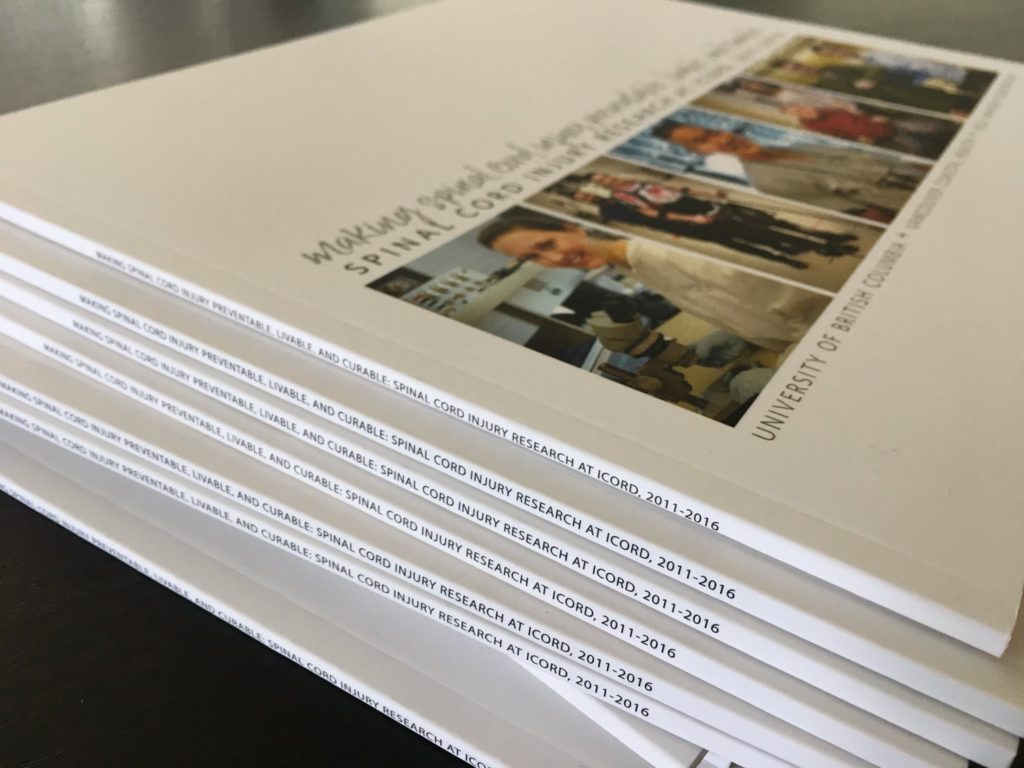 If you want to know about the 22-year history of our research centre or what we've been up to for the past five years, take a look at our new book, Making spinal cord injury preventable, livable, and curable: spinal cord injury research at ICORD, 2011-2016. The 50-page PDF is available as a free download. Printed copies are also available – please contact us for details.
WHAT OUR READERS SAY: An absolutely fascinating insight into the sheer hard work and determination of a huge team of people committed to helping and improving the quality of lives of people affected by spinal cord injury. As the proud mother of one of those researchers, I have learned even more by reading this book. – Virginia West
---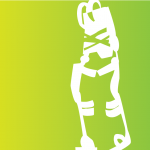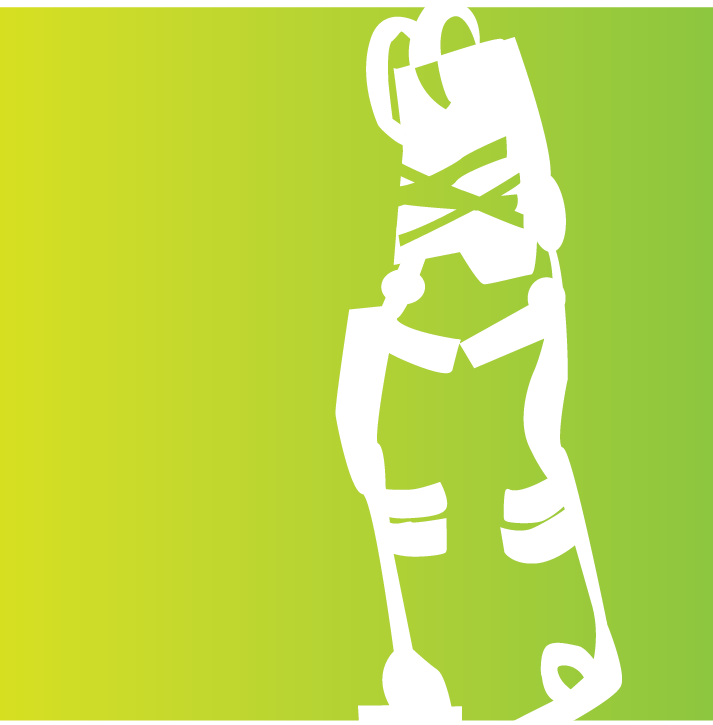 ICORD PI Dr. Tania Lam has been doing extensive work on the use of robotic gait training devices for rehabilitation after SCI.
Her team recently published a study in The Journal of Neuroengineering and Rehabilitation on how trunk muscles are affected by the use of robotic gait training devices.
iMedicalApps.com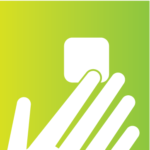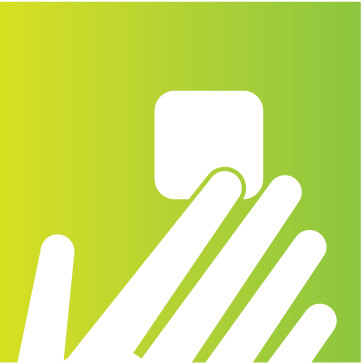 featured some research by ICORD PI Dr. Ben Mortenson and his team.
Dr. Mortenson has been studying the use of the SCI Health Storylines app, which is designed to help self-management in recovery and rehabilitation after an injury. Learn about what he's found out so far.
---

Did you know that volunteers at our SCI Community Resource Centre prepare summaries of scientific papers and post them on our blog? If you're interested in what's going on in SCI research around the world, this is a good place to look.
---

Celebrate National AccessAbility Week, May 28-June 3, 2017! Inspired in 1988 by Rick Hansen's Man In Motion World Tour, National AccessAbility Week celebrates, highlights and promotes inclusion and accessibility in our communities and workplaces across Canada, and helps change the way we think, talk and act about barriers to accessibility.
Daily, people with disabilities, our aging population and others continue to be challenged by physical barriers in the places we all live, work and play.  Let's change that!
This National AccessAbility Week, show your support for an accessible Canada by visiting pushforaccess.ca and join the online community of access supporters.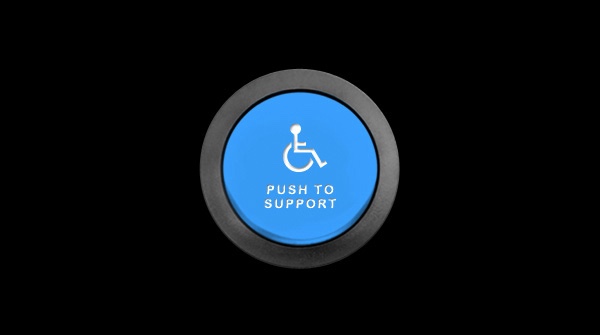 ---



Our friends at SCI-BC have three exciting events coming up:
Canning & Jams Cooking Class: Come join us in the fully accessible PARC Kitchen at ICORD to learn some great adapted techniques for canning and making jam, and take some tasty treats home too! Open to people with disabilities and their family/friends. Cooking classes fill up quickly, don't forget to RSVP!
June 5, 6-8pm. RSVP to jkruger@sci-bc.ca
SCC Training Events: Workout and social for those interested in participating in the Scotiabank Charity Challenge on behalf of Spinal Cord Injury BC. These events are designed to get team Walk 'n' Rollers ready to go for the Scotiabank Charity Challenge 5K.
June 1 & 15, 5:30-6:30pm workout; 7pm drinks/appies
Location: PARC/Blusson Atrium (818 W. 10th Ave, Vancouver)
RSVP to jkruger@sci-bc.ca
Scotiabank Charity Challenge 5K –Team Walk 'n' Rollers: We need your help raising funds to allow us to continue to support people with SCI (or related physical disabilities) adapt, adjust, and thrive. Sign up and raise at least $100 and we pay your race registration for the 5K or half marathon!
Date: June 2. For more information contact msmith@sci-bc.ca

---
RHI + ONF partner to prevent pressure ulcers
Did you know that an estimated 95% of adults with SCI will experience at least one pressure ulcer in their lifetime? It is also the most expensive and preventable secondary complication for people who sustain a SCI, and the health care systems that serve them.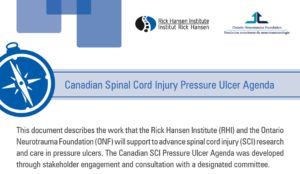 To help address this, the Rick Hansen Institute (RHI) and the Ontario Neurotrauma Foundation (ONF) have partnered to advance the prevention and treatment of pressure ulcers after SCI. By supporting clinicians at six sites in Canada to form the Knowledge Mobilization Networks, best practices are being implemented to prevent pressure ulcers. This work has led to publications examining the psychometric properties of outcome measures such as the Spinal Cord Injury Pressure Ulcer Scale (SCIPUS) for Pressure Ulcer Risk Assessment During Inpatient Rehabilitation (Delparte, 2016) and publications on the application of implementation science for preventing pressure ulcers (Scovil, 2015). RHI also recently funded Dr. Pamela Houghton of the University of Western Ontario, to utilize the lessons learned from the Knowledge Mobilization Network to facilitate the implementation of electrical stimulation for healing pressure ulcers in the community (for more information on the effectiveness of electrical stimulation see Houghton, 2017).
To further advance collaborative efforts in the area of pressure ulcers care and treatment, RHI and ONF supported the development of the Canadian Pressure Ulcer Agenda. The objective of the Agenda is to guide SCI research and support advancements in the prevention and therapeutic management of pressure ulcers. The Agenda is focused on four priority areas including: data standards; health technology innovation; equitable and optimal care delivery; and self-management.
The Canadian Pressure Ulcer Agenda was developed through stakeholder engagement and consultation with a committee of Canadian experts in the field.
To read the Agenda, visit RHI's website here.
---
ALL BODIES DANCE PROJECT invites you to a show!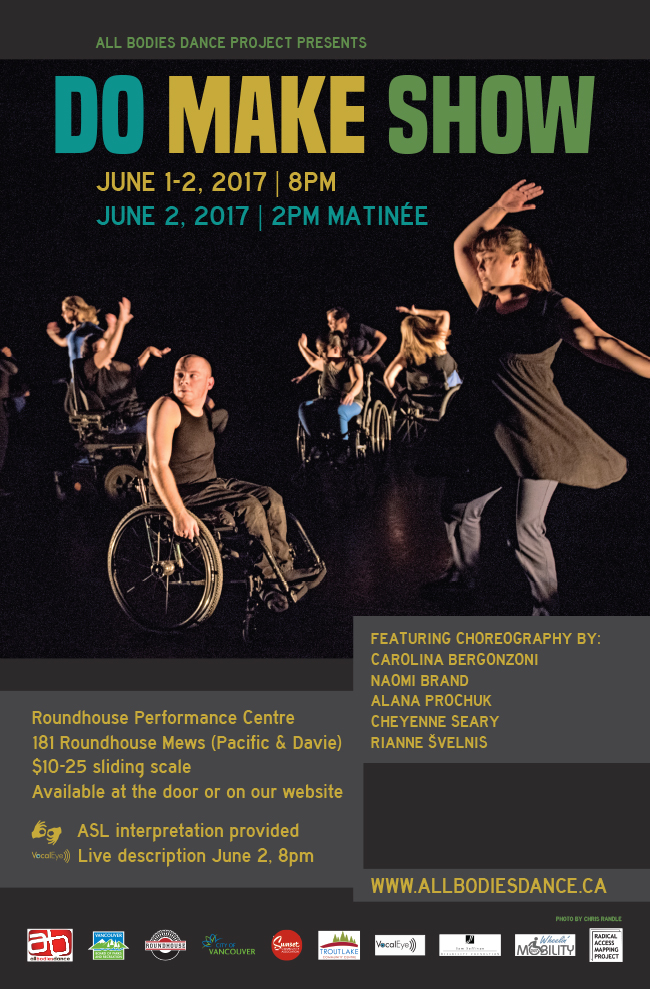 ---
Together we can create a healthier tomorrow through research
The Vancouver Coastal Health Research Institute (VCHRI) produces a monthly community newsletter, In It Together, that brings attention to VCH clinical trials, research studies, and the essential role of the patient participants. The electronic newsletter aims to inspire interested individuals to find out more about research at VCH and participation opportunities by visiting vchri.ca/participate. Stories feature clinical trials and studies at VCHRI and highlight the potentially life-changing discoveries and the important role of volunteer participants.
You can sign up at vchri.ca/InItTogether. Together we will create a healthier tomorrow through research–be part of the discovery.
---
You're welcome at Fuse Wheelchair Dance Socials
11-1 every Saturday in the atrium of the Blusson Spinal Cord Centre.
Free • All abilities welcome! No experience or partner necessary.
For more information, please email or see our Facebook page.
---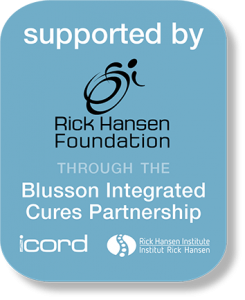 ICORD and the Rick Hansen Institute are working together to identify new treatments for SCI and apply existing treatments for other neurological disorders, injuries and diseases to SCI. Funded by the Rick Hansen Foundation, the Blusson Integrated Cures Partnership provides ten years of stable funding for several multi-year research projects as well as new faculty positions within ICORD, international exchanges to encourage collaboration, research-related events (like the Annual Research Meeting and seminar series) and a consumer engagement strategy which aims to provide people with SCI and their supporters with evidence-based information about the healthcare, services and resources available to best support recovery after SCI and increase consumer involvement in the research process. To learn more about the BICP, please see this page.
We are very grateful for this generous support.
---
🙂 Thanks for reading this issue of the ICORDian–we hope you enjoyed it! Please subscribe and have future issues delivered to your email box. If you have any comments about this issue or suggestions for future ones, please contact us.