In this issue, we'll tell you about a study in a prestigious journal and an accessible fashion research project, as well as two stories about great personal achievements, along with our regular features.We hope you enjoy these stories:

And these regular features:
---
A new translational collaborative paper by ICORD trainees from the West, Krassioukov and Ramer labs was published recently in the prestigious journal Nature Communications! Their paper, "Spinal cord injury impairs cardiac function due to impaired bulbospinal sympathetic control" is open access, meaning it can be read by everyone for free here.
Sustaining an SCI chronically changes heart structure and function, and is associated with increased risk of cardiovascular diseases. In this publication, ICORDians investigated the acute to chronic cardiac consequences of SCI, as well as how changes in bulbospinal sympathetic control contribute to declined heart function after SCI.
What is bulbospinal sympathetic control? Bulbospinal refers to the nerves interconnecting the area in our brain that acts as the "control centre" for the heart and lungs, to the spinal cord. Our sympathetic nervous system connects our brain to internal organs via spinal nerves and is generally thought to control our "fight-or-flight" response.
This study found that the loss of bulbospinal sympathetic control following SCI is what causes a rapid and sustained decrease in left ventricle function. The left ventricle (LV) is the thickest chamber in the heart and when the LV contracts, it sends oxygenated blood out to the body. Interestingly, reduction in leftventricular contractile occurs before structural changes at the cellular and organ levels. These findings indicate the importance for early interventions in preventing cardiac functional decline, and specifically highlight that future interventions should target the loss of sympathetic control following SCI.
ICORD researchers Dr. Chris West and Dr. Andrei Krassiokov are senior co-authours on this publication and are both very excited about what this work entails.
"This information is important as it will help us formulate new therapies that target the descending spinal pathways with a view to offsetting the changes that occur in the heart post-SCI," said Dr. West. "This study also highlights the fantastic collaborative nature of ICORD and how many labs can come together to provide shared expertise to improve our scientific understanding of the physiology of SCI." he added.
"You don't see spinal cord injury papers in Nature Communications everyday!" added Dr. Krassioukov.
---

By Jennifer Phan, Tamila Kalimullina, Nicole Banting, Bianca Magdangal
Who says that adaptive clothing can't be both stylish and functional? From adaptive shirts to clothing accessories, options for adaptive fashion shoppers are on the rise. Although the main point of adaptive clothing is to be suitable for a wide range of needs, some fashionable elements have fallen by the wayside. Researchers in Dr. Andrei Krassioukov's lab want to change this. As part of their FashionABLE project, they aim to bridge fashion and function!
Due to limited mobility (and often, limited upper extremity function), current off-the-rack designs do not address the functional requirements of people with SCI. Adaptive clothing is a broad term referring to clothing articles altered or created for anyone who is limited by traditional clothing. Examples include open-back shirts, easy snap pants, and extra-wide shoes. The goal is to not only reduce the discomfort of conventional garments, but also enable wearers to participate in daily activities more fully.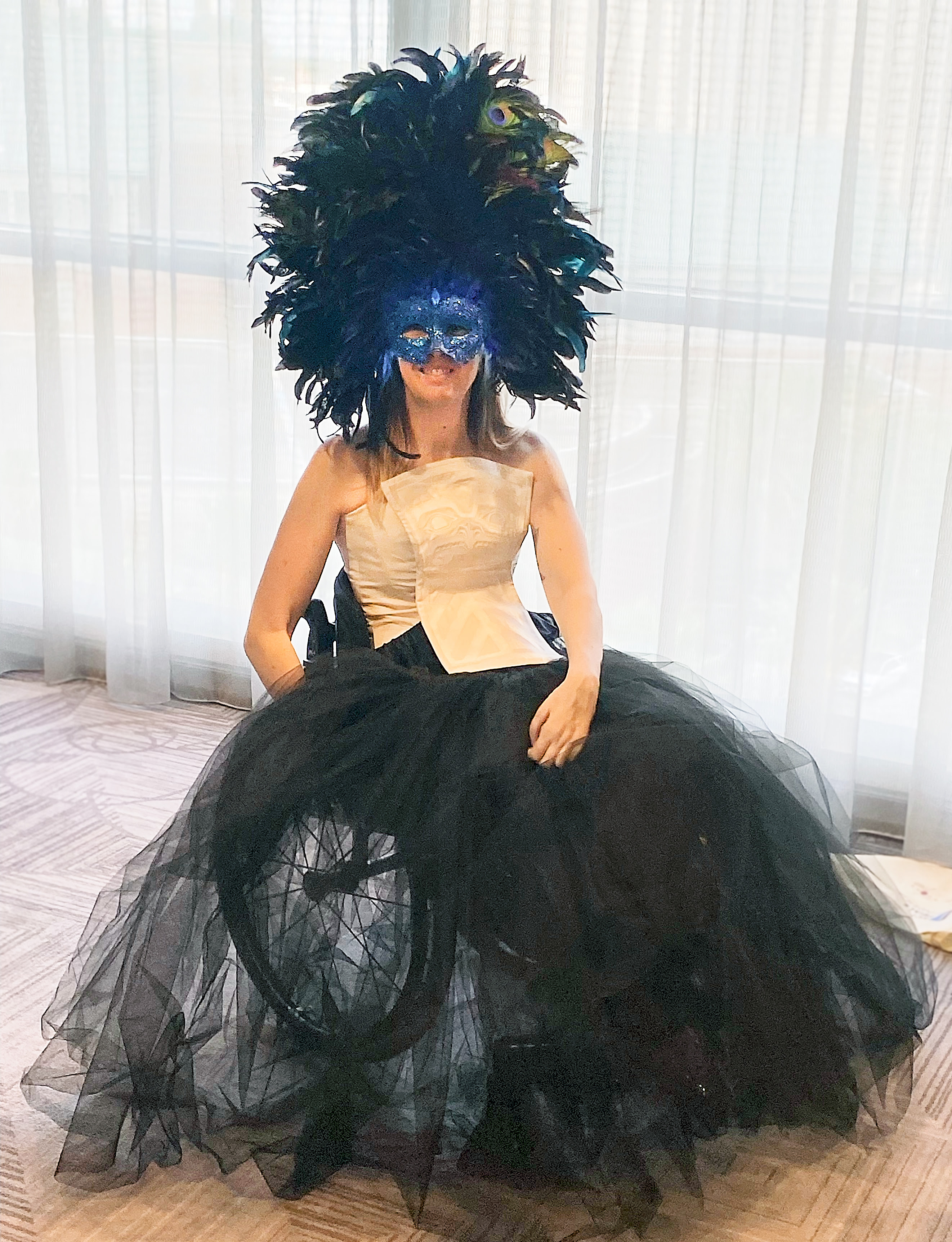 Currently, there are barriers to designing and manufacturing adaptive clothing. While some resources are available, they tend to be difficult to obtain, limited in scope, and low in affordability or feasibility. Lack of consultation with people with disabilities, people who care for them, and professionals who work with them, may be a factor in these challenges. That said, people continue to bring remarkable creativity, lived experience, and community support to adapting their own clothes.
Dr. K's team hopes that future adaptive clothing will meet functional needs and adopt a more fashion-forward approach, being conscious of current and upcoming trends and styles. As Chloë Angus, a fashion designer living with SCI, remarked, "fashion is an integral part of who we are, how we project ourselves, and how others perceive us." Fashion is often as important to people as functionality, and this needs to be addressed as part of the rehabilitation process.
FashionABLE project researchers first conducted a comprehensive review of existing research and websites on adaptive clothing. People with SCI favoured pants designed for a seated position (higher in the back, low in front, no back pockets), elastic waistbands, and magnetic or Velcro closures. Having clothes that feel good and look good is also really important.
Masters student Tamila Kalimullina was recently awarded a WorkSafeBC Research Training Award for her work on the FashionABLE project. This award complements the Craig H. Neilsen Foundation grant currently supporting the project, with a focus on return-to-work needs. "Returning to work is crucial to regaining independence after injury, and we aim to create a resource with clothing tips and hacks to facilitate this transition, like modifications for ease of bladder/bowel care, options for workplace-appropriate attire," explained Tamila.
At the American Spinal Injury Association conference last month in New Orleans, Dr. K's team presented a course and a fashion show. During the course, a panel including Teri Thorson (peer coordinator at SCI BC, person with SCI), Chloë Angus, Dr. Susan Forwell (Professor, UBC Department of Occupational Science & Occupational Therapy) and her students, Wilson Wong and Mehala Kuwica, and Grace Jun (fashion designer of Open Style Lab) discussed needs and wants for adaptive clothing in the SCI community, existing options and obstacles, and future directions.
Following the course, Teri, John Chernesky and Ryan Clarkson modelled a variety of items including raincoats designed by Grace Jun and a ball gown by Chloë Angus. Feedback was overwhelmingly positive!

The next stage of the FashionABLE project will further explore the perspectives and practices of adaptive clothing through online surveys and interviews. If you are a person with chronic SCI, or a healthcare professional with more than a year of experience working with people with SCI, Dr. K's team would love to hear from you.
---

Have you ever read a research study posting and wondered why only people with a particular injury level or within a certain age range were qualified to participate? Read this new article on our website to learn more about the reasons for inclusion and exclusion criteria in a research study.
---
Vancouver's only marathon event, the annual BMO Vancouver Marathon, took place on May 1. Longtime PARC participant and member of the ICORD community Kyle Gieni completed the marathon and placed 236th out of 4227 participants who finished! We caught up with him to find out more about this great achievement.
Kyle has completed a half-marathon a year for the past eight years, each of them while manually pushing his wheelchair. He's always wanted to do a full marathon, but first he needed to find a way to deal with the pain. "Pushing half-marathons in the past has been extremely taxing on my shoulders, to the point where I would not be able to move around or transfer without being in pain for the next few days," said Kyle.
"I wanted to try something different. My uncle cross country skis in the winter and roller skis in the summer using ski poles with tungsten-carbide tips that dig into the pavement. I tried a pair of his poles to see if it was more efficient than pushing my wheelchair, and it was! While manually pushing a wheelchair using shoulder and chest muscles, poling uses more of the bigger back muscles, making it easier, faster, and with no pain the next day. Even after a marathon," said Kyle.
While Kyle did not train specifically for this marathon, he's worked out regularly at ICORD's Yuel Family Physical Activity Research Centre (PARC) since it opened its doors in 2013. He typically visits PARC 3-5 days a week, and
does a combination stretching, lifting weights, and using cardio machines. "My favorite cardio machine to use is the ski-ergometer since it gets my heart-rate up and I break a good sweat while doing it," said Kyle. 
When PARC had to close for half a year in 2020 due to COVID, Kyle got a ski-ergometer for home use. "Since then, I've been using this machine three times per week for 30-45 minutes each time. I can say I have put over 2000 km on this ski-erg since I got it two years ago. It mimics the motion of cross country skiing and really prepared me for poling in the marathon. These days, I pole to and from PARC when it's nice out, which is about 10 km total, getting a workout on the way to the gym and getting head nods from almost every person I pass by," said Kyle.
"Overall, the marathon experience was really fun. Most of the runners were very positive, giving me encouragement the whole way. I was called a 'beast,' a 'monster,' and an 'inspiration.' Two different people jokingly called me a cheater, which I found hilarious."
5000 people registered for the marathon, 4227 finished, and Kyle accomplished an impressive feat of placing 236th overall with a time of 3:11:52, averaging a 4:33 min/km. "It still surprises me to see how well I did!" he said.

Kyle is training for the June 26 Vancouver Half-Marathon to support the BC Wheelchair Floorball Association (BCWFA). If you would like to take part in the half-marathon or 5-kilometre race, Kyle invites you to join his team. You can also support the BC Wheelchair Floorball Association by 

making a donation

 (tax receipts issued).
---
Thanks to the generous support of the Rick Hansen Foundation and the time and effort of lots of ICORDians, our eighteenth annual research meeting on March 10 and 11 was a great success. In addition to fascinating plenary lectures by Drs. Samuel Stupp from Northwestern University and Robert Gaunt from the University of Pittsburgh, we heard twelve ICORD research talks, and enjoyed 57 research posters presented by trainees and staff. Meeting on Zoom wasn't quite as fun as meeting in person, but still a good chance to hear what's been going on in ICORD labs. We're hoping we can get back to normal in 2023!

---

Dr. Jie Liu received ICORD's first Lifetime Achievement Award at the end of this year's Annual Research Meeting.
Dr. Liu came to Canada from Shanghai, China, in 1996, and got a position working with one of ICORD's original researchers, neurosurgeon Dr. Tom Zwimpfer. When Dr. Zwimpfer's grant ended, Dr. Liu learned about an opening in Dr. Wolfram Tetzlaff's lab, and he's been happily working in the Tetzlaff Lab since 1998.
Dr. Liu is kind, dedicated, patient, and really good at his job. With his background in nerve regeneration surgery, Dr. Liu's surgical skills have been invaluable to a vast array of projects at ICORD, and he has assisted more than 40 postdoctoral fellows and graduate students on countless projects during his time here. In addition to his work in the Tetzlaff Lab, he has also assisted with projects for Drs. Tom Oxland, Brian Kwon, Jane Roskams, Matt Ramer, Piotr Kozlowski, Andrei Krassioukov, Peter Cripton, Chris West, and others. He's especially enjoyed working on projects that challenged his knowledge and skills.
He is grateful to Dr. Tetzlaff for teaching him about spinal cord injury science. "I never got any official training in basic science research before I joined Wolf's lab. He helped me improve my knowledge and research experience. I would say that two-thirds of my work life was dedicated to ICORD, and ICORD also made me who I am today!"
The Lifetime Achievement award presentation was a surprise at the end of our annual meeting. "When Wolf announced this award to me, I was very excited and proud!" said Dr. Liu. "Since I joined ICORD 25 years ago, I've watched it grow, recruiting more and more faculty members including previous ICORD graduate students and fellows." As Dr. Liu contemplates retirement, he wishes good things for ICORD. "I really wish ICORD will continue to grow, and succeed in its goal to make spinal cord injury preventable, livable, and curable!"
---
The Blusson Spinal Cord Centre's unique ramp has recently been named in honour of George Gaffney, a long-time supporter of SCI research and of creating inclusive communities for all people with disabilities. Since the early days of Rick Hansen's Man In Motion World Tour, as Executive Vice President of the Royal Bank, George's wisdom and leadership helped shape the Rick Hansen Foundation's (RHF) vision and mission. George was a Director on RHF's Board for more than 30 years, and he and his wife Annabelle have been generous supporters of the Foundation's critical work for decades. It is a privilege to celebrate George's extraordinary legacy as a difference-maker who advanced SCI research and improved the lives of people with disabilities. The name Infinity Ramp represents the idea that there is no limit to the potential of people with disabilities – a belief that George held dear. 
---

by Jocelyn Chan
Have you checked out our SCInfo blog lately? The goal of SCInfo is to present easy-to-understand summaries of published SCI research happening at ICORD and around the world. These posts are written and illustrated by student volunteers who aim to capture the main ideas and points of interest from the research articles.
Since our last ICORDian newsletter, we are happy to share that over seven new summaries have been published! Here are a few of our latest blog posts:
Upper-body activity in boxing and battle rope exercise: Xueqing Zhou summarized research by Dr. Tania Lam and her colleagues about trunk muscles activity during boxing and battle rope exercises in people living with a motor-complete SCI. The study found that these exercises are more able to activate trunk muscles in people with motor-complete SCI compared to uninjured individuals.
Autonomic nervous system in Paralympic athletes following SCI: Dante Chiesa summarized a paper by ICORDians Drs. Matthias Walter and  Andrei Krassioukov about the autonomic nervous system, which is responsible for our fight or flight response. This study focused on physical presentations of dysfunctional ANS symptoms which could impact the capabilities of Paralympic atheletes.
SCI and depression: Joti Dhillon created an infographic on SCI and depression based on the SCIRE Community Post entitled "Depression after spinal cord injury".
For all the details, please read the full papers which are always linked in each blog post. Interested in keeping up with our upcoming blog posts? Be sure to bookmark the SCInfo page, or follow our Twitter and Facebook to be notified of new summaries, as well as other ICORD updates!
---

by Matthew Queree
The Spinal Cord Injury Research Evidence (SCIRE) Project team provides up-to-date, accurate information about the effects of rehabilitation for clinicians, researchers, and people with SCI.
For clinicians, researchers, and educators across the globe whose practice would significantly benefit from obtaining the most up-to-date information on treatment and care of SCI, SCIRE Professional is considered the world standard. In providing the most comprehensive and current evidence-based research, you can get the latest evidence modules (33 and counting) and 130 outcome measures for SCI rehabilitation, provided in a consolidated portal for ease of use and free download.
Created in 2017, SCIRE Community brings evidence-informed 
information about spinal cord injury to the larger community of people living with SCI, family members and the public. SCIRE Community is written in everyday language, provides more background information, and explains the science behind the research. Patient handouts can be easily accessed and downloaded for free.

SCIRE Community on LinkedIn • SCIRE Professional on LinkedIn
---
The EPIC-SCI Trial is recruiting!
Dr. Kathleen Martin Ginis's lab at ICORD-O, in collaboration with members of Chris West's and John Kramer's labs in Vancouver, is conducting a study on the effects of exercise on health and well-being among adults with spinal cord injury who live with chronic pain. The EPIC-SCI trial takes place in both Okanagan and Vancouver and is a great example of a collaborative project across of ICORD settings. Click here for more information about the trial.
Aloha, conference!
The SCI Action Canada Lab (PI: Kathleen Martin Ginis) attended the NASPSPA conference in Hawaii last month:

Back in Kelowna, the ABC Lab (PI: Heather Gainforth) tried to create their own Hawaiian spirit:

---

Transparency Underway
by Seth Holland
This is an image of three brains that have been cut in half to reveal their inner anatomical detail. The one furthest right is an unprocessed brain. The middle and furthest left brains are in the process of tissue clearing – a procedure that renders the tissue transparent by removing and replacing some of the tissue's component molecules to homogenize the refractive index. This is useful because when combined with fluorescent proteins, structures of the brain can be visualized and imaged in 3D, preserving important anatomy that may be lost with a more traditional sectioning approach. The brain on the furthest left has been genetically engineered to express a red fluorescent protein in some of the neural cells allowing the investigators to better understand how the brain receives sensory information.

---
Interested in what's new in SCI repair?
Check out this recording of a interactive conversation held on June 7 with experts to discuss the latest in different approaches.
---


Interested in helping ICORD researchers make SCI preventable, livable, and curable? These research studies (and more) are in need of participants!
You are invited to participate in a phone interview about making changes to bowel care after SCI conducted by Dr. Victoria Claydon, and her Master's student
Read More…
You are invited to take part in an interview study that aims to explore experiences, perceptions, and preferences of adults with SCI
Read More…
Researchers at BCIT have created an online survey to get feedback about your experiences using Stair Lifts, Enclosed Lifts and Unenclosed Lifts in Canada. As a part of the survey, you'll have an opportunity to
Read More…
Since adaptive cardiovascular equipment is typically not available, ICORD researchers have created a relatively inexpensive rowing machine (AROW) that can be set up in a home or local gym. They want to know what setting is the
Read More…
An evidence-based approach to understanding and improving exercise counselling for adults with spinal cord injury You are invited to take part in an online survey about exercise counselling to adults with spinal cord injury (SCI). Counselling includes one or multiple
Read More…
The goal of this study is to determine if seatbelts fit males and females differently. In order to do this, it is important to determine seatbelt location relative to external body shape, and relative to the bones with which it is designed to interact
Read More…
Click here to browse all the ICORD studies currently recruiting participants.
---
Adaptive Cycling Program
This new program aims to make adaptive cycling more accessible and inclusive for all. Try it out!
Ambulatory Retreat: June 17-20
Join our Ambulatory Retreat for a chance to relax, unwind and try new activities. Reconnect with old friends and meet new ones at this 4-day event located at the beautiful Naramata Centre in the Okanagan!
Charity Challenge: June 26 | All day – Vancouver
Team SCI BC is back! And this time, we're more excited than ever to celebrate our 10th year of racing in the Charity Challenge AND to be back to in-person racing and rolling in Vancouver! Join Team SCI BC to help raise money for people living with spinal cord injury, get fit, have fun, and connect with our community. Email Jenna at jwright@sci-bc.ca to join today.
---

A celebration of the 35th anniversary of Rick Hansen's Man in Motion World Tour took place on May 22.  Read more about this momentous occasion, and many other interesting articles, in the RHF Spring 2022 Newsletter.  You can also watch this short video about the 35th anniversary:
---
Five Days in May
ICORD and VCHRI participated in Five Days in May – BC Provincial Health Research Showcase last month. Recordings of many of the talks from May 3, 10, 17, 23, and 31 are now available online, including these two featuring ICORD researchers and staff:
---
Praxis Consumer Engagement Program Manager John Chernesky was featured in an article in VCHRI Research News discussing his participation in the Up-LIFT clinical trial. This study is led by ICORD researcher Dr. Andrei Krassioukov, and focuses on non-invasive electrical spinal cord stimulation. John shares his experiences with the ARCEX transcutaneous spinal cord stimulator, which uses activity-based therapy to stimulate the entire nervous system. Read the article here.
Learning Circles June 2022: Partnership and Collaboration for Research
This new e-newsletter launched last week, sharing knowledge to animate the community-led vision of Canada's National SCI Care Strategy. Each month Praxis is sharing stories of best practices in action from SCI care experts across Canada. Check out this month's video here and sign up for their newsletters.
---
Thanks for reading this issue of The ICORDian – we hope you enjoyed it! Please subscribe and have future issues delivered to your inbox. If you have any comments about this issue or suggestions for future ones, please contact us.
---
Jocelyn Chan, Kyle Gieni, Jie Liu, Matthew Queree, Jennifer Phan, Tamila Kalimullina, Nicole Banting, Bianca Magdangal, Seth Holland, Xueqing Zhou, and Nancy Thorogood for their contributions to this issue of our newsletter.