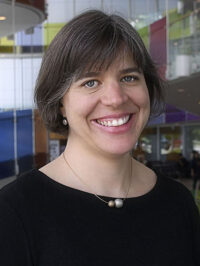 Principal Investigator
M.D. (Pontificia Universidad Católica de Chile)
Ph.D. [Experimental Pathology] (University of British Columbia)
Assistant Professor, Department of Pathology and Laboratory Medicine, University of British Columbia
Research Interests
Astrocytes
;
CNS disorders
;
Dementia and related disorders
;
Glial cells
;
Histology
;
Neuropathology
;
Traumatic SCI
Dr. Veronica Hirsch-Reinshagen is a neuropathologist with a research focus on the histopathological changes that underlie a number of central nervous system disorders including traumatic spinal cord injury. She is particularly interested in the changes that astrocytes, an important type of supporting cell in the brain, undergo in these conditions. She attained her medical degree in Chile and her Ph.D. in neurosciences at UBC. She then refined her clinical and research training by completing specialty training in neuropathology and the two-year UBC Clinician Investigator Program. She has since become a consultant neuropathologist at Vancouver General Hospital and an assistant professor in UBC's Department of Pathology and Laboratory Medicine. Her main research tools include histology and correlations between clinical presentation, imaging changes and pathological findings.
Current Lab Members:
| | | |
| --- | --- | --- |
| Undergraduate Students | Ph.D. Directed Studies Students | Medical Residents |
| Kirn Gill | Kaitlin Sullivan | Shawn Stochmanski |
Current Opportunities in the Lab
There are currently no openings in Dr. Hirsch-Reinshagen's lab. Please contact Dr. Hirsch-Reinshagen with inquiries.
Recent publications
Search PubMed