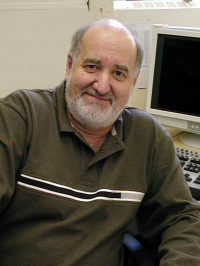 Emeritus Principal Investigator
B.Sc. (Santa Clara University), M.S. (California State University), Ph.D. (University of British Columbia)
Professor, Life Sciences Institute, Department of Zoology, Faculty of Science, University of British Columbia
Associate Member, Department of Medical Genetics, Faculty of Medicine, University of British Columbia
Research Interests
Pharmaceutical
Dr. Grigliatti is a researcher in the area of cell and developmental biology.
In addition to his role as a Principal Investigator at ICORD, Dr. Grigliatti is a Professor in the Life Sciences Institute at the University of British Columbia, and an Associate Member of the Department of Medical Genetics at the University of British Columbia. He completed his B.Sc. at Santa Clara University. His M.S. was obtained from California State University, and his Ph.D. was at the University of British Columbia.
Recent Collaborations:
Dr. Grigliatti has collaborated with Dr. Wolfram Tetzlaff, Dr. Jens Coorssen, and other members of the ICORD team to identify biomarkers which indicate the severity of SCI.
Affiliation with organizations and societies:
Autism Spectrum Disorders Canadian-American Research Consortium (ASD-CARC)
Centre for Drug Research & Development (CDRD)
Faculty of Pharmaceutical Sciences, UBC
Michael Smith Centre for Complex Disorders
Current Lab Members
Post-Doctoral Fellows
Dr. Onkar Bains
Current Opportunities in the Lab
Please contact Dr. Grigliatti with inquiries.
Recent publications
Search PubMed