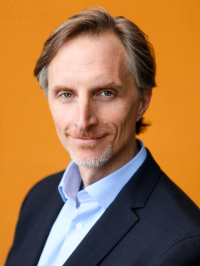 Associate Member
M.D. (University of Saskatchewan), Post-Doctoral Fellowship (Fellowship of the Faculty of Pain Medicine, Australian and New Zealand College of Anaesthetists)
Chair, Board of Directors, Pain BC
Clinical Associate Professor, Department of Anesthesiology, Pharmacology & Therapeutics, Faculty of Medicine, University of British Columbia
Research Interests
Coping
;
Neuropathic pain
;
Pain
;
Pain management
;
Quality of life
Dr. Negraeff is interested in pain research, including both neuropathic pain and pain following SCI. Neuropathic pain is caused by damage to the somatosensory system, which is responsible for sensing touch, temperature, body position, and pain. He also focuses on pain management, including holistic, self-management, and multidisciplinary approaches. As a clinician, he collaborates with other clinicians to help mutual patients manage their pain. He works to decrease pain both directly, through treating the underlying problem, and indirectly, by improving the patient's ability to cope with pain.
Dr. Negraeff is the Chair of the Board of Directors for Pain BC and an Associate Member at ICORD. He is also a Clinical Associate Professor in the Department of Anesthesiology, Pharmacology & Therapeutics at the University of British Columbia. He obtained his M.D. from the University of Saskatchewan and completed a Pain Fellowship at the Australian and New Zealand College of Anaesthetists.
Pain is a common problem for people with SCI and it is commonly reported by patients as having a significant negative impact on their life. Therefore, Dr. Negraeff's work to decrease pain and improve pain management leads to improved quality of life for people with SCI.
Dr. Negraeff's loves working with ICORD because of the team environment which brings researchers and clinicians together to collaborate on both areas of work.
Dr. Negraeff was inspired to work on pain and pain management by his own SCI. After his injury, Dr. Negraeff realized that there were few resources available to him for managing and reducing his pain. This propelled him into his current area of research, in order to help other SCI patients deal with their own pain.
Recent Collaborations:
Dr. Negraeff is currently working with Dr. Vanessa Noonan (Rick Hansen Institute) on evaluating a guideline for assessing neuropathic pain.
He is also working with scholars at the University of British Columbia and Simon Fraser University towards developing the use of home-based virtual reality consoles for managing pain in SCI patients.
Major Findings:
Dr. Negraeff does not have any major research findings yet, as he is mainly working with patients in a clinical setting. However, pain is not well recognized as a problem for people with SCI, and its treatment is in need of greater resources. Dr. Negraeff hopes to bring more recognition and resources to this problem through his future research.
Affiliation with organizations and societies:
Canadian Pain Society
Fellow Royal College of Physicians and Surgeons of Canada (FRCPC)
International Association for the Study of Pain (IASP)
Pain BC
Current Opportunities in the Lab
There are currently no openings in Dr. Negraeff's lab. Please contact Dr. Negraeff with inquiries.
Recent publications
Search PubMed