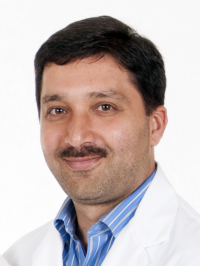 Principal Investigator
M.D. (Tehran University of Medical Sciences), Ph.D. [Experimental Medicine] (University of British Columbia), Post-Doctoral Fellowship (University of British Columbia)
Assistant Professor, Department of Surgery, Faculty of Medicine, University of British Columbia
Research Interests
Cell transplantation
;
Diabetes
;
scaffolding
;
Wound healing
Dr. Jalili works on finding innovative ways to treat chronic wounds. After an individual sustains an injury, the skin and its related components can be affected. One such component includes the extracellular matrix (ECM), a gel-like matrix composed of a variety of proteins and other molecules that help to provide structure for the skin and other cells. Following an injury, many of the molecules in the ECM may be impacted, resulting in an uneven and rough wound bed. Currently, there are no effective treatments for addressing the complexity of such wounds. Dr. Jalili's research is aimed at developing treatments that can target these chronic wounds, by identifying the optimal combination of cells and matrix that can lead to effective healing of chronic wound beds.
Dr. Jalili is an Assistant Professor in the Department of Surgery at the University of British Columbia. He is a Principal Investigator at ICORD. Dr. Jalili attended the Tehran University of Medical Sciences for his M.D. and the University of British Columbia for his Ph.D. in Experimental Medicine.
The goal of Dr. Jalili's work is to find novel treatments for chronic wounds that can repair chronic wounds efficiently, while also reducing side effects in the injured individuals. To do so, part of his research is centered around identifying which wound types heal easily and which cell types are involved in the wound healing process. In addition, Dr. Jalili also studies transplantation immunology: in specific, how to prevent graft rejection after transplantations. After a chronic injury (e.g. burns, ulcers, etc), skin grafts may be needed to replace damaged skin to protect the underlying structures and prevent bacteria or viruses from entering the body. However, graft rejection can occur when an individual's immune system responds negatively to the graft. Dr. Jalili is currently investigating ways to suppress the immune system with little side effects so that graft rejection does not occur.
Being able to work in a state-of-the-art research facility like ICORD is one of the things Dr. Jalili looks forward to every day. He enjoys the multidisciplinary scientific community present at ICORD, with researchers focusing on all the different levels of the nervous system.
Recent Collaborations:
Dr. Reza Jalili is currently working with Dr. Aziz Ghahary to use IDO-expressing dermal fibroblasts to prevent the progression of Alopecia Areata, an autoimmune disease.
Major Findings:
Islet transplantation is a treatment for type I diabetes. In this method, donor cells from the pancreas are moved from one person to the patient, so that the transplanted cells can produce insulin to regulate the blood sugar levels.  While Dr. Jalili was a Ph.D. student in Dr. Ghahary's lab, he discovered a novel cell-based therapy to increase the survival rate of regulatory immune T-cells and prevent graft rejections following transplantation. He hopes to apply his findings to other auto immune diseases.
Techniques employed in the labs:
Skin grafting
Scaffolding
Nanofibres
Cell culture
Immunohistolochemistry techniques
Flow cytometry
PCR
HPLC
Affiliation with organizations and societies:
American Burn Association
Endocrine Society
Canadian Diabetes Association
Awards
Some of Dr. Jalili's recent major awards and accomplishments include:
Faculty of Medicine startup Award (UBC FoM, 2016)
Current Lab members
| Resident Research Fellow | Undergraduate Students |
| --- | --- |
| Dr. Diana Forbes | Myriam Maude Verly |
| | Navid Karimi |
| | Saba Vatanpour |
Trainee Awards
| Year | Name | Award |
| --- | --- | --- |
| 2017 | Diana Forbes | Frederick Banting and Charles Best award (CIHR) |
| 2017 | Hannah Foggin | Summer Studentship Award (CIHR) |
| 2016 | Michelle Ebtia | UBC Department of Surgery Chung Research Day Presentation Award (UBC Department of Surgery) |
| 2016 | Diana Forbes | Best Basic Science Presentation, UBC Plastic Surgery Annual Research Day (UBC Division of Plastic Surgery) |
| 2015 | Rojin Kaviani | Undergraduate Student Research Award (Natural Sciences and Engineering Research Council of Canada) |
Current opportunities in the lab:
Dr. Jalili is currently accepting Masters students. Please contact Dr. Jalili with inquiries.
Recent publications
Search PubMed