Why should you donate to PARC?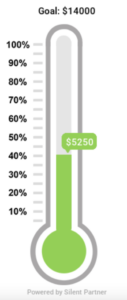 Watch this short video to find out why it is such an important resource for the spinal cord injury community.
Our 2021 fundraising campaign will contribute to PARC's operating budget. Your donation will be used to support the following:
Salary for five student supervisors for 4 months ($9,000) *
A new HUR system (computer, two card readers and a set of cards) ($1,000)
New FES bike controller/screen ($4,000)
Your support allows us to operate the facility free of charge to the participants and enhances the lives of individuals with spinal cord injury. Additionally, the funds raised will go towards paying student supervisors' salaries, thus providing meaningful work and learning opportunities. PARC is such an important aspect of life for the SCI community, our student volunteers, and staff, and we are grateful for your support!

Tax receipts will be provided. To discuss gifts-in-kind, donations as part of estate planning or corporate donations please contact PARC Manager, Milly Zaletelj at zaletelj@icord.org.
*This is good value! Our students are hired through UBC's Work Learn program, which offers a subsidy of $8 for each hour worked by the students.