April 6, 2017
Blusson Spinal Cord Centre
8:45 am
Map & Directions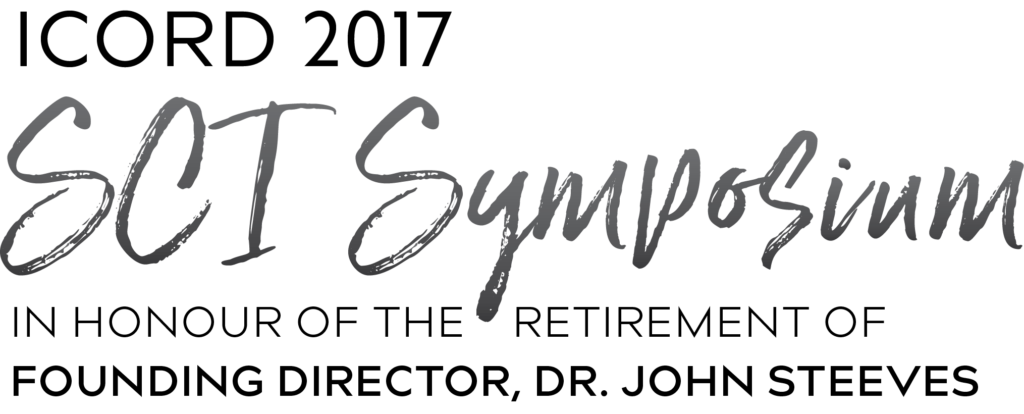 ICORD's founding director, Dr. John Steeves, is officially retiring this year, and in honour of his profound contributions to ICORD, we are holding an exciting two-day SCI symposium. See below for the schedule of internationally renowned SCI experts who will be visiting to share their research. The symposium will also feature as well as many ICORD posters as we can fit into the building.
Registration has closed, and we are very pleased to announce that this will be the most attended ICORD conference ever.
Schedule:
Thursday, April 6, 2017
08:45 to 09:30 – Dr. Wolfram Tetzlaff, ICORD. Opening remarks and introduction to ICORD
09:30 to 09:35 – Session introduction by Dr. Tania Lam, ICORD
09:35 to 10:00 – Dr. Larry Jordan, University of Manitoba. John Steeves and the control of locomotion: cats, birds and people
10:00 to 10:20 – break
10:25 to 10:50 – Dr. Serge Rossignol, Université de Montréal. Hindlimb locomotion after spinal lesions in the cat
10:50 to 11:15 – Dr. Rob Brownstone, University College London. Between intention and toast: reticular formation circuits for movement
11:15 to 11:45 – Panel discussion with Drs. Brownstone, Jordan, & Rossignol, chaired by Dr. Lam
11:45 to 12:30 – Lunch break
12:35 to 12:40 – Session introduction by Dr. Naomi Kleitman, Craig H. Nielsen Foundation
12:40 to 13:05 – Dr. James Fawcett, Cambridge. Axon regeneration: why has it been so hard?
13:05 to 13:30 – Dr. Armin Curt, Balgrist University Hospital, Zurich. The clinical journey in SCI: all inclusive
13:30 to 14:00 – Panel discussion with Drs. Fawcett & Curt, chaired by Dr. Kleitman
14:00 to 15:30 – First poster session
15:30 to 15:35 – Session introduction by Dr. Tom Oxland, ICORD
15:35 to 16:00 – Dr. Milos Popovic, Toronto Rehab Institute. Electric fields direct the migration of neural precursor cells
16:00 to 16:25 – Dr. Ruediger Rupp, UniversitätsKlinikum, Heidelberg The European Multicenter Study about Spinal Cord Injury: it's all about networking!
16:25 to 16:55 – Panel discussion with Drs. Popovic & Rupp, chaired by Dr. Oxland
Friday, April 7, 2017
09:00 to 09:45 – Tour of ICORD for visitors
09:45 to 09:50 – Session introduction by Dr. Andy Blight, Acorda Therapuetics, New York.
09:50 to 10:15 – Dr. Sukhvinder Kalsi-Ryan, U of T / Toronto Rehab Institute. Outcomes, measurement, commercialization and spinal cord injury.
10:15 to 10:40 – Dr. Edward Wirth, Asterias Biotherapeutics, Fremont, CA. hESC-derived OPCs in subacute SCI: initial clinical findings.
10:40 to 11:05 – Dr. Michael Fehlings, U of T / Toronto Rehab Institute. Riluzole as a potential neuroprotective treatment for traumatic and non-traumatic SCI: from preclinical proof of concept to Phase-III multicentre trials.
11:05 to 11:35 – Panel discussion with Drs. Kalsi-Ryan, Wirth & Fehlings, chaired by Dr. Blight
11:45 to 12:30 – Lunch break
12:35 to 12:40 – Session introduction by Ms. Linda Jones, Craig H. Nielsen Foundation
12:40 to 13:05 – Dr. Cathy Craven, U of T / Toronto Rehab Institute. Central recruitment: moving from pilot project to institution-wide implementation.
13:05 to 13:30 – Dr. Gillian Muir, Western College of Veterinary Medicine, Saskatoon. Four legs good, two legs better? Thoughts on animal models of SCI.
13:30 to 13:55 – Dr. Susan Charlifue, Craig Hospital, Denver, CO. First do no harm.
13:55 to 14:25 – Panel discussion with Drs. Craven, Muir, & Charlifue, chaired by Ms. Jones
14:30 to 16:00 – Second poster session
16:00 to 16:05 – Session introduction by Dr. John Kramer, ICORD
16:05 to 16:30 – Dr. John Steeves, ICORD. The perils of traversing translational trails with a short attention span.
16:30 to 16:45 – Dr. Wolfram Tetzlaff, ICORD. Closing remarks and poster awards.
16:45 to 18:45 – closing reception
If you plan to present a poster, please read this important information:
We are incredibly excited to have 88 research posters being presented next week! Because of this unprecedented number, we are actually running low on poster boards! Please note if you are presenting on day one of the symposium, you will have to take your poster down at the end of the day to make space for the next day's presenters.
We will have a great chance to show off the depth and breadth of ICORD research to renowned researchers from around the world at these poster sessions. In fact, this will be the main opportunity to showcase ICORD work at the symposium, as no ICORD researchers will be speaking apart from John Steeves. As each poster session is an hour and a half and we want the visitors to have a chance to see as many as possible, we will not be having our usual poster competition. Instead, each symposium participant will be given a ballot to vote for posters in five categories. There will be $200 prizes in each category. The remaining poster prize funds usually presented at the Annual Research Meeting will be carried over to the Trainee Symposium.
Posters must fit on a 180cm (6′) x 120cm (4′) poster board.
SYMPOSIUM POSTER CATEGORIES:
Most new and exciting research
* idea for project is novel
* has potential to be translated and/or
* could lead to making SCI preventable, livable, or curable.
Most interesting collaboration
* project involves authors from two or more research areas, departments, or institutions
* collaboration is unusual/surprising/exciting.
Best lay summary
* research is summarized in easy-to-understand language, without jargon or acronyms (except those commonly used, like SCI)
* inspires viewer to want to learn more about the research.
Best presentation
* poster is presented in a clear, concise, professional manner
* presenter is able to answer all questions in an engaging way.
Best design
* layout is attractive, logical, and easy to follow
* good use of colours and appropriate fonts
* interesting images
* all appropriate logos/acknowledgements included